11 June 2021
In a scathing report, Amnesty International slams Sri Lanka's handling of the coronavirus pandemic highlighting the gag order on the health care sector; the prioritisation of those with economic or political privilege at the expense of at-risk groups; the abuse of factory workers and prisoners; as well as the lack of a comprehensive plan to vaccinate the whole population.
The report notes that daily cases of coronavirus have risen to over 2,500 for a population of just 21 million people. In contrast, Taiwan has registered 218 cases a day in a population of 23 million. Thus far, Sri Lanka has had a total of 213,396 confirmed cases and 1,843 deaths recorded since the beginning of the pandemic last year.
Silencing healthcare workers
Amnesty notes that on 19 May 2021, Sri Lanka's Secretary to the Ministry of Health issued an order threatening disciplinary action against anyone in the health sector who spoke to the media. The Secretary alleged that this was because they were sharing "incorrect health-related information" and because they were "criticising health policies".
"It is not permissible under international human rights law to impose restrictions preventing the expression of opinions or the provision of information simply because it is deemed to undermine the implementation of government policies, harms it politically or puts the government in a negative light" Amnesty emphasised.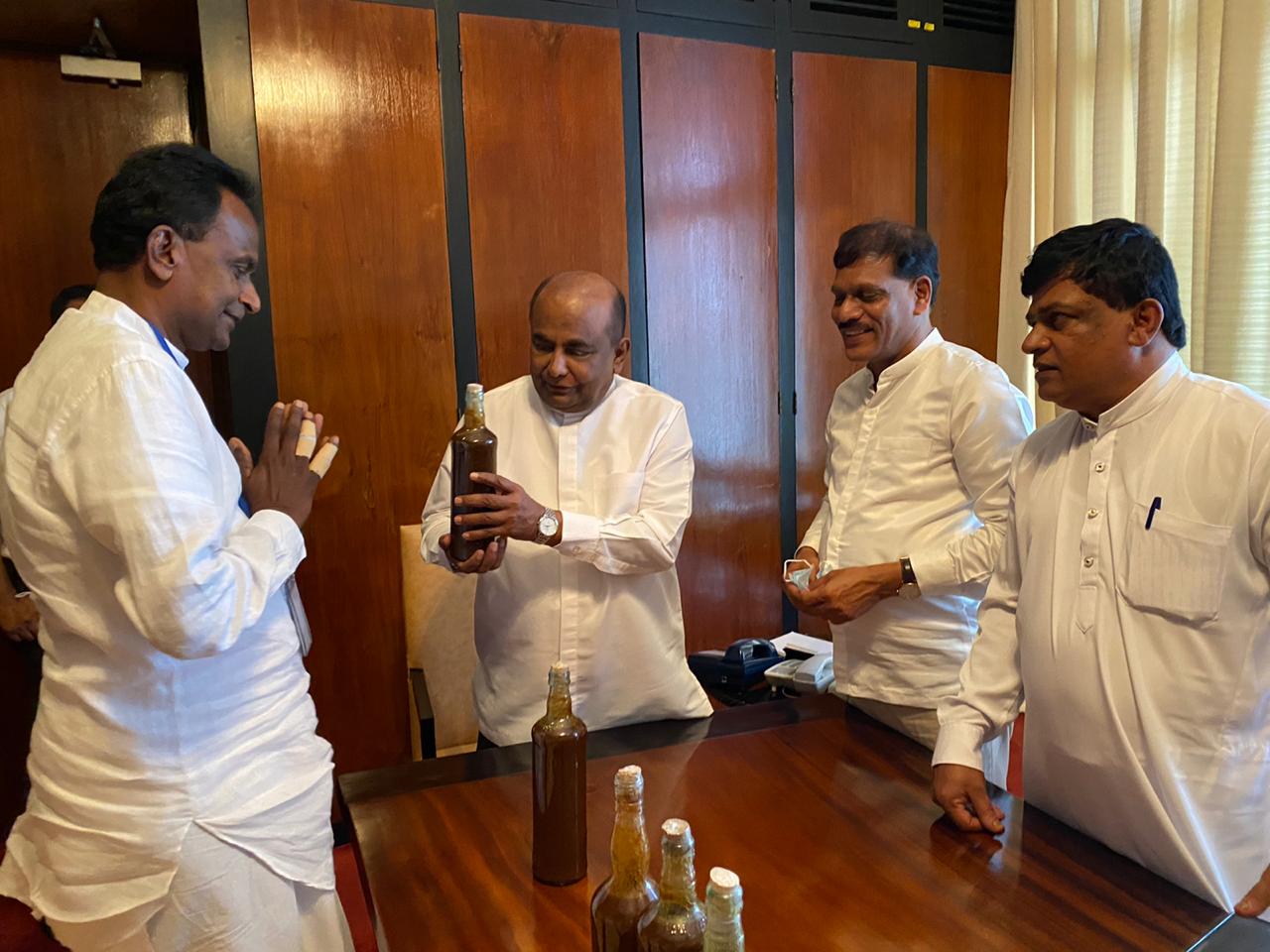 Months prior to the government's issuing of a gag order on healthcare professionals, Dhammika Bandara, a faith healer from Kegalle, claimed he had invented a tonic that offers "lifetime protection" against COVID-19. Thousands lined the streets of Kegalle to drink the tonic - in breach of military enforced regulations - whilst several Sri Lankan parliamentarians, including the current speaker of Sri Lanka's parliament, publicly consumed and endorsed the tonic.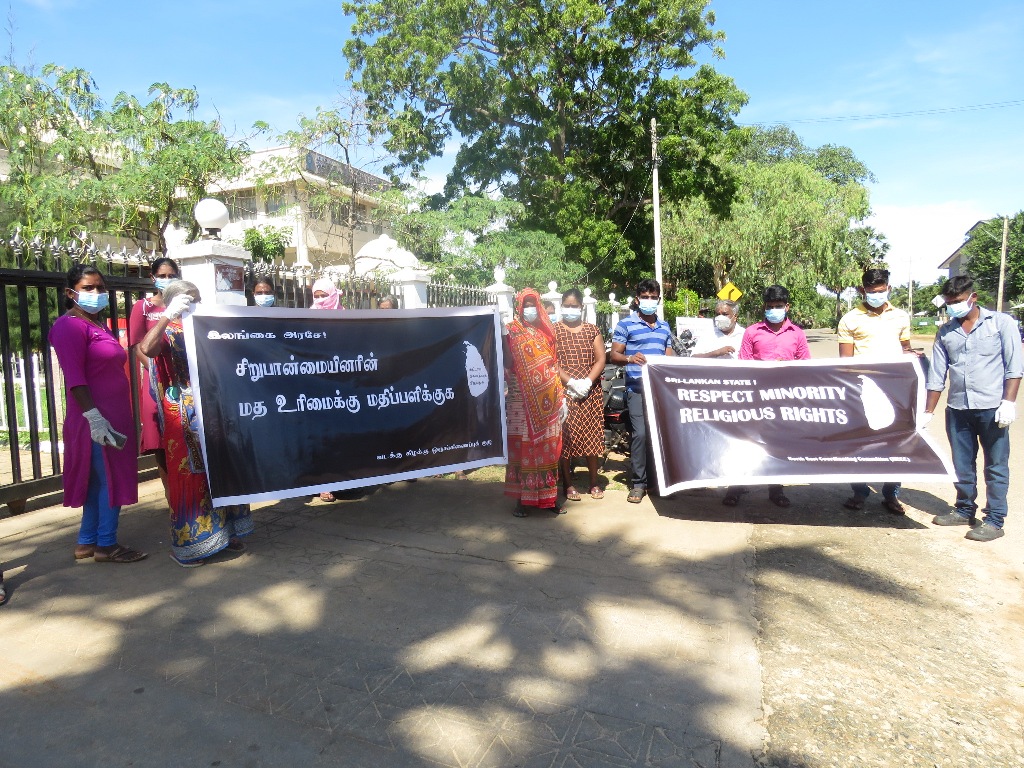 Protests across the North-East against forced cremation
In March 2020, the government instituted a policy of forced cremations that violated the religious freedom of Muslims and, as Amnesty International noted, was not based on scientific concern. Sri Lanka continued this policy disregarding recommendations from World Health organisation officials and their own Medical Association whilst denying ethnic discrimination. Four UN Special Rapporteur's responded by issuing a statement decrying the policy stating that it was "based on discrimination, aggressive nationalism and ethnocentrism amounting to the persecution of Muslims and other minorities in the country".
Across the North-East, Tamils and Muslims unified in protest of this draconian policy and in February 2021, the government reversed course but would only permit forced cremations in select locations, chiefly across the North-East.
Former Senior Lecturer in Law at University of Jaffna, Dr Kumaravadivel Guruparan voiced his concerns over the decision stating:
The intention is to divide the newfound solidarity between the Tamil and Muslim communities on the very same issue that brought them together.
Mistreatment of prisoners
Amnesty further shed light on Sri Lanka's abuse of prisoners noting that despite a cluster of coronavirus outbreaks in December 2020, exceeding 3,000 cases, Sri Lankan officials refused any plan to prioritise vaccinating the prison population. Their report highlights the limited number of sanitation facilities and overcrowding.
Amnesty also notes that in 2020 at least 14 prisoners were killed in three separate incidents linked to fears around Covid-19. This includes in Mahara prison, near Colombo, where guards opened fire on prisoners during unrest caused by the pandemic and killed 11 people. A further two prisoners were killed in Anuradhapura prison and over 100 inmates tested positive in November at the Bogambara Prison in Kandy.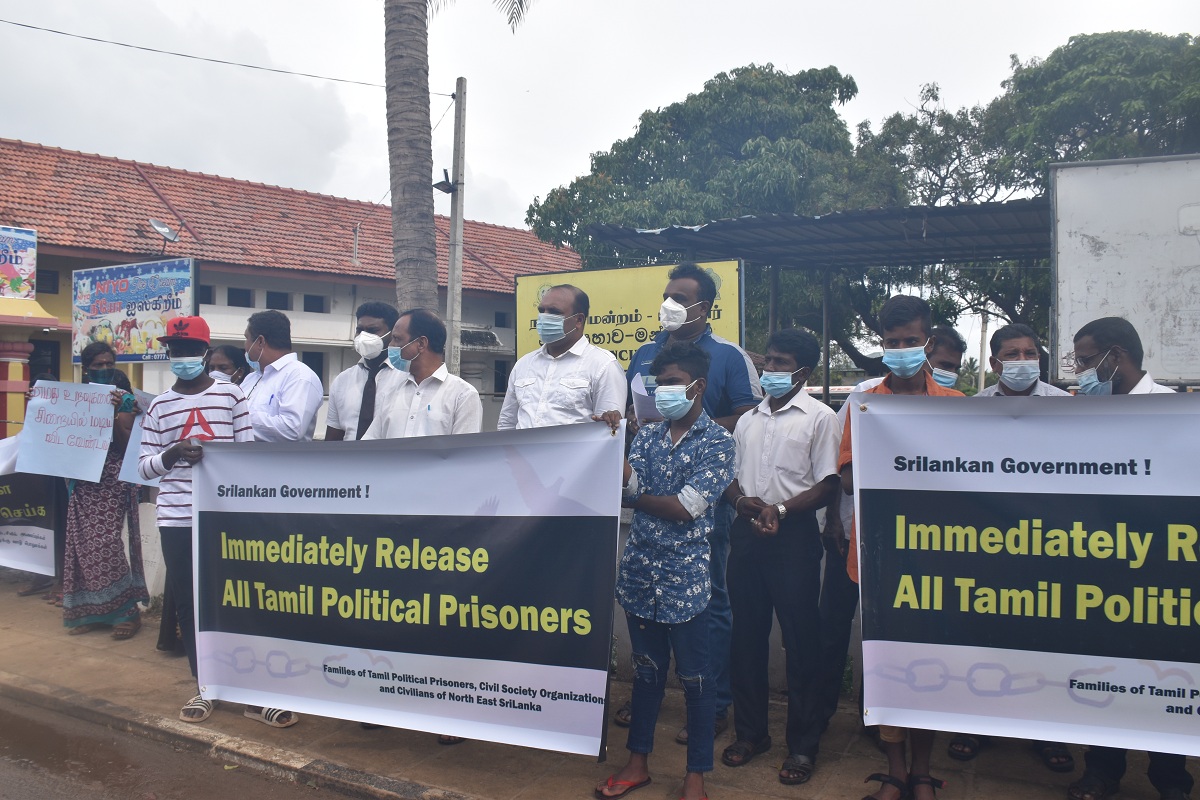 Across the North-East Tamil communities called for the release of Tamil political prisoners who remain incarcerated in Sri Lanka. In December it was reported that at least 64 Tamil prisoners had contracted the coronavirus. In that same month, a Sri Lankan government spokesperson claimed that there are no Tamil political prisoners as "those arrested in the North and East are detained under the Prevention of Terrorism Act on terrorism charges and cannot be deemed as political prisoners".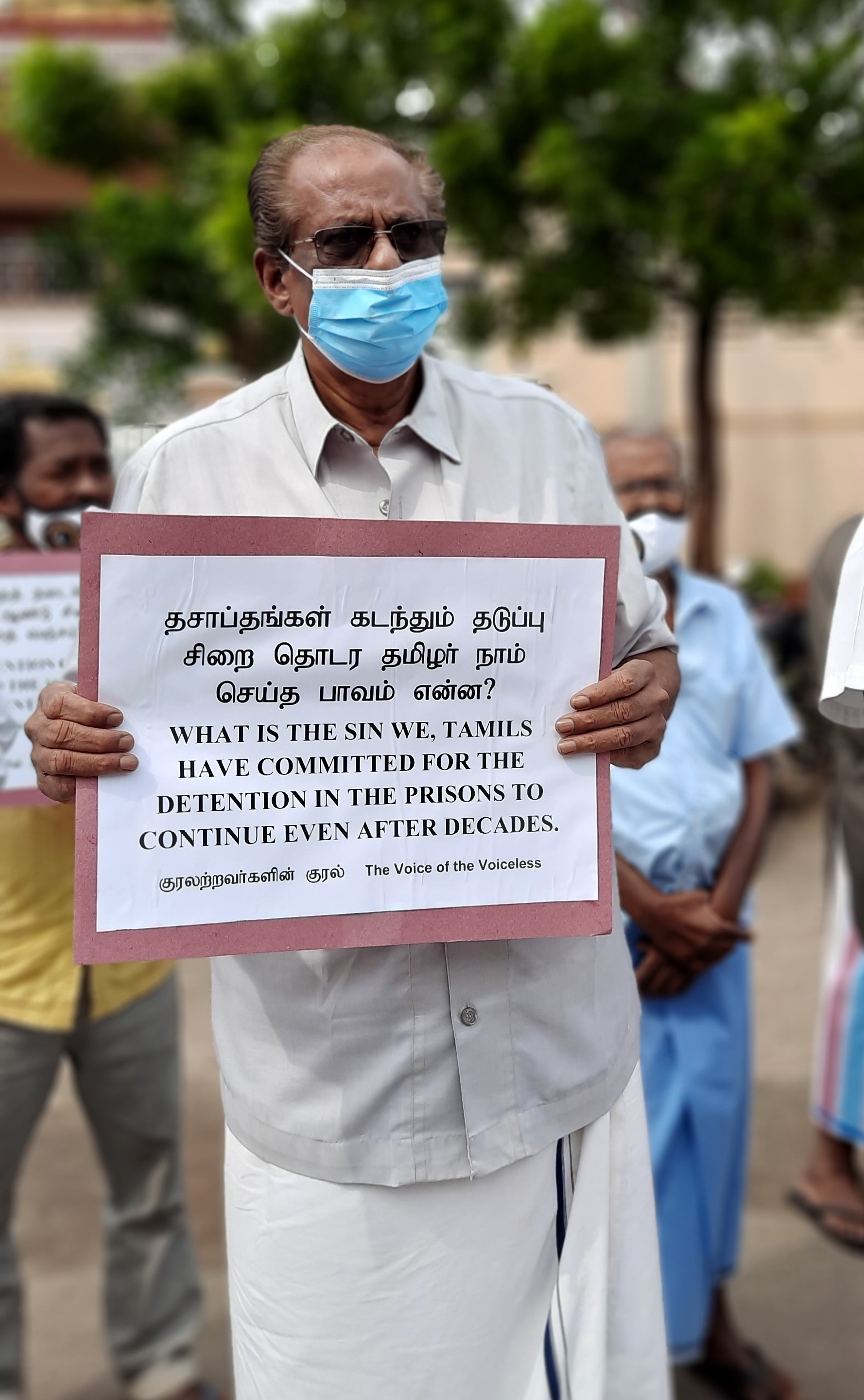 Posters were held highlighting the government's "responsibility to protect prisoners" and questioned, "What is the we, Tamils have committed for the detention in the prisons to continue even after decades?".  
Despite promises to release Tamil political prisoners, the government has failed to do so and the detainees are continuing to die without reprieve. In face of their dire predicament, many Tamil political prisoners have grown frustrated and concerned about the health risks. Kanagasabai Devadasan, a Tamil political prisoner from Colombo who has spent 12 years in jail wrote a letter this month to Sri Lankan president Gotabaya Rajapaksa, to expedite his case or instead to "hang him immediately" as a result of his unjust detention. Last year, Sellapillai Mahendran, the longest-serving Tamil political prisoner died in prison. 
Abuse of factory workers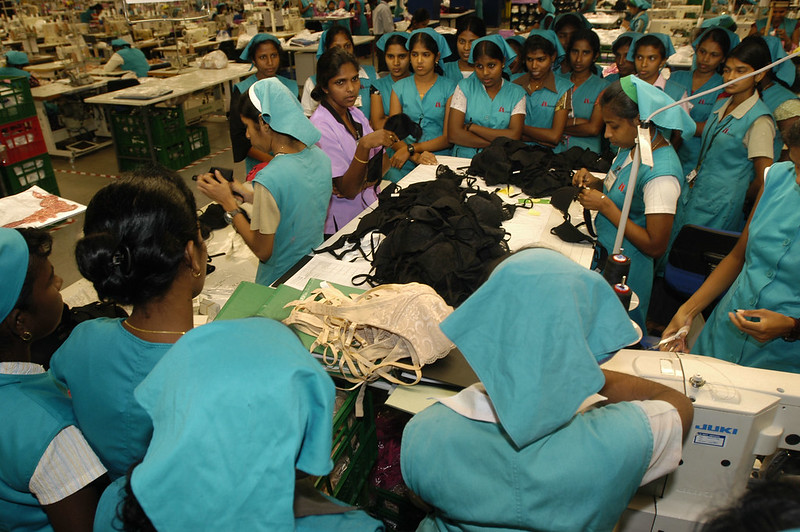 (Photo of Sri Lankan Garment Workers, Credit ILO Asia-Pacific)
Amnesty also emphasises the concerns voiced by civil society actors in Sri Lanka and trade unions that "whilst government and factory owners reap these profits, the workers remain unprotected, not prioritised for vaccination and largely left to fend for themselves".
At the time of writing, Sri Lanka has not published any plans to "prioritise the multiple at-risk groups, including labour forces such as garment factory workers Free Trade Zone workers, and vendors in public markets".
Amnesty further notes that despite the ongoing lockdowns, the apparel manufacturing sector has been ordered to work despite "limited testing and inadequate quarantine and care facilities being made available for factory workers falling sick with Covid- 19".
On Wednesday, Sri Lankan police arrested ten people, including the provincial council's deputy chairman for Puthukkudiyiruppu, Mullaitivu, following protests against the reopening of a garment factory.
Last year, a complaint was filed with the Human Rights Commission of Sri Lanka, by representatives of the Free Trade Zone (FTZ) factory workers alleging "cruel, inhumane or degrading treatment" of 98 factory workers, the majority of which were women. Factory workers were forced into quarantine centres by the military.
Prioritising the wealthy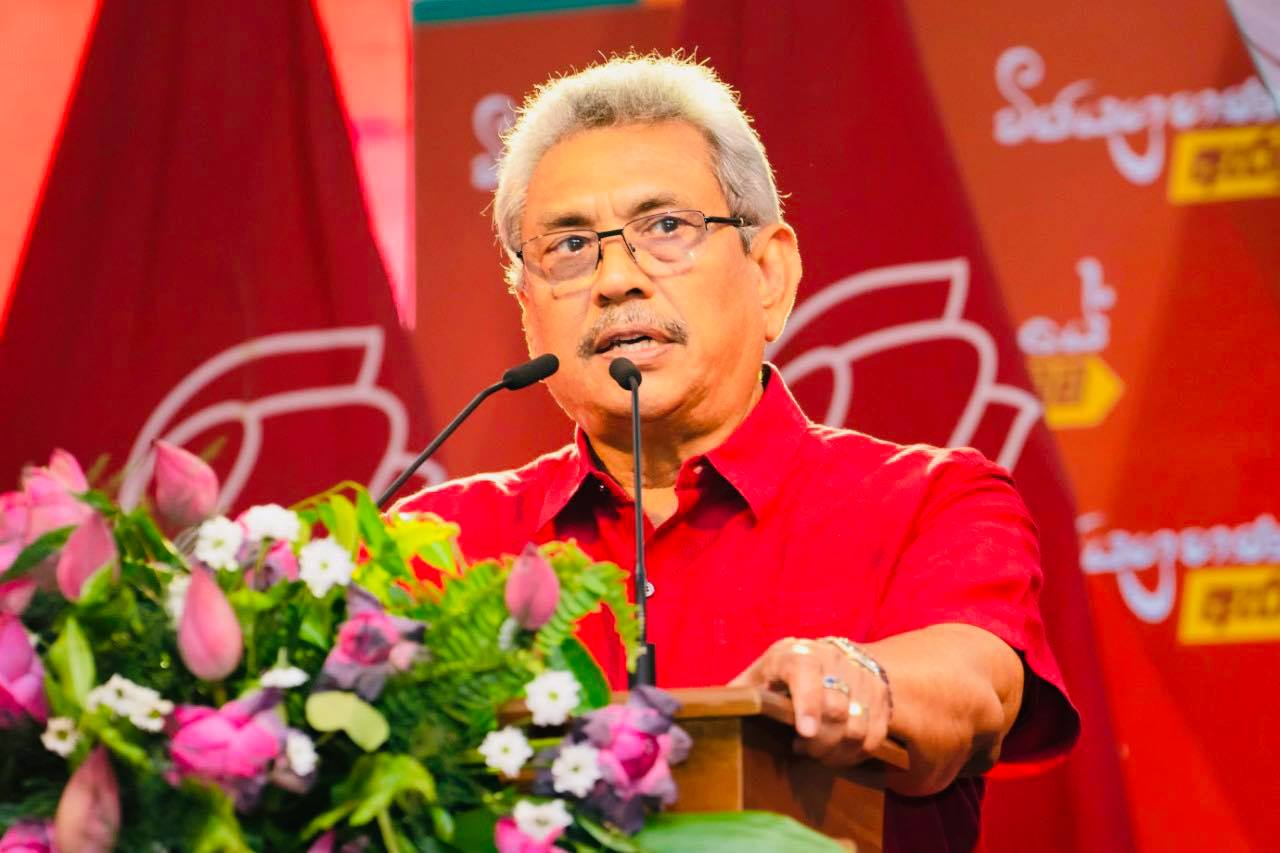 Amnesty further lambasts Sri Lanka's response to the COVID-19 pandemic noting that "those with economic or political privilege were able to obtain the first dose even though they did not belong to the at-risk categories".
Whilst the government initially claimed that it would vaccinate at-risk groups above the age of 60 and the workforce between the ages of 30-60 starting in March. Sri Lankan healthcare authorities vaccinated only the 30-60 group in high-risk areas in the Colombo and Gampaha districts, without any explanation for excluding the older population and the workforce in other geographical areas. In February 2021, the Health Ministry set up six vaccination centres in the capital, Colombo, where those between 30 and 60 were vaccinated. The government further prioritised vaccinations for Sri Lanka's military police and healthcare workers.
It was only after the arrival of Sinopharm and Sputnik V vaccines in May that the government began vaccinating the public in the over 30 age categories in other parts of the country. This includes in "Colombo, Gampaha, Kalutara, Galle, Matara, Jaffna, Kandy, Kurunegala, Matale, Batticaloa, Trincomalee, Ampara, Polonnaruwa, Puttalam, Monaragala, Nuwara Eliya, Hambantota, Anuradhapura, Badulla and Kegalle districts- a total of 20 of Sri Lanka's 25 districts". Thus far, there has is no further information has been made available on which other areas will receive vaccines next.
On 24 May, the Public Health Inspectors union called for a strike against the government's decision to prioritize the vaccination of the families of doctors who belong to the Government Medical Officers.
Amnesty also notes that "public service providers such as Grama Niladharis (grassroots local government officials), went on strike demanding that the government prioritises the administration of vaccines for all Grama Niladharis, as they are exposed to the public daily".
The Sri Lankan government responded by declaring them as "essential" service providers, who will then be required to report to work or risk losing their jobs.
Recommendations
Amnesty calls on the Sri Lankan government to "devise national Covid-19 vaccine distribution plans to be inclusive and non-discriminatory, in line with human rights laws and standards". They further add that Sri Lanka should prioritise "health workers, older populations and people with comorbidities". They also note that "authorities should consider factors that may heighten an individual's or a community's risk to Covid-19 and pay particular attention to marginalized groups and those with intersecting identities and legal statuses".
Amnesty also calls on states to grant a "temporary 'waiver' on certain aspects of the TRIPS agreement for the production of Covid-19 health products - a global treaty governing intellectual property rights, which often restricts where, when and how medicines are produced".
Read Amnesty's full statement here.
We need your support
Sri Lanka is one of the most dangerous places in the world to be a journalist. Tamil journalists are particularly at threat, with at least 41 media workers known to have been killed by the Sri Lankan state or its paramilitaries during and after the armed conflict.
Despite the risks, our team on the ground remain committed to providing detailed and accurate reporting of developments in the Tamil homeland, across the island and around the world, as well as providing expert analysis and insight from the Tamil point of view
We need your support in keeping our journalism going. Support our work today.
For more ways to donate visit https://donate.tamilguardian.com.