Unrestricted, a discussion series created by Tamil Students Initiative, is a platform for open discussion challenging the taboos that are rife within the Tamil society at large. Hoping to bring together perspectives of people from all corners of the Tamil community and provoking frank conversations amongst students - Unrestricted: LGBT, the first of TSI's discussion series kicked off last Thursday at King's College London as part of LGBT History Month. Dozens of students gathered to hear Living Smile Vidya speak about her journey as a transwoman.
From Saravanan to Smiley, Vidya's story of growing up in Tamil Nadu was dark, inspiring and at times humorous. Having contemplated suicide, met disapproval from her family and discrimination whilst trying to find work – Hers is a tale of survival and hope. Smiley spoke about the isolation she faced as she grew up feeling trapped within her own body. Growing up in a community with no comprehensive sex education, coming to terms with her body and sexuality was a challenge. Smiley also spoke about the lack of recognition at an institutional level, unable change her name on important documents and educational certificates finding a job was impossible. As a transwoman and no means of income, Smiley had only two options: prostitution or begging. Choosing the latter, earning her livelihood out on the streets, Smiley raised enough money to undergo gender reassignment surgery and live her life as a woman. Now studying at the London International School of Performing Arts, Smiley described her dreams of creating a drama troupe in Tamil Nadu and her plans to continue her passion for performing.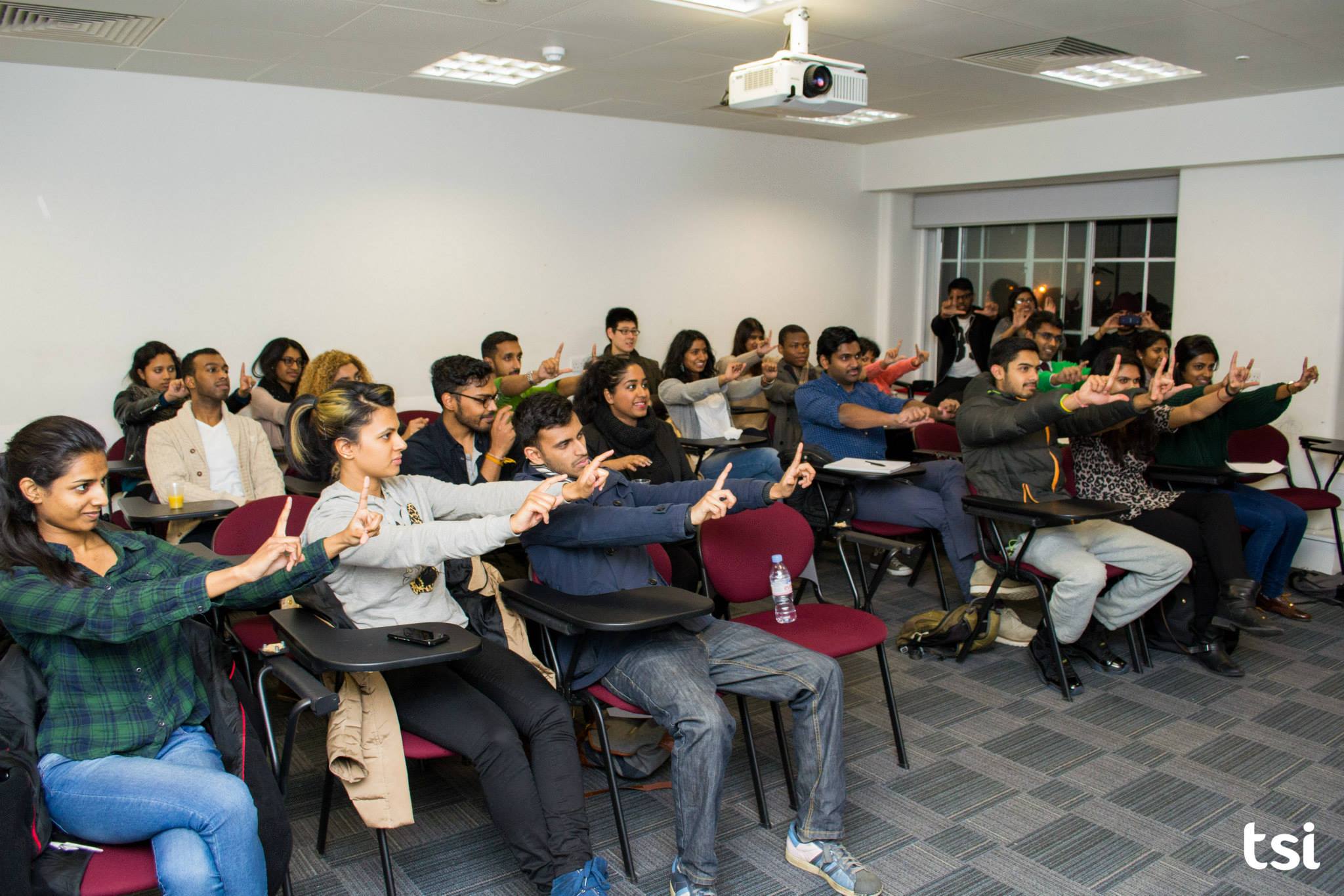 During the question and answer session with Smiley Vidya, students asked about the attitudes Smiley came across during her visit here in London as well as how she was able to differentiate between her gender identity and sexuality. It also brought up another pressing matter - Tamil cinema and role it plays within our community. Smiley stated how Tamil films continuously perpetuate and contribute to the stereotypes of trans-women that we have all come to know. Considering the lack of sex education and inclusive conversation surrounding these issues, Tamil cinema has become the gate-keeper of Tamil identities.
| | |
| --- | --- |
| | |
Following the talk, the group discussions spanned a host of topics that picked apart the various elements of LGBT discrimination such as taboo, social stigma, culture of ignorance and abuse. Vidya's talk outlining the need for jobs for transpeople encouraged students to think critically about the structural way in which society undermines and undervalues those that identify as LGBT. The students went on to discuss the generational gap in attitudes towards LGBT and considered whether identifying as both Tamil and LGBT was mutually exclusive.
With LGBT issues within the Tamil community yet to be discussed openly, many people who would identify themselves as both Tamil and LGBT feel invisible for fear of rejection. Without recognition of LGBT issues, set gender roles and a lack of open dialogue about sexuality, LGBT discrimination may continue to become deeper entrenched within communities. Within this heteronormative society, being straight is normal, being straight is a given, being straight is the default- thus creating a complete vacuum around LGBT identities making Smiley's experience just one of countless stories that have been caught up in a culture of fear, secrecy and exclusion. Open dialogue and honest discussion is just one small step towards breaking those taboos.
The next discussion in the UNRESTRICTED series is on Caste and Religion and will take place at Imperial College London on 18th March 2014. Visit our facebook page for more details here.