The Canadian Tamil Youth Alliance (CTYA), held its 4th annual 'Top Talents Awards Gala', in December to conclude a successful 2013 for Canadian Tamil youth.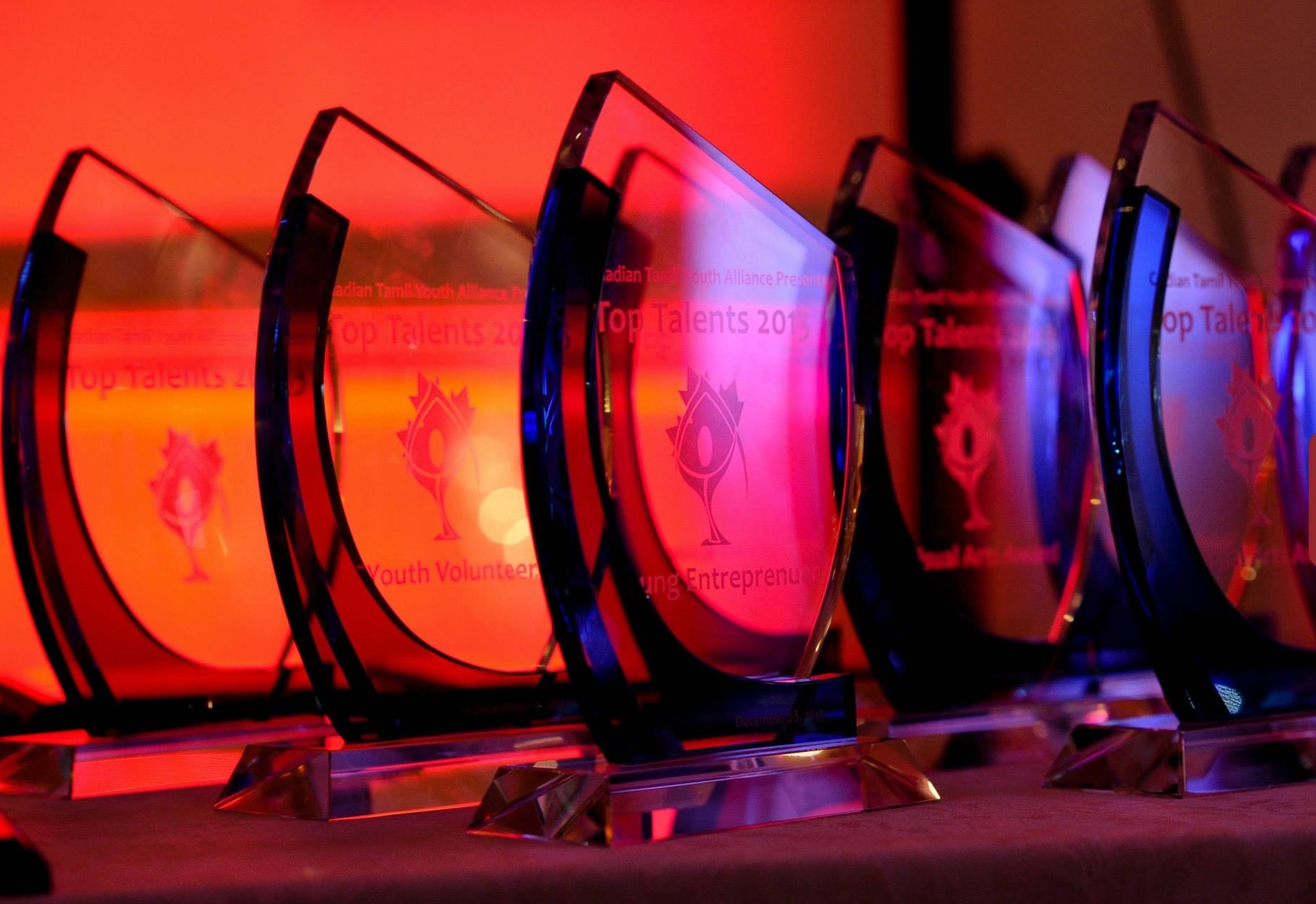 Photo:Ninaivukal

The CTYA committee carefully selected members of the Canada Tamil youth community who had excelled in various fields such as music, business, arts, sports, academia and many more.
Speaking to Tamil Guardian on the importance of celebrating youth success, the Vice President of CTYA, Tarchini Vallepuram, said,
"Investing in our youth is essential for the overall growth of our community and broader society. Through recognition and inspiration, our youth will get motivated to pursue their dreams and reach even greater achievements."

Full list of awards winners below.
| | |
| --- | --- |
| Visual arts | Keerthana Nagaratnam |
| Classical Dance Award | Thakshikah Sritharan |
| Martial Arts Award | Prashan Pararasasubgan |
| Young Entrepreneur Award | Ravi Ravindran |
| Engineering Award | Krishanth Krishnan |
| Science Award | Tharmegan Tharmaratnam |
| Volunteer Award | Midila Anton |
| Tamil Language Award | Kishoane Sriganesh |
| Cricket Award | Jinoshan Nagenthiran |
| Ezhuthu-kol Award | Renishaki Kamalanathan |
| Ezhuthu-kol Award | Shayanika Suresh |
| Ezhuthu-kol Award | Arthithan Kurukulasingam |
| Ezhuthu-kol Award | Keerthana Raveendran |
| Youth Icon Award | SE boyz |
| Youth Icon Award | Ey Kunjayee! |
| Youth Icon Award | Shelly Anton |
| Youth Icon Award | Saiesan Muthulingam |
| Youth Icon Award | Abirami Shanmuganathan |
| Youth Icon Award | Jessica Thyriar |
| Tamileelam Challenge Cup Award | Kamal Arumugam |
| Tamileelam Challenge Cup Award | Thanusan Baskaran |
| Tamileelam Challenge Cup Award | Netharshan Haribalan |
| Tamileelam Challenge Cup Award | Nirutharan Mariyanayagam |
| Tamil Eelam Football Association  (TEFA) Award | Menan Nagulendran |
| Tamil Eelam Football Association  (TEFA) Award | Arun Vigneswararajah |
| Tamil Eelam Football Association  (TEFA) Award | Shazil Niyas |
| Tamil Eelam Football Association  (TEFA) Award | Umaesh Sundralingam |