08 September 2017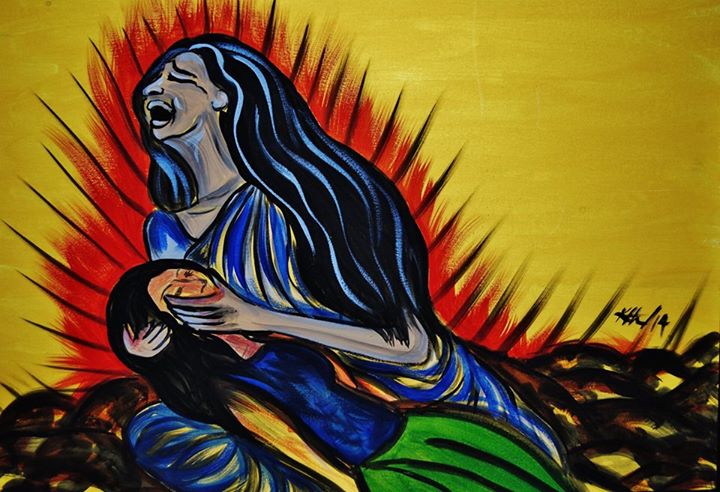 Illustration: Keera Ratnam
Sri Lanka's former military commander General Jagath Jayasuriya stands accused of overseeing a litany of crimes during the island's armed conflict. The charges are grave. The lawyer who filed the case, renowned prosecutor Carlos Castresana Fernandez, said the evidence is more abundant than against Argentine General Jorge Rafael Videla and Chilean General Augusto Pinochet. However, Jayasuriya's hasty retreat to Sri Lanka, where the government has offered him staunch protection from prosecution, serves as a stark reminder that the island remains a haven of impunity.
The case against the general is clear-cut. Detailed reports, from NGOs and the United Nations, acknowledged that soldiers under his command violated international law, systematically massacring tens of thousands. Previously, he has repeatedly defended the military offensive and claimed responsibility for orders to the frontline. Yet faced with the lawsuits, Jayasuriya's attempt to shirk responsibility for Sri Lankan troops and reluctance to deny that any crimes took place indicate at the very least that the general has serious questions to answer. His swift return to Colombo speaks volumes of his confidence to answer the charges.
The most worrying aspect of this case though is that Jayasuriya felt that he could find safety from the charges in Sri Lanka, an island where impunity continues to be the order of the day. As soon as he arrived, he was welcomed by a fervent chorus of Sinhala nationalist voices defending the general. It took just a matter of days for Sri Lanka's head of state Maithripala Sirisena to join it, reiterating his oft announced pledge to never prosecute 'war heroes'. Sirisena was unequivocal – no one, domestic or international, would be able to "to lay a hand on General Jagath Jayasuriya or any other military commander".
Given the state's long history of impunity, there is a justified scepticism about the government's willingness to reform amongst the island's Tamils. Jayasuriya was, after all, appointed as ambassador to Brazil by the current regime. Sirisena's comments will only add to the disillusionment and resentment that has set in. The government's refusal even to investigate this one individual, especially with such ample and compelling evidence, displays little confidence that it can independently deal with the "widespread and systematic" crimes the UN deemed to have taken place. It offers no hope to victims still seeking justice in any other domestic mechanisms that Sri Lanka has offered. Even if exercises such as the lauded Office of Missing Persons manages to carry out credible enquiries and finds members of the military responsible for enforced disappearances, the case of Jayasuriya shows the government will remain unwilling to hold them to account. There is simply no appetite for justice in the South.
However, the past week has revealed that when under pressure, cracks will appear in the regime. Sarath Fonseka, the former head of the army who himself bears command responsibility for the crimes committed, stated he was willing to testify against his former colleague if legal action were to take place. With the potential that the military may not the stumbling block towards accountability that the government makes it out to be, openings such as this should be capitalised on by the international community. There is a clear avenue forward. When Sri Lanka is under pressure, people will talk.
The backlash that Fonseka now faces showcases not only how deeply Sinhala Buddhist nationalism is entrenched, but also the many ways in which international pressure works. Civic legal action filed thousands of miles away is enough to make the regime nervous and stoke Sinhala Buddhist nationalism into a rabid defence of its military. Clearly, international pressure pushes buttons in Colombo. But instead of applying it on Sri Lanka forcefully, the international community has chosen a path of polite engagement, hoping it will yield results. Western nations, in particular, the EU, US and UK, must now admit that the carrot before the stick approach has failed. It has led to faltering on the path towards justice, a basic prerequisite to achieving reconciliation, and instead bolstered the confidence of Sinhala Buddhist nationalism. President Sirisena's triumphalist comments last week, bragging of GSP+ trade concessions and increased positive international engagement, coupled with his stiff support for the military are a clear marker of how emboldened Sinhala nationalists feel.
With frustration in the North-East growing, this failure to tackle Sinhala Buddhist nationalism will only lead to more of the same insecurity that fuelled the decades long ethnic conflict. The international community must change tack and recognise that whilst Sri Lanka's apex political and military leaders remain unpunished, instability will grow. Engagement with Sri Lanka should be on the basis of forging a path towards justice. The massacres of 2009 were a defining moment in the island's history, and as the unfolding events in Myanmar demonstrate, if left unchallenged they are an international blueprint for committing mass atrocities without recourse. The crimes of Mullivaikaal will not go away. They are too grave. And unless justice is served, Sri Lanka's ongoing lack of accountability will continue to be a source of comfort for impunity around the world.