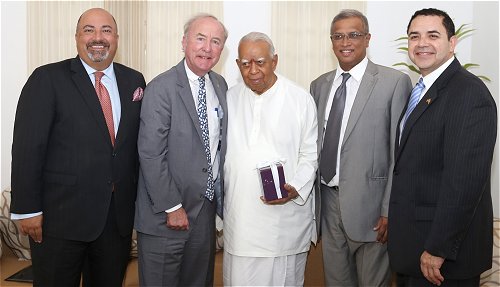 A cross-party delegation from the US House of Representatives met with the Tamil National Alliance on Thursday during a visit to Sri Lanka. 
The delegation which included the Congressman Rodney Frelinghuysen of New Jersey, Chairman of the House Appropriations Committee, and Congressman Henry Cuellar of Texas, were accompanied by the US ambassador to the island, Atul Keshap, and met with the leader of the TNA, R Sampanthan and the TNA spokesperson and MP, M A Sumanthiran. 
They also met with Sri Lanka's prime minister, president and Spekaer of Parliament. 
"This visit demonstrates the strong bilateral relationship between the United States and Sri Lankan," Mr Keshap was quoted by Colombo Page as saying. 
"Across the three branches of the US government, we will continue to support Sri Lanka's commitments to constitutional reform, reconciliation, justice, and economic prosperity."