21 November 2015
UPDATED 18OO GMT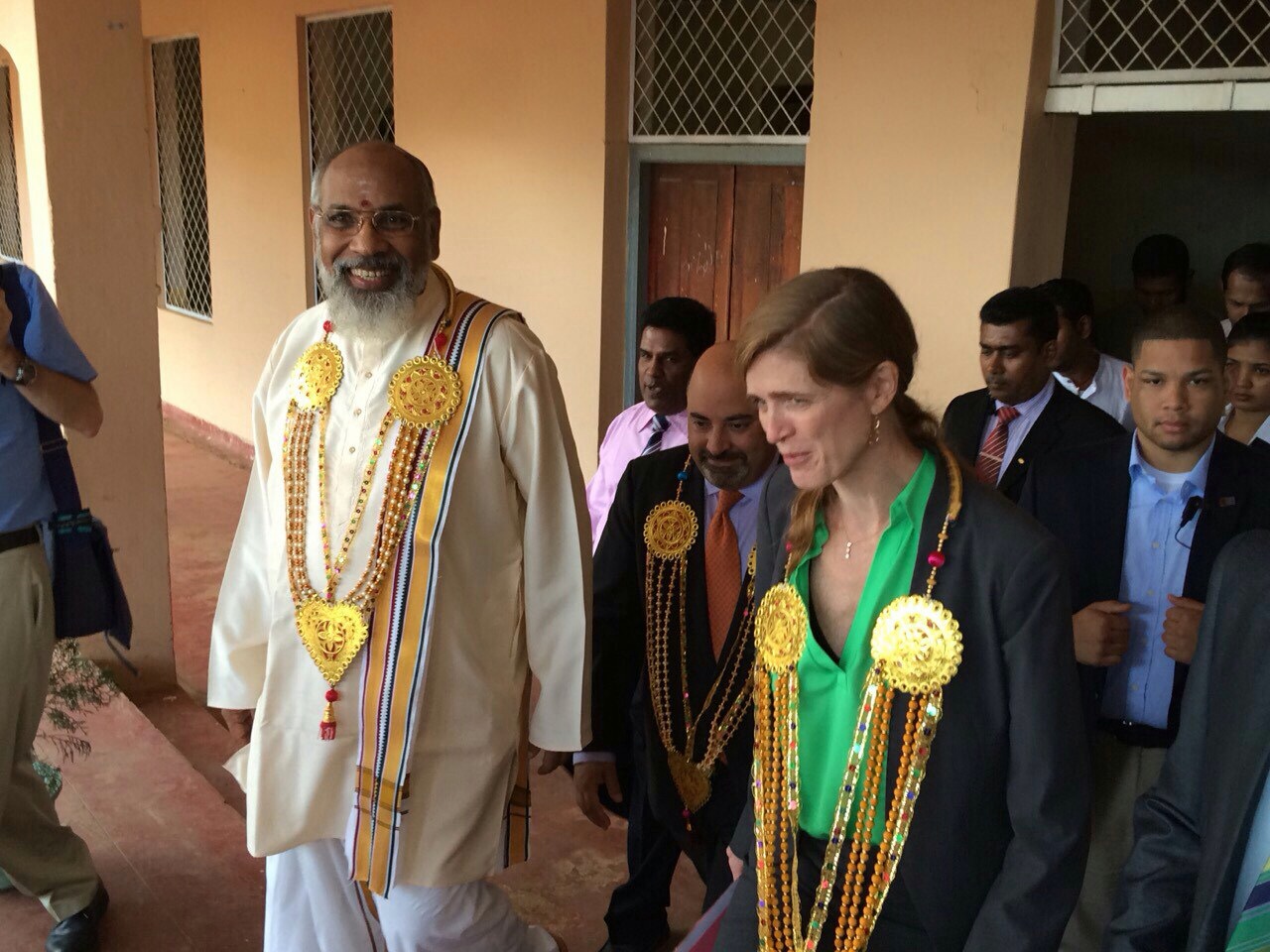 Photograph: Tamil Guardian
The US Ambassador to the United Nations Samantha Power concluded a visit to Jaffna on Sunday, where she met with Tamil journalists, and Northern Province Chief Minister C. V. Wigneswaran.
Ms Power began her trip to Jaffna by visiting Sri Lanka's Governor of Northern Province. H. M. G. S. Palihakkara. On arrival in Colombo yesterday, she told reporters "the world is watching what is happening in Sri Lanka" and she was looking forward to inspecting the changes that had taken place in the North-East since her last visit five years ago. Discussions with Mr Palihakkara revolved around those changes, with the US ambassador stating that "development [and] demilitarisation in Jaffna cannot wait".
See our post:'Demilitarisation in Jaffna cannot wait' says Samantha Power (22 Nov 2015)
The ambassador went on to meet the Chief Minister of the Northern Provincial Council C. V. Wigneswaran at the Chief Minister's Office, before attending a ribbon cutting ceremony at Osmania College.
As she toured the Northern Province, the ambassador visited the Uthayan headquarters in Jaffna, where she met Tamil media workers who continue to work despite the stifling of a free press on the island. Drawing on her experiences as a journalist, Ms Power praised Tamil media workers for their resilience and urged them to continue to be a "check and balance of state power".
See our post: US Ambassador praises resilience of Tamil journalists (22 Nov 2015)
Her visit also took her to Jaffna Library, the site where Sri Lankan state security forces and state sponsored mobs infamously set ablaze the building, destroying over 95,000 unique and irreplaceable Tamil palm leaves (ola), manuscripts, parchments, books, magazines and newspapers.
The US ambassador though, announced that her government would partner with Jaffna Library staff "as you seek to complete the task of preserving what you have," announcing 1.5 million rupees to fund the restoration of ancient Tamil manuscripts.
Ms Power's visit also saw the opening of a $450,000 new science faculty in Jaffna.
US opens $450,000 school faculty in Jaffna (22 Nov 2015)
See our post: Ancient Tamil manuscripts to be restored through US grant (22 Nov 2015)
Speaking to Sri Lanka's President Sirisena and Prime Minister Wickremesinghe after her visit to the North-East, Ms Power called for swift fulfillment of the United Nations Human Rights Council (UNHRC) resolution and its terms.
US wants 'swift and credible fulfilment' of UNHRC resolution (24 Nov 2015)
The Tamil National Alliance (TNA) in a meeting with the the US Ambassador, urged the US to continue their assistance in ensuring the UNHRC resolution was fully implemented. 
Sampanthan tells Power that UNHRC resolution needs to be fully implemented ( 23 Nov 2015)
In a separate press release the Jaffna Press Club called on the US ambassador to push Sri Lanka to investigate the murder of Tamil journalists.
Jaffna Press Club calls on US Ambassador to push Sri Lanka to investigate murder of Tamil journalists (23 Nov 2015)
See further coverage from the US Ambassador's visit to the North-East.
Samantha Power will 'introduce federalism in Sri Lanka' warns opposition MP (23 Nov 2015)
Obama asks about Sri Lanka 'every day' - Samantha Power (23 Nov 2015)
US wants 'swift and credible fulfilment' of UNHRC resolution (24 Nov 2015)
US will pressure Sri Lanka to meet the needs of Tamils - Wigneswaran on Samantha Power meeting (22 Nov 2015)
Sri Lanka's Sunday Times slams 'bleeding heart' Ambassador Power (23 Nov 2015)
US will pressure Sri Lanka to meet the needs of Tamils - Wigneswaran on Samantha Power meeting (23 2015)
US Ambassador praises resilience of Tamil journalists (22 Nov 2015)