28 October 2018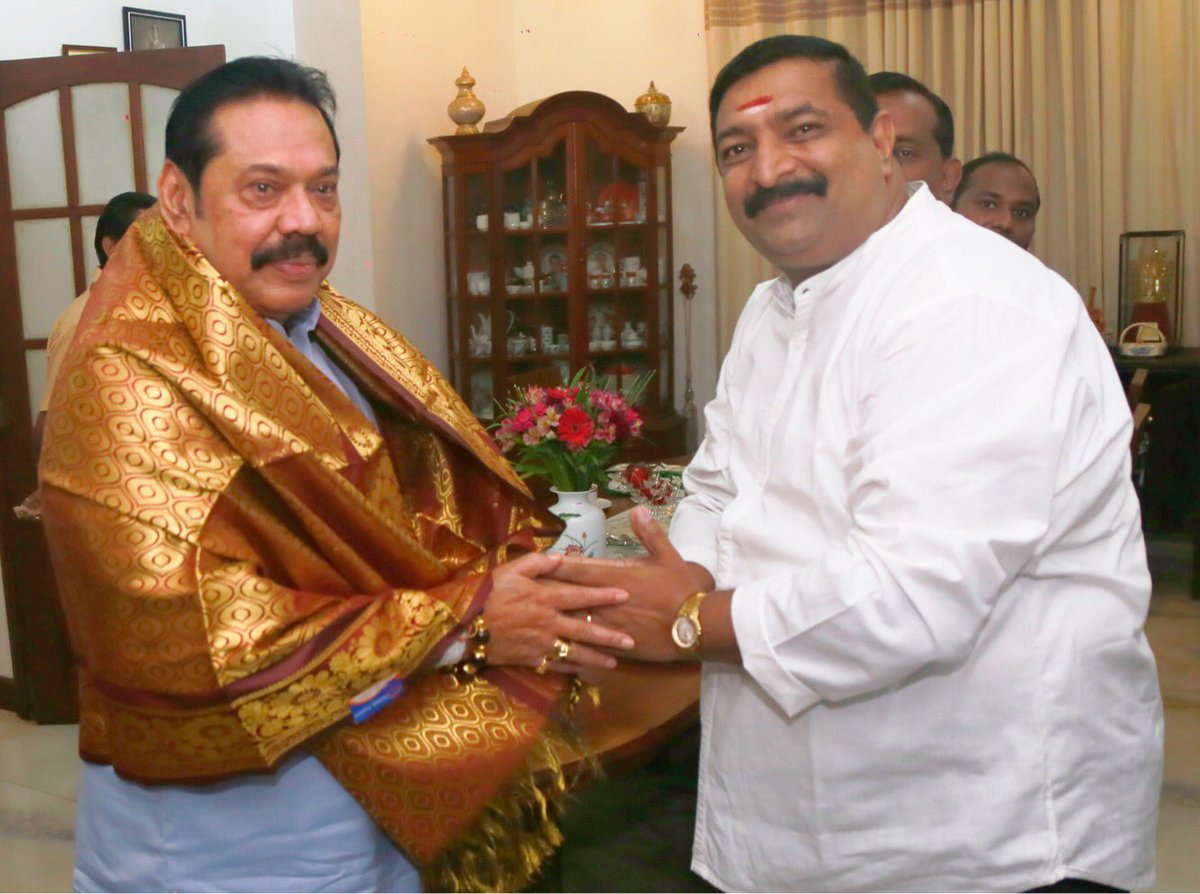 Badulla district UNP MP, Vadivel Suresh crosses over to support Mahinda Rajapaksa (Photograph @AzzamAmeen)
At least three parliamentarians have now defected from Ranil Wickremesinghe's United National Party to Mahinda Rajapaksa, as both men vye to control a parliamentary majority and the seat of Sri Lankan prime minister this week. 
Following President Maithripala Sirisena's decision to appoint Mahinda Rajapaksa as prime minister of Sri Lanka, both he and Wickremesinghe have claimed they control a parliamentary majority.
In a letter to Wickremesinghe on Friday, Sirisena emphasised the importance of article 42(2) of the Sri Lankan Constitution which maintains that "the President shall appoint as Prime Minister the Member of Parliament, who, in the President's opinion, is most likely to command the confidence of Parliament". 
Though, Wickremesinghe maintains that the Sirisena's actions were unconstitutional given the passage of the 19th Amendment in 2015, he claimed that he still holds majority support.
His claims will be significantly weakened after the defection of UNP MPs Vasantha Senanayake and Ananda Aluthgamage.
Aluthgamage told a Colombo press conference that more than 20 other fellow UNP parliamentarians were ready to cross over. 
On Sunday, the Badulla district MP, Vadivel Suresh met with Mahinda Rajapaksa pledging his allegiance. However, on Monday Suresh also met with Ranil denying his support to Rajapaksa. 
If Rajapaksa's party (UPFA - United People's Progressive Alliance) is able to attract the defection of 18 MPs, he will be able to claim a majority in parliament with 113 in the House of 225 members. It currently holds only 95 MPs which is less than the Wickremesinghe UNF of 106 parliamentarians.
Rajapaksa was Sri Lankan president as the government launched a massive military offensive that saw the deaths of tens of thousands of Tamils in 2009. Wickremesinghe is also accused of overseeing human rights abuses, whilst he served as prime minister of Sri Lanka from 7 May 1993 to 19 August 1994 and 9 December 2001 to 6 April 2004.