16 May 2014
UK politicians, rights activists and campaigners condemned the structural violence taking place against Tamil women in the North-East of Sri Lanka, at a conference held in the House of Commons in Westminster, on Tuesday.
The event, highlighting the extensive sexual violence, torture and abuses still being inflicted on Tamil women and the societal structures that lead to these atrocities and perpetuate impunity, was organised by a cross party group of UK MPs, the All Party Parliamentary Group for Tamils (APPGT) in collaboration with the British Tamils Forum (BTF).

The societal structures present within Sri Lanka that lead to the injustices and atrocities Tamil women faced were discussed by a panel of activists, campaigners and journalists. The panel comprised Dr Frank Arnold from the medical campaign group MEDACT, Charu Lata Hogg from Chatham House and Child Soldiers International, Dr Juliet Cohen from Freedom From Torture; and Sujatha Moorthy from the telephone counseling service Jothy Helpline. The panel was moderated by Dr Sivakami Rajamanoharan, Tamil Guardian editor.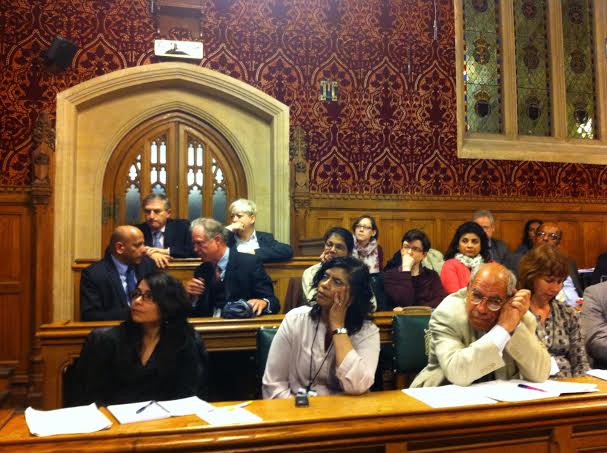 Following a minute's silence in remembrance of those killed during the final stages of the conflict, the event began with Lee Scott, chair of the APPGT and Conservative MP for Ilford North. Welcoming the international investigation mandating earlier this year as progress on accountability, Mr Scott said much more was still needed in order for justice to be delivered to the Tamil people however.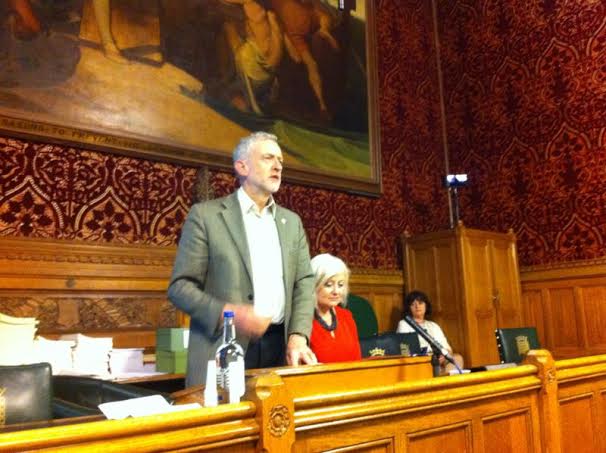 Jeremy Corbyn MP addresses conference, Siobhain McDonagh MP to his left.
APPGT Vice Chair and Labour MP for Mitcham and Morden, Siobhain McDonagh said:  "the treatment of Tamil women stressed the need for the an international, independent investigation into Sri Lanka."
Labour MP For Islington North, Jeremy Corbyn, condemned the use of sexual violence in conflict, including that against Tamil women in the North-East.
"This is a crime, it is a war crime. The Sri Lankan government knew exactly what it was doing when it treated these women this way," stressed Mr Corbyn.
Detailing the use of sexual violence in other conflict areas, such as the Democratic Republic of Congo, he said it had become "a part of modern warfare" and a "weapon of war", and urged that action be taken to bring those responsible to account.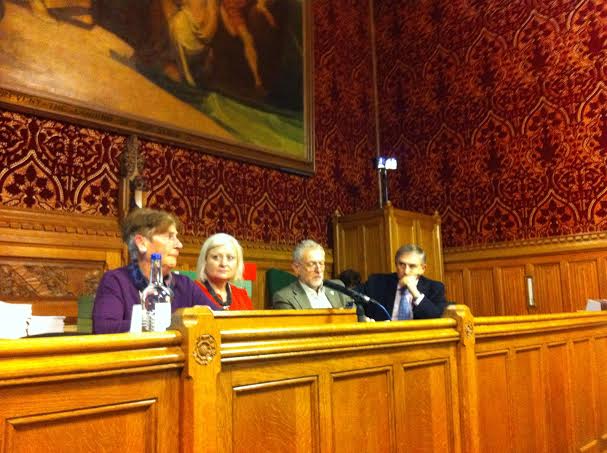 Left to right: Margaret Owen from Widows for Peace through Democracy addresses conference, Siobhan McDonagh MP, Jeremy Corbyn MP, Lee Scott MP.

Margaret Owen, the director of Widows for Peace through Democracy, a group that is actively involved in launching the British government's conference against sexual violence in conflict next month, was scathing in her criticism.
Detailing the thousands of Tamil women affected by sexual violence, and those that are still facing it today, Ms Owen pointed out that the sexual violence took place in a systematic nature and amidst increasing militarisation of the Tamil areas in the North-East.
"It's not adhoc. These rapes come from the top. It's organised, it is a form of genocide of the Tamil people," said Ms Owen
Pointing to the conference next month as a positive move towards highlighting sexual violence in conflict, Ms Owen was nonetheless critical of continued lack of justice and international inaction.
"We need to end this, holding conferences, yet denying justice for these women," she stressed.
The panel discussion followed. Introducing the speakers, the moderator, Dr Rajamanoharan outlined a number of societal structures that were present and overlay on Tamil women, stressing that the nature of the Sri Lankan state as one built on Sinhala majoritarianism was central however to understanding what led to such atrocities being committed against Tamil women.
"Yes there is gender inequality within Tamil society, but we can't ignore the ethnic dimension within the Sri Lankan state," said Dr Rajamanoharan.
"Sexual violence and torture of Tamil women cannot be separated from the structure of Sri Lanka as a Sinhala majoritarianism state. So if we are looking at finding solutions we need to remember that protecting Tamil women on the island, is not the same as protecting women on the island," she said.
The first speaker, Charu Lata Hogg, is the Associate Fellow at the Asia programme at Chatham House and Asia Program Manager of Child Soldiers International. Ms Hogg, who has also worked as the lead as well as South Asia researcher for Human Rights Watch, and a journalist based in India and Sri Lanka, described the effects of conflict, that had "scarred the social fabric of the northeastern Sri Lanka".
Highlighting the incidents of sexual violence against Tamil women by agents of the Sri Lankan state, which include the police and military, Ms Hogg, said, "however, public attention to this issue has been muted: high levels of social stigmatization, fear of reprisal owing to ongoing military control over administration in northeast Sri Lanka, lack of meaningful accountability for past crimes of sexual violence and rape, and an overriding climate of impunity have combined to discourage rape survivors from seeking redress for the abuses against them."
Stating that the LTTE forcibly recruited Tamil children, including during the final stage of the conflict, Ms Hogg said the LTTE forcibly cut the hair of women as a deterrent to fleeing the conflict zone "knowing that women with short hair would be suspected by the Sri Lankan Army of being LTTE cadres and would likely be treated as LTTE members".
Highlighting structural issues impeding independent investigations and accountability, including lack of training and resources for judicial and prosecutorial staff, lack of witness protection mechanisms, the Prevention of Terrorism Act, and visa restrictions on international NGO workers, Ms Hogg said, "these specific barriers to prosecutions and effective redress pale in comparison to the larger and more intractable issue: the Sri Lankan government's clear unwillingness to seriously investigate or prosecute serious violations of human rights by the military and police, particularly those committed in connection with the armed conflict against the LTTE."
"Impunity for grave human rights violations by the government remains widespread, equally there has been no accountability for abuses committed by the LTTE. The Tamil community, both inside and outside Sri Lank needs to support accountability for abuses committed by both sides," said Ms Hogg.
Stating that the UN Human Rights Council's recent resolution "could offer an important opportunity to begin the process of establishing the truth, and identifying responsibilities for grave abuses," Ms Hogg said, "only when this starts in earnest can justice and reconciliation be achieved."
Panelist Charu Lata Hogg from Chatham House speaking, panelist Sujatha Moorthy to her right.
Detailing several counts of torture of Tamils, Dr Arnold of MEDACT, a campaign group on global issues such as conflict and poverty run by health care professionals, pointed to the serious failings on part of the British government in providing victims with asylum, and to hold the Sri Lankan government to account.
"We've seen 208 survivors of torture from Sri Lanka, the vast majority, but not quite all, were Tamil. There were also human rights defenders from other communities," said Dr Arnold.
"[A Tamil woman who was tortured and seeking asylum in the UK] was disbelieved on the grounds that the Home Office and an immigration judge alleged that she could have paid someone to make those marks on her body, in order to make a false claim of torture," said Dr Arnold, recounting the  experience of one Tamil woman interviewed by MEDACT.
"That appalling statement, comes actually from a letter from the Foreign and Commonwealth Office, in Colombo, to the British Home Office, in which some munchkin for the Foreign Office – some kind of consular official – has lunch with an unnamed representative of an unnamed NGO, who told him, and I quote verbatim: 'everyone knows Tamils in IDP camps pay people to make marks on their bodies in order to be able to make a false claim of torture'," detailed Dr Arnold,
"That myth is widely disseminated," he added. "I've run across it even from Sinhalese doctors, senior ones in Sri Lanka".
Drawing on experiences of working with Tamil women who have been raped or tortured, Dr Juliet Cohen, the lead doctor at the medical charity, Freedom From Torture, said "it is hard for victims to give detailed evidence", pointing to social stigma and fear of reprisal.
"Many find it difficult to describe the sexual violence they were subjected to in Sri Lanka," she said, adding that women's physical weakness in comparison to men led them to often freeze and unable to make any form of resistance during the ordeal.
Repeating the words of one woman who was raped, Dr Cohen said: "a soldier destroys us once, but the village destroys us a thousand times."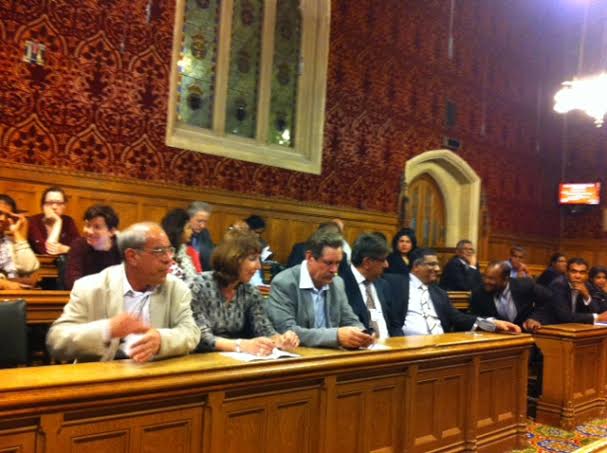 Panelists Dr Frank Arnold and Dr Juliet Cohen seated (front row, left) before panel discussion begins
Echoing her concerns, Sujatha Moorthy from the telephone counseling service, Jothy Helpline, detailed her first hand experience of the distress and isolation faced by Tamil women who had been raped and called for greater awareness and education within Tamil communities outside the island to spot signs of often hidden rape.
Highlighting the social stigma associated with rape within Tamil society, Ms Moorthy said,
"After the women are abused and tortured by the army, their lives change after that with the stigma attached to rape victims. They're outcasts."
"Often the first time [the women] call, they just cry or don't say anything. It's too upsetting for them to speak," Ms Moorthy explained, describing the phone calls Jothy helpline received from Tamil women who had managed to flee the island and were now seeking asylum in other countries.
"We cannot give called to the helpline false hope though by saying you will be ok, as the threat of deportation looms over them," she added.
In a question and answer session following the panel discussion, the possibility of sanctions against Sri Lanka was also raised by Dr Arnold, as well as members of the audience.
"Should we do a boycott of Sri Lanka," asked Dr Arnold. "Will it be effective?"
"Economic leverage can be applied," commented Ms Hogg, who had worked closely in ensure that the EU's preferential tariff (GSP+) had been removed previously, said.
"Blanket sanctions are a separate issue however," she added, stating that NGOs took a different position on this in terms of the impact on the general population and overall effectiveness.
The hurdles and barriers faced by Tamil women in reporting their crimes whilst seeking asylum was also raised by a member of the audience.
Dr Cohen and Dr Arnold said the issue was being pushed with the UK authorities, however acknowledged there were was much work yet to be done.
"There is no evidence that medical evidence by Tamil is being falsified for asylum claims," reiterated Dr Arnold.
Responding to calls for social stigma to be addressed in order for Tamil women on the island to come forward and report the crimes, many in the audience raised concerns over the Sri Lankan state's historic failure to provide justice to the Tamil people, long before the Rajapaksa government.
A Tamil woman in the audience asked, "but what happened to the crimes already reported? What about the case of Krishanthi [Kumaraswamy] for example?", stating that it was not an under reporting of crimes that had led to impunity.
"As long as justice isn't delivered, victims of crimes will be reluctant to come forward," said another member of the audience.
Drawing the event to a close, Raj Vakesan of the British Tamils Forum thanked all those who had attended and panelists for their contributions, and reiterated the importance of addressing the issue of structural violence against Tamil women that was still taking place in the North-East.
We need your support
Sri Lanka is one of the most dangerous places in the world to be a journalist. Tamil journalists are particularly at threat, with at least 41 media workers known to have been killed by the Sri Lankan state or its paramilitaries during and after the armed conflict.
Despite the risks, our team on the ground remain committed to providing detailed and accurate reporting of developments in the Tamil homeland, across the island and around the world, as well as providing expert analysis and insight from the Tamil point of view
We need your support in keeping our journalism going. Support our work today.