23 May 2019
Britain lost a vote at the United Nations General Assembly, urging Britain to withdraw its colonial administration from the Chagos Islands within six months.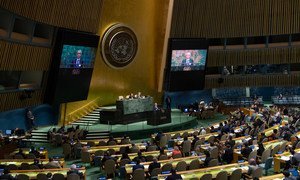 Photograph: UN News
116 countries voted in favour of the motion, six voted against and 56 others abstained.
The vote followed on from an Advisory Opinion by the International Court of Justice (ICJ) in February, which called on the UK to relinquish its hold on the territory to complete the process of decolonisation.
The Assembly stated that the decolonisation of Mauritius was not conducted in a manner consistent with the right to self-determination, therefore the continued administration of the territory constitutes a wrongful act.
The UK retained sovereignty over the Islands after Mauritius gained its independence from Britain in 1968. Between 1967 and 1973, the entire Chagossian population was forcibly removed from the territory. The islands, referred to as the British Indian Ocean Territory by the UK, have since been used for defence purposes by the UK and the US.
Mauritius says it was forced to give up the Indian Ocean group in 1965 in exchange for independence but the UK has maintained that Mauritius gave up the territory freely for a range of benefits.
A UK Foreign Office spokeswoman said, "The joint UK-US defence facility on the British Indian Ocean Territory helps to keep people in Britain and around the world safe from terrorism, organised crime and piracy."