04 October 2019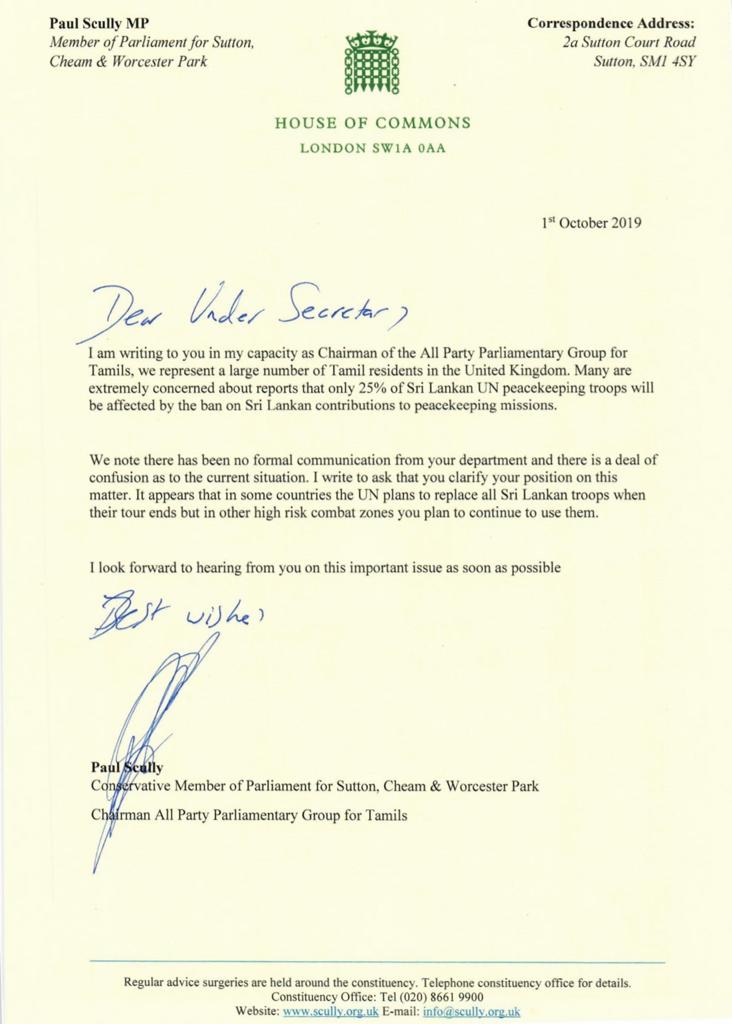 The Chairman of the UK's All Partiy Parliamentary Group for Tamils (APPGT) has written to the United Nations requesting that the government end its use of Sri Lanka troops in peacekeeping missions.
Paul Scully MP for Sutton and Cheam, wrote to the UN Under-Secretary requesting that the government end its use of Sri Lanka troops in UN missions.
Scully writes that "in some countries, the UN plans to replace all Sri Lankan troops when their tour ends but in other high-risk combat zones you plan to continue to use them".
"Only 25% of Sri Lankan UN peacekeeping troops will be affected by the ban on Sri Lankan contributions to peacekeeping missions", Scully writes.
The UN ban on the deployment of Sri Lankan forces follows the appointment of accused war criminal Shavendra Silva as head of the country's military.
Read more here: UN bans Sri Lankan peacekeepers
Farhan Haq, the deputy spokesman for U.N. Secretary-General António Guterres, said on the matter.
"We have expressed our concern to the Government of Sri Lanka over the appointment of Lieutenant General Shavendra Silva to the position of Commander of the Sri Lanka Army, despite well-documented, credible allegations of his involvement in serious violations of international humanitarian and human rights law," he added. "In light of this appointment, the U.N. Department of Peace Operations is therefore suspending future Sri Lankan Army deployments except where suspension would expose U.N. operations to serious operational risk."
The UN had previously reported that 134 Sri Lankan soldiers deployed to Haiti were involved in the sexual exploitation of children from late 2004 to mid-2007, during a peacekeeping mission in the country.
Read more here: Sri Lankan military attempts to cover up Haiti peacekeeper abuses