14 July 2017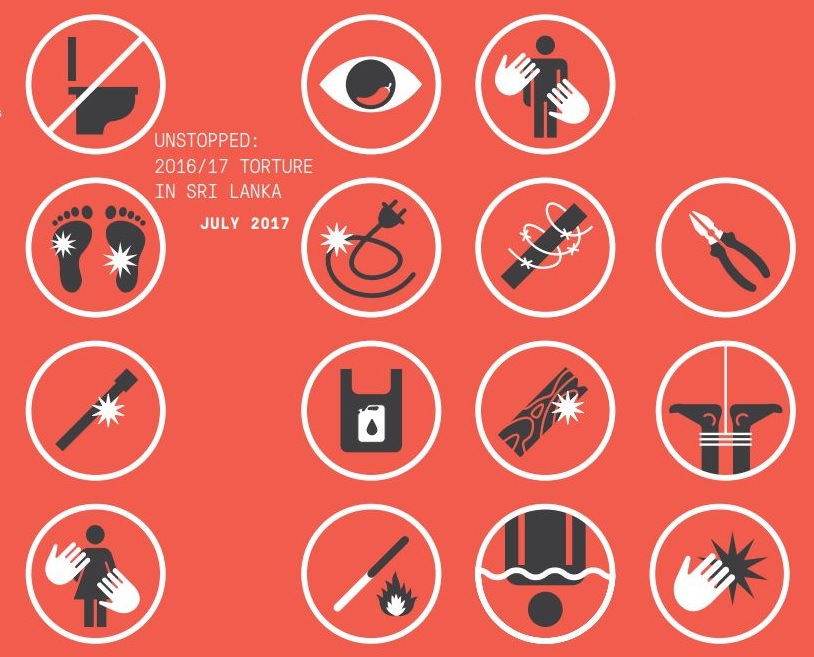 Torture and rape of Tamils in Sri Lanka has continued into 2017 found the International Truth and Justice Project's (ITJP) latest report  "Unstopped: State Torture & Sexual Violence in 2016/17."
Commenting on the continuation of torture under the Sirisena government, which came into power in January 2015, ITJP Director Yasmin Sooka said,
"It is hardly surprising that Sri Lanka's white van abductions continue as those in charge of past system crimes have been promoted and rewarded by this Government, which reassures perpetrators that they will never be held accountable... In addition torturing Tamils has become a highly lucrative business."
The damning report by the ITJP took detailed testimony from 57 Tamil victims of illegal detention and torture under the Sirisena government, with 24 cases occurring in 2016 or 2017.
Findings of the report highlighted that Tamils were abducted and tortured for a range of reasons including political campaigning, returning from the diaspora and having family members that used to belong to the Liberation Tamil Tigers of Tamil Eelam (LTTE).
Key findings from the report included:
- In a third of cases in 2016/17 senior officers are described entering the torture chamber, indicating knowledge on the part of those in command.

- 12 victims in 2016/17 heard other prisoners screaming from their solitary cells, indicating (a) more people were tortured and (b) all the security personnel present at the site would have had knowledge of the torture.

- Biometric fingerprinting has been used in the torture chambers, technology that was only recently introduced for passports. Organised crime would be unlikely to use this or want to fingerprint in the first place.

- Victims describe being asked questions about information given during previous interrogations that was not widely known, indicating those involved in torture now have access to a centralised database of past interrogation records. - 8 victims describe some of their perpetrators wearing military uniforms.

- In 7 cases the victim was tortured in a known site - the Vanni Security Force Headquarters (also known as Joseph Camp).

- Victims are held in purpose built cells and tortured in rooms already equipped for torture.

 - The abductions, release and detentions follow a similar modus operandi as during the Rajapaksa years.

- Reprisals continue against family members after the victim has fled.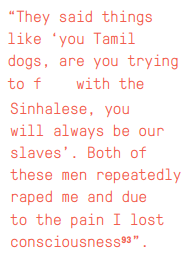 The ITJP's report provides graphic descriptions of the torture methods used in 2016/2017, which include beating with cricket wickets and pipes, burning with cigarettes and branding with hot metal rods,  asphyxiation and hanging upside down. In addition, 18 victims (15 male) described experiencing sexual violence.
See full report here.
See evidence of torture in photos here.
See full press release here.
Extracts from interviews of survivors reproduced below.
"When I woke up I was alone, my face was feeling sticky; I think they put sperm on my face, and I was bleeding from my anus and I had terrible pain. I started crying. I took my underpants and used them to wipe off my face, around my anus and back"
"I was burnt on my back and both of my legs with a heated metal pipe. The pain was unbearable. I was screaming loudly in pain. I begged them to kill me quickly as I didn't want to experience this anymore"
"While they threw and poured the chilli powder on me, all four men were joking and laughing speaking in Sinhala to each other"