22 July 2018
The TNA spokesperson M A Sumanthiran said he could see the mental agony of the families of the disappeared who protested against the hearings of the Office on Missing Persons in Jaffna and Kilinochchi this month, however he said the party's view was that the OMP was the way forward. 
"We see the mental anguish of those who protest. However, in a situation like this, in order to handle this, a mechanism such as the Office on Missing Persons is very good. It is because of this that it has been created," Mr Sumanthiran said at a press briefing, when asked for his view on the recent OMP protests."
"Giving a list or investigating certains sites, as they [the protesters] have called for, is not practically possible because when they [the army] give a list they will only give a list of those who are alive."
"No one in their right state of mind could expect that the army itself would give a list of those who are dead. In the same way, the army is not going to open places where [the missing] are said to be hidden and say 'go and have a look'."
"Therefore our view is that an independent office with the appropriate powers and the appropriate legal powers to undertake an investigation is the way forward," he added.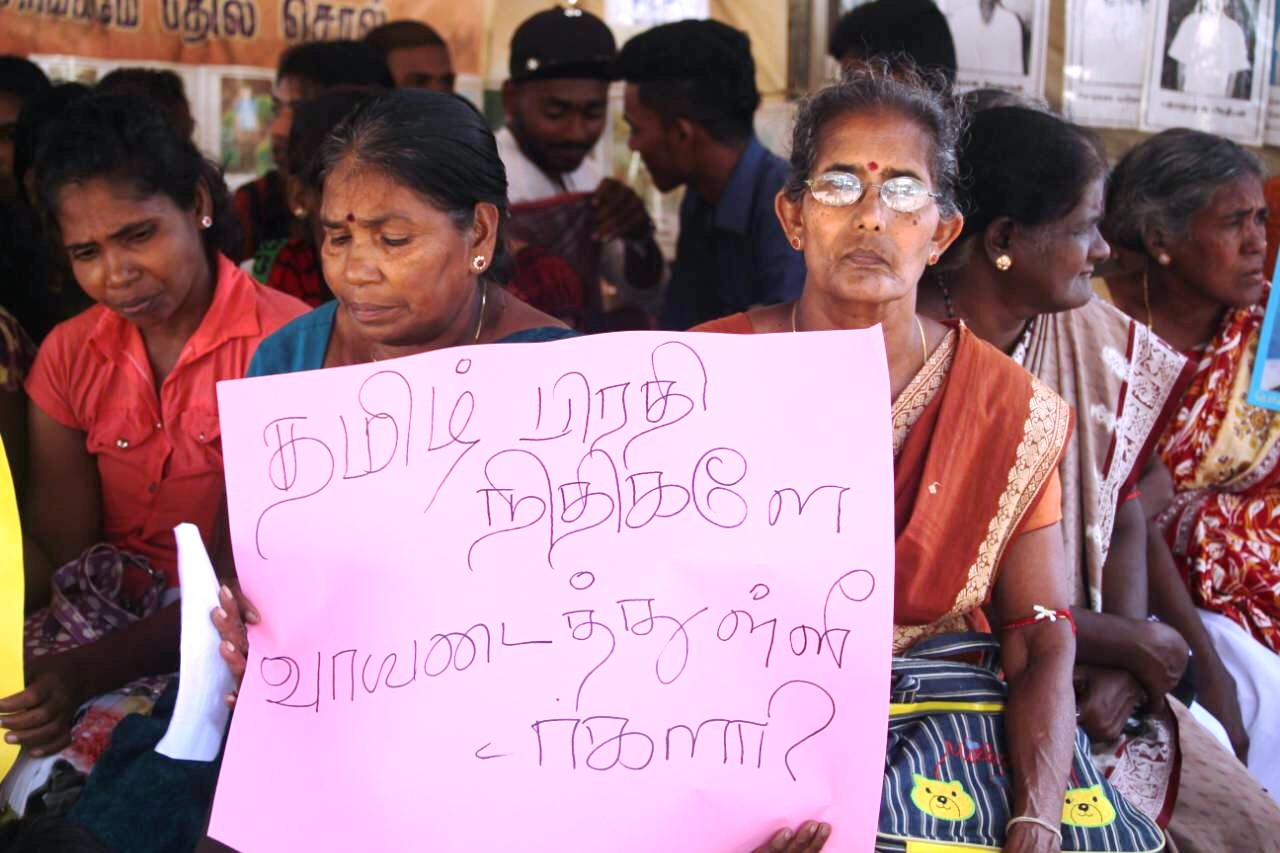 "Tamil representatives is your mouth shut?" reads banner held by mother protesting over her missing child
Mothers of the disappeared have criticised what they describe as the inaction and silence of Tamil representatives on the issue of missing persons.
Condemning the OMP as lacking independence, mothers of the disappeared have criticised the selection of commissioners and the inclusion of a senior military figure within it. 
"There is no transparency adopted in the selection of the Commissioners for the OMP. Selections were made by the Constitutional Council in which Sinhala Politicians are also members, who repeatedly said that they will not allow any members of the Security force to face justice. Can OMP guarantee that alleged perpetrators will be brought to justice?" the protesting mothers said in a statement earlier this month explaining why they would be boycotting OMP proceedings. 
"Out of the seven Commissioners is a former senior Security force officer. How can we go and seek justice from him? Can OMP take steps to remove him as its Commissioner?" they asked.