27 November 2016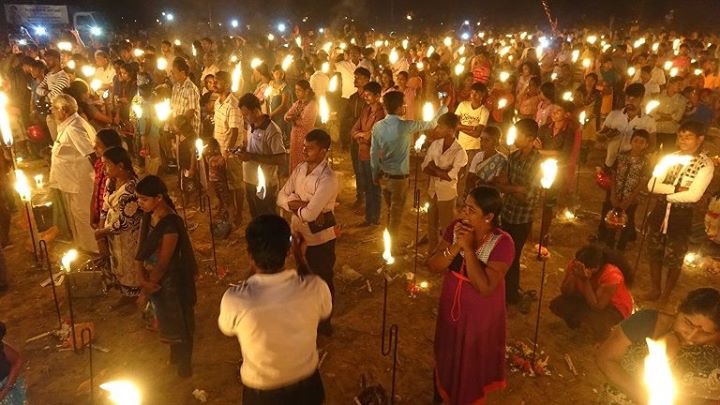 Tamils across the North-East marked Maaveerar Naal by gathering at the site of destroyed LTTE cemeteries across the North-East, where they collected broken gravestones and held memorial events to remember cadres that lost their lives in the struggle for liberation.
Kanagapuram Thuyilum Illam, Kilinochchi
Thousands of people gathered at the site of a destroyed LTTE cemetery - or Thuyilum Illam - in Kilinochchi, in an historic and emotional commemoration ceremony .Gathering at the Kanagapuram Thuyilum Illam, they lit flames of remembrance at the site that once housed the graves of hundreds of LTTE cadres.
The ceremony at Kanagapuram drew an unprecedented number of people to the site, where communal commemorations had not taken place since the area had been captured by the Sri Lankan military. As it grew closer to 6.05 pm, the time when the first LTTE cadre died in 1982, the numbers of people arriving at the site swelled, with thousands present. Some carried photographs of their loved ones who had died. Many shed tears as they lit lamps above the destroyed graves.
Amongst those present were TNA MP Sritharan who lit a flame of remembrance, as well as NPC Councillor Ananthy Sasitharan and several members of the Christian clergy.
Earlier in the day work had begun to help gather remnants of tombstones in the cemetery. All the graves of Tamil fighters had been destroyed by the Sri Lankan military once it had captured the area. Red and yellow flags were flown and a makeshift gate was erected, where once a large stone entrance had stood.
| | | |
| --- | --- | --- |
| |   |   |
| |   |   |
The event coincided with other public commemorations across the Tamil homeland and in the diaspora, with an unprecedented number of people marking Maaveerar Naal in the North-East this year.
Several other events took place at destroyed LTTE Thuyilum Illams across the North-East.
Uduththurai Thuyilum Illam, Jaffna
Hundreds came out for the traditional Maaveerar Naal commemorations at Uduththurai Thuyilum Illam in Vadamarachchi, Jaffna district. 
Mulankavil Thuyilum Illam, Kilinochchi 
Emotions were high also at Mulankavil, as relatives of Maaveerar remembered their fallen loved ones. The sites of the graves that once stood in the cemetery were marked out, where relatives of the fallen laid flowers and lit lamps.
Maavadimunmaari Thuyilum Illam, Batticaloa 
Locals in Maavadimunmaari in Batticaloa district also cleaned the remained structure of the former thuyilum illam and held a commemorative event. 
Mallaavi-Vannivilankulam Thuyilum Illam, Mullaitivu
Aatkaaddiveli Thuyilum Illam, Mannar
Pandivirichchaan Thuyilum Illam, Mannar
Tamils in Mannar gathered at the site of the LTTE cemetery in Pandivirichchaan which was bulldozed after the Sri Lankan government took control of the area in 2008.
Pandivirichchaan photographs courtesy of Jeevan.
Chatty Thuyilum Illam, Jaffna
A sacrificial flame was lit in the destroyed cemetery in Chatty. The commemorations were led by MP E. Saravanabhavan.