Over 400 Tamils came together in Jakarta to launch the Indonesia Tamil Sangam (ITS) last month, the Jakarta Post reported. 
 
Members included Eelam Tamils and South Indian Tamils living in North Sumatra, Jakarta and West Java, as well as Australia, Singapore and the United States. 
 
The ITS was inaugurated by Munusamy, a resident of North Sumatra and industrialist by profession. The event featured young Bharatha Natyam dancers and popular singers from the Indian Tamil film industry - Mukesh and Priya.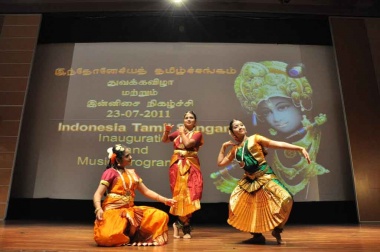 Bharatha Natyam Dance (Image courtesy Indonesia Tamil Sangam)
Organisers hope the ITS will become a centre point for Tamils to unite and further the Tamil language and heritage. 
 
"The core mission of the organization is to unite and build a community forum for Tamils living in Indonesia and to work for their betterment," said Vasagan, ITS president. 
 
He highlighted Tamil language classes and the establishment of a Tamil library in Jakarta as two key objectives for the new association. 
 
"Indonesia Tamil Sangam is a nonprofit, social and cultural organization dedicated to the welfare of the Tamil-speaking community living in Indonesia," said Chandramouli, a new member of the ITS.