A Tamil journalist was summoned to Colombo by Sri Lankan intelligence last week and is facing ongoing investigation over the broadcast of a politician's press conference.
Jaffna-based broadcast and print journalist T. Pratheepan was summoned to appear in Colombo by the Criminal Investigation Department last week to testify in relation to the broadcast of a press conference by Northern Province Councillor, M. K. Sivajilingam, in a 'racial conflict-inciting manner'.
The press conference in question took place at the Jaffna Press Club in May, in which Mr Sivajilingam spoke in Sinhalese about genocide remembrance month and which was later published by some online Sinhalese news outlets.
Although Mr Pratheepan was ordered to appear in Colombo on the 10th July, with the notice being served just three days earlier on behalf of the CID by Achuveli police, the journalist informed the station that since he had suffered injuries from a road accident the previous week, he was unable to work or travel long distances.
Another summons was issued on 12th July, ordering Mr Pratheepan to appear at the CID headquarters, home to the notorious '4th floor' known for the torture of detainees, on the 15th July.
After again informing the police that he was not well enough to make the minimum 7 hour journey to Colombo, Mr Pratheepan has now been told to appear at Achuveli police station on the 18th July to face questioning by CID officers who will travel to Jaffna instead.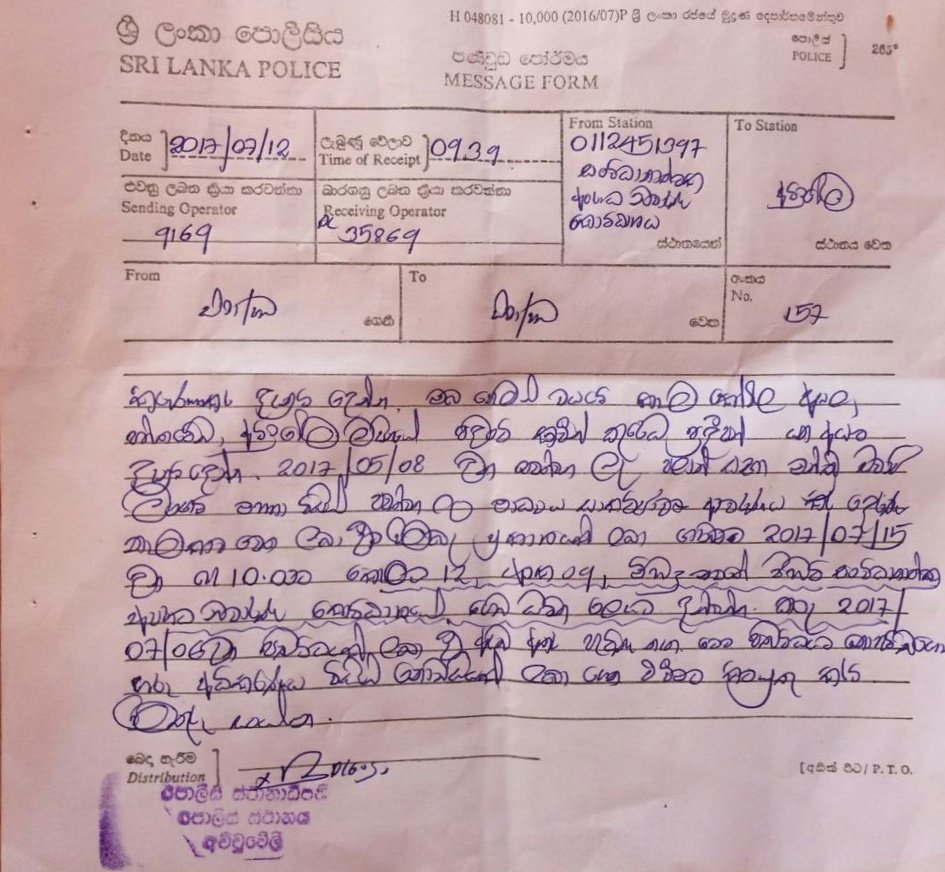 Second summon notice, issued entirely in Sinhalese