08 April 2020
With healthcare workers across the globe working to tackle the coronavirus pandemic, we look at some of the Tamils on the frontlines of the battle to save lives.
From nurses and doctors to our paramedics and porters, every single contribution is invaluable. And alongside thousands of other workers, the Tamil community has been actively involved in efforts to fight the pandemic.
We will be highlighting stories of healthcare workers around the world who are working to keep us all safe.
Canada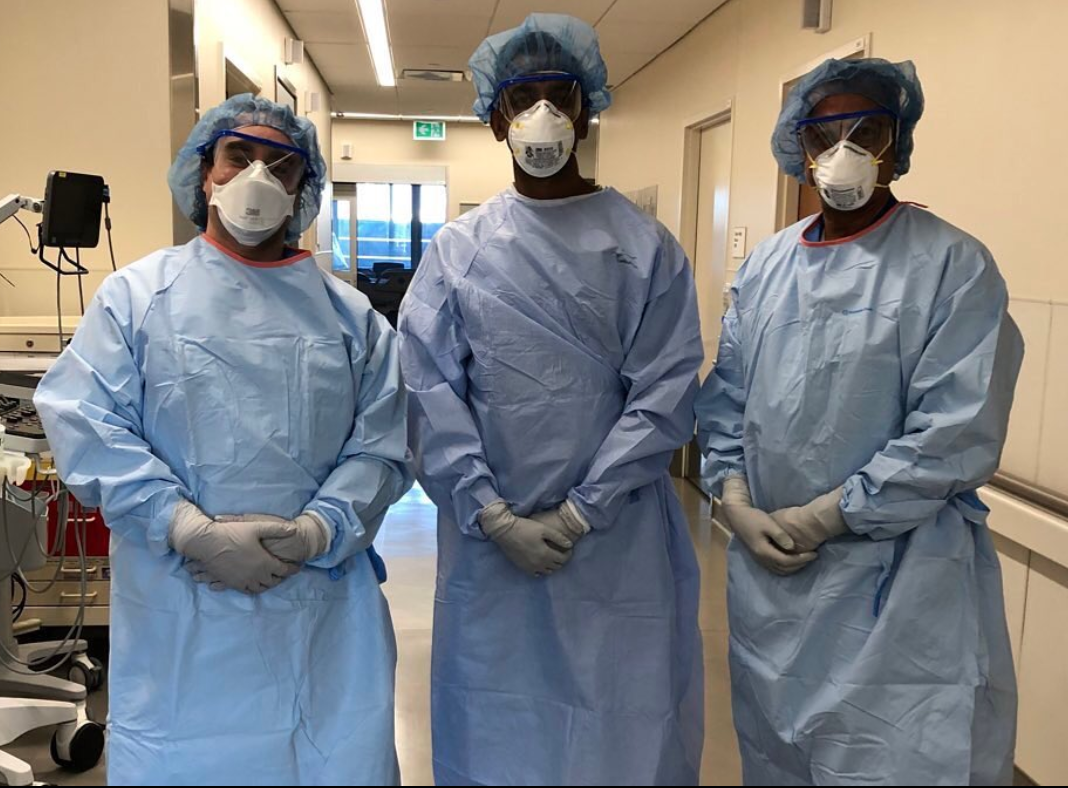 Shankar Sivananthan, Doctor, Toronto
"Being in Toronto, we've had our eye on COVID-19 since the end of January. The first week of March as we saw the tragedy unfold in Italy, we began serious pandemic planning. This involved increasing staffing and having backup in case health care workers got sick, opening up new spaces in the hospital to look after people on life support, and obtaining more ventilators."
"For the last week we've been waiting for what we hope will never come but all know will be inevitable. The sick people. The ones that can't breathe. The ones that may die. We will look after them, try our best to help them get better, but understand not all of them will. At the same time we will need to look after ourselves and our families and try to mitigate the exposure risk we face on a daily basis. At the end of it, which will be months away, we know we'll come out in a different world, and can only hope the losses on the way are minimal."
"My message to anyone who will listen is stay home, don't get exposed or expose others, and make sure to stay connected to the ones you love. It's the only way we'll get through this."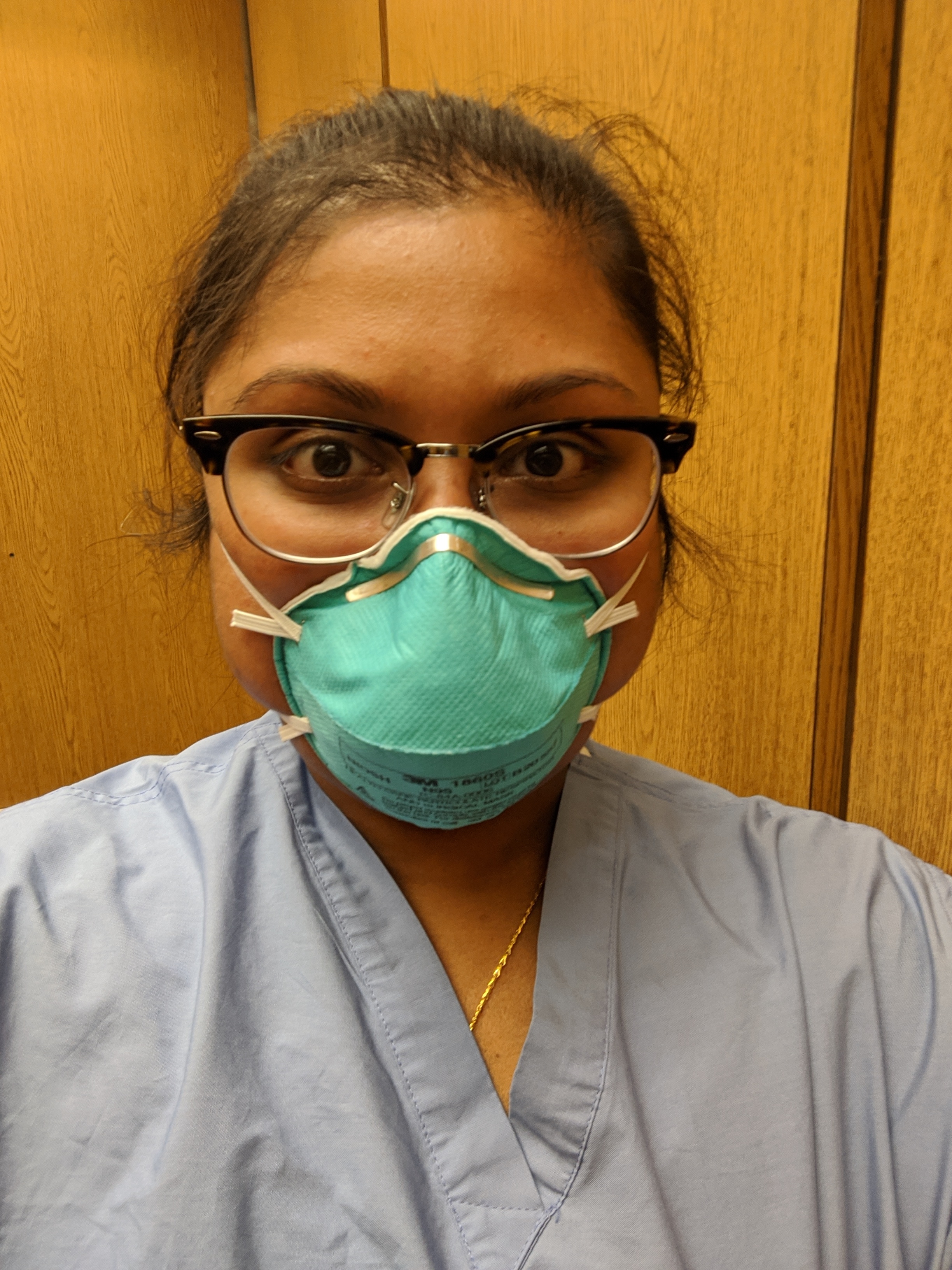 Gaya Naganathan, Surgeon, Ontario
"As a General Surgery Resident in the age of COVID19, I know that I have been protected in many ways. As my colleagues in Critical Care, Emergency Medicine, and Family Medicine are seeing a surge in the acuity of their work, surgical specialties are winding down, minimising or even outright cancelling elective operations for exclusively emergency cases. Over the last few weeks, I've seen so many rapid changes not only in the messaging in the media but also within medical societies as we learn more about this virus and how we can best protect ourselves and our patients from it. Here are some quick thoughts and observations:
- Too many people, especially young people, think that they are impervious to this virus. This makes me sad as much as it does angry. We all have a duty to protect the most vulnerable people in our society and we must take this duty to heart.
- Our health care systems in Canada are already working overtime. ICU beds are a precious and protected commodity. We cannot afford to let the system become overwhelmed.#FlattenTheCurve.
- Our communities are generous and innovative in ways I could never have imagined. In the last few weeks I've seen distilleries turn to manufacturing hand sanitizers, and fashion designers sewing masks and gowns in an effort to protect our frontline workers. I've also seen friends and family reach out through virtual means to break through the social isolation while still maintaining physical distancing. These efforts make my heart smile and give me a great deal of hope in these difficult times.
- Our healthcare leaders are working through new and complex problems that have been created through the pandemic. How does trauma surgery operate in the age of COVID19? Very carefully and systematically. Especially during lockdowns as people are forced to remain indoors our trauma cases are shifting from motor vehicle collisions to suicide attempts and domestic violence.
I am ever in awe of our ability, as a species, to adapt and persevere despite the challenges in front of us. I hope that we continue to keep our communities in mind as we move through the next phases of this pandemic"
United States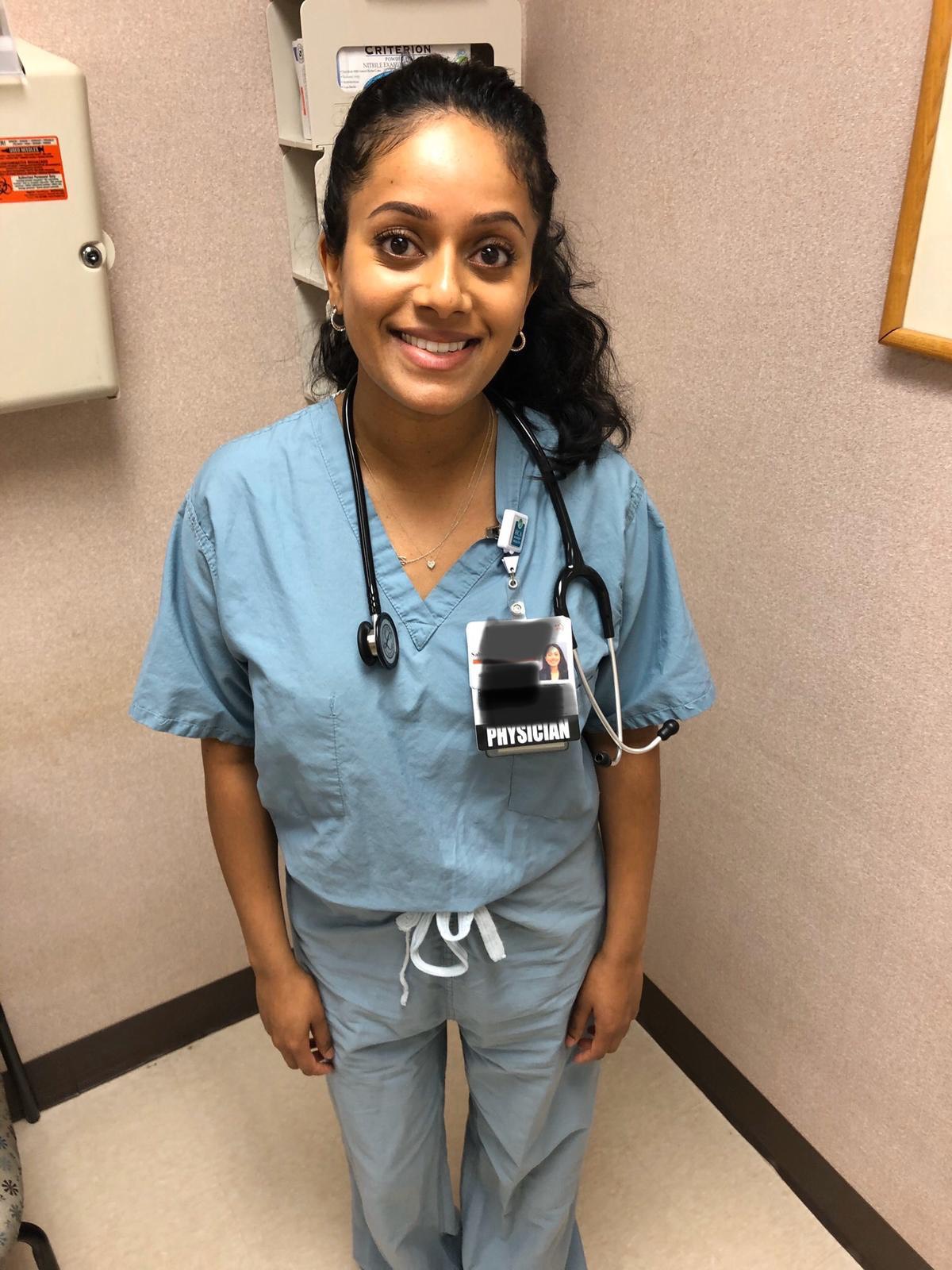 Sabrina Sahadevan, Doctor, Kansas City, Missouri
"I work in an inner city tertiary hospital that was also declared the Covid19 hub of our region a few weeks ago. I'm in a part of the country that has yet to see the devastation and havoc New York has succumbed to but we're already having to ration/reuse our (inadequate) PPE and convert med-surg floors to PUI areas."
"We have our temperatures checked every day at the designated entry points of our hospital and are required to have masks on at all times (new change in policy to help curb the infection rate). Inevitably, healthcare providers know this policy of febrile illness precluding us from work will change as we start to lose more of our workforce and soon we will be asked to work with "mild to moderate symptoms"."
"I have a co-resident who was seeing patients in clinic with inadequate PPE and is now sick with COVID19. He was a previously healthy 27 year old who is now fighting to stay out of the hospital.  Across the country, my physician friends are sharing stories of 20 year olds on vents including one 37 week pregnant woman. Never thought we'd live through something like this. This pandemic has shed some necessary light on the cracks in our broken system. Now more than ever, I hope we can come together (while social distancing) in realizing that the most important thing we can own is our health. We need to invest in education, healthcare and safety in order to truly have a productive society. To all my Tamil brothers and sisters in healthcare, hope you're staying safe!"
United Kingdom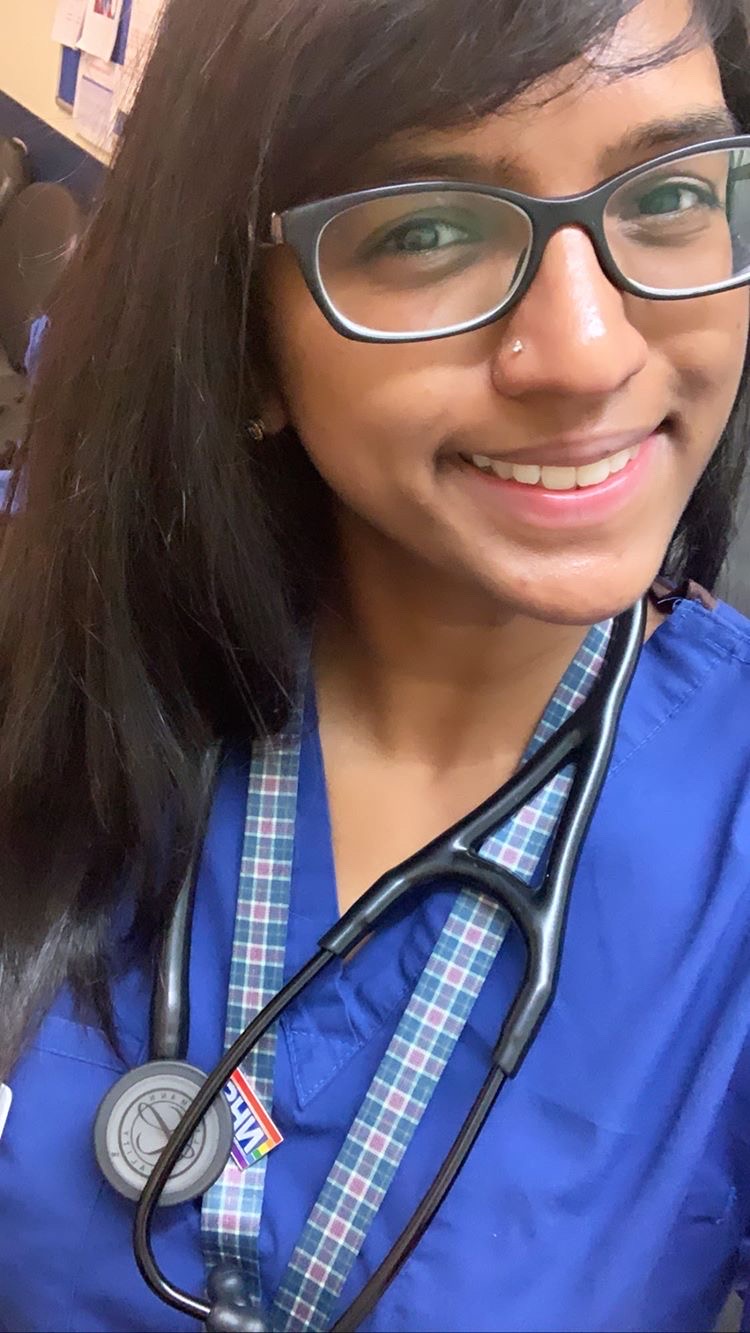 Thuvaraga Arulampalam, Doctor, London
"2020 has become an extremely hard time for all of us, probably one of the most testing times for some. I love my job in Intensive Care but nothing has prepared us for this. Patients are dying without their loved ones; they are being held by strangers in plastic and the last voice they hear is unfamiliar. I never thought my job would be a reason for me to stay away from all of my loved ones. Inpatients are being tested positive for the virus 10 days later because of spread from visitors who thought they were safe because they didn't have symptoms. We're shutting down bays because now all of the patients may have it."
"My nursing colleagues are anxious because they are returning home to their children, their loved ones with chronic diseases. A few days ago, my boss cleaned the floor of our covid-unit because our cleaning staff had not been tested for PPE yet. He's worked 12 hours every day for two weeks because his colleagues had to self-isolate. We're all finishing our 13-hour shifts and returning home to read and learn more so that we are prepared for the next patient. I'm working with some brilliant anaesthetic consultants who are having to up-skill and work 90 hour weeks. My heart is heavy, however, I'm grateful to be able to go to work and be alongside some amazing colleagues. It upsets me that on my way to work, I see so many people walking around in groups."
"As a race we've seen and been through tragedy and trauma, we can get through this."
"My plea from the bottom of my heart - Stay away from your loved ones now so you have a chance to see them soon. We stay at work for you, please stay at home for us."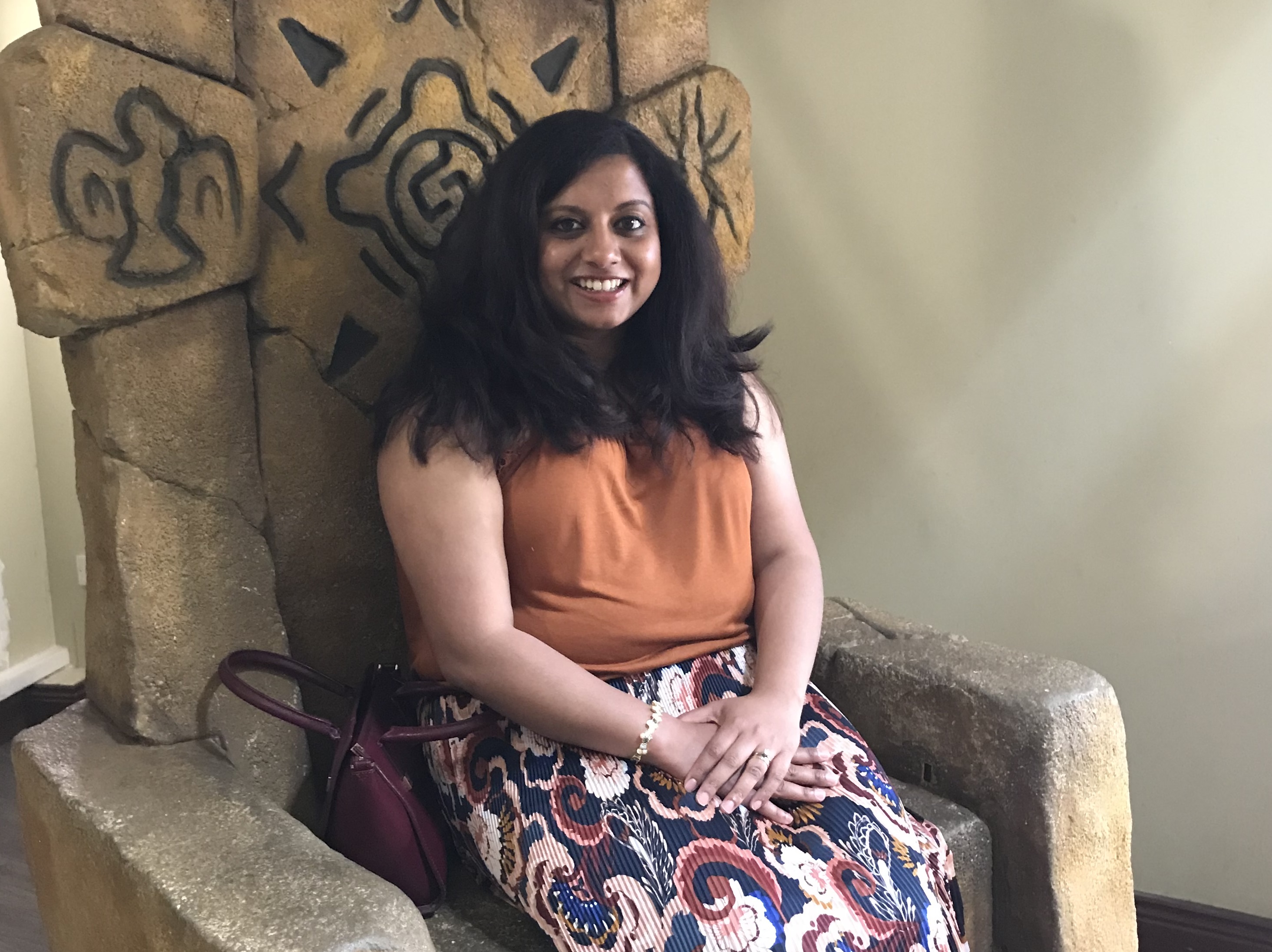 Tharani Pathmarajah, Rapid response practitioner, London
My primary role is to assess acutely unwell patients in the community who are identified as at risk of hospital admission. Being a physiotherapist by background, I also support patient discharges from hospital to home. These services are essential to the current covid-19 pandemic as we are increasingly identifying and treating COVID positive patients. Our service also helps with ensuring that beds made available in hospital for these patients and rehabilitating them at home. Community services in general provide a vital part of the network between GP's, hospitals and adult social care and I find my role very fulfilling.
We need your support
Sri Lanka is one of the most dangerous places in the world to be a journalist. Tamil journalists are particularly at threat, with at least 41 media workers known to have been killed by the Sri Lankan state or its paramilitaries during and after the armed conflict.
Despite the risks, our team on the ground remain committed to providing detailed and accurate reporting of developments in the Tamil homeland, across the island and around the world, as well as providing expert analysis and insight from the Tamil point of view
We need your support in keeping our journalism going. Support our work today.
For more ways to donate visit https://donate.tamilguardian.com.