02 July 2013
The Tamil Eelam Football Association (TEFA) team set off for the Isle of Man today, to compete in the Tynwald Hill International Football Tournament.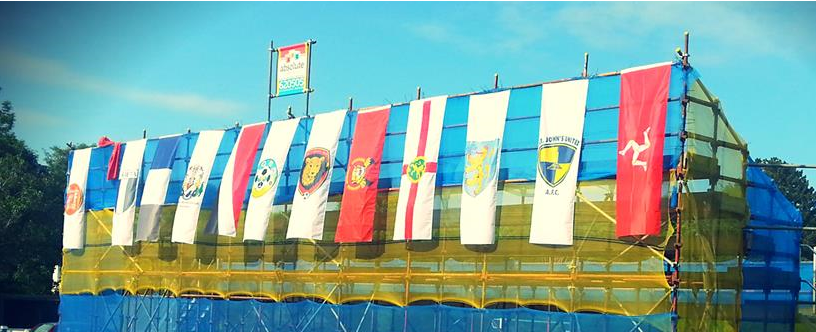 St Johns Stadium prepares for arrivals
The team will face 5 other nations in its second international tournament, fielding a host of new players from the international Tamil diaspora community.

Tamil Guardian caught up with some of the members before they embarked on a 9 hour coach journey to the Isle of Man.
Having run an intensive training sessions over the past week the Tamil Eelam Football Association manager, Ragesh Nambiar, said,
" The team has worked hard in training this week. The players are proud to be here, and I am impressed by the attitude and commitment of our players during the sessions. The team is settled and confident, so I am convinced that we will do our nation proud and come out on top in our first game against Sealand."

 The team warms up for a training session



The team captain, Majouran Jeganathan, expressed further confidence in the team, stating,
" The team is very excited to play at the upcoming tournament. We've grown to become a solid unit in just one week. We have a diverse range of players that will enable us to be dynamic on the field, and play our own game without fearing other teams."
A new player to the squad, Panushanth Kulenthiran, also a former player in the Italian Seria A league, told Tamil Guardian about his first experience with the Tamil national team,
"I'm delighted to have this chance to play for Tamil Eelam. I feel honoured to play for my home nation. This is the first time I've played with this team and after being with them for  a week, I believe we have the talent do well in the upcoming tournament."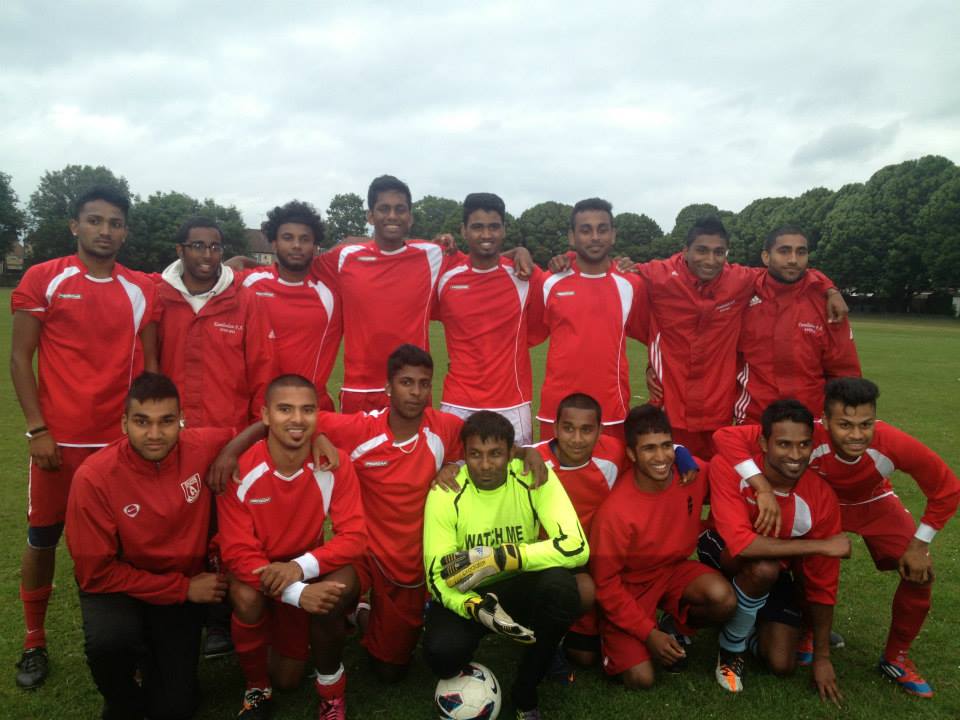 The team group together at the end of an intense training session
Tamil Eelam have drawn Sealand and Occitania in their groups and will play them on the 4th and 7th of July with respective Kick-Offs at 19.30 and 19.00.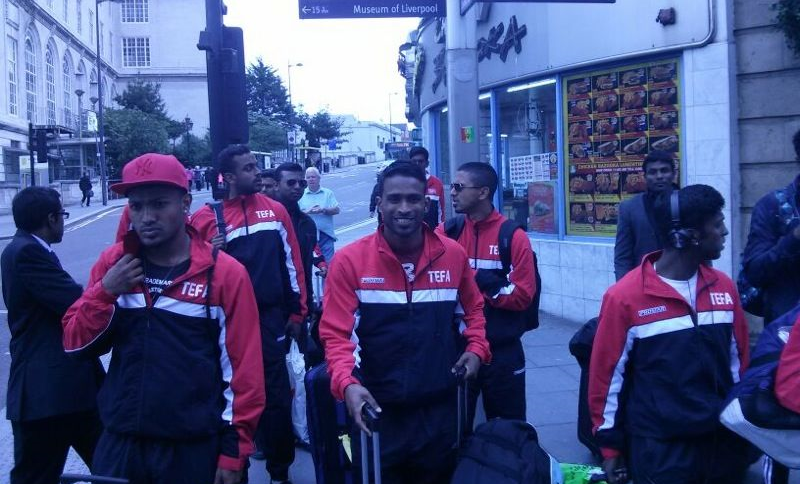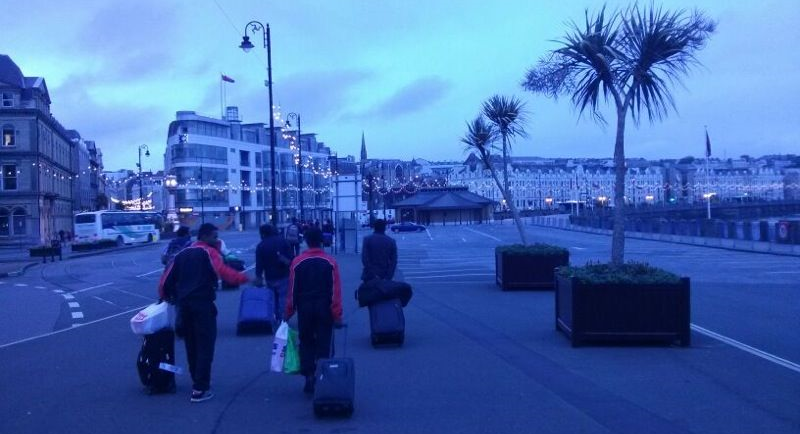 Team pass through Liverpool enroute to the Isle of Man.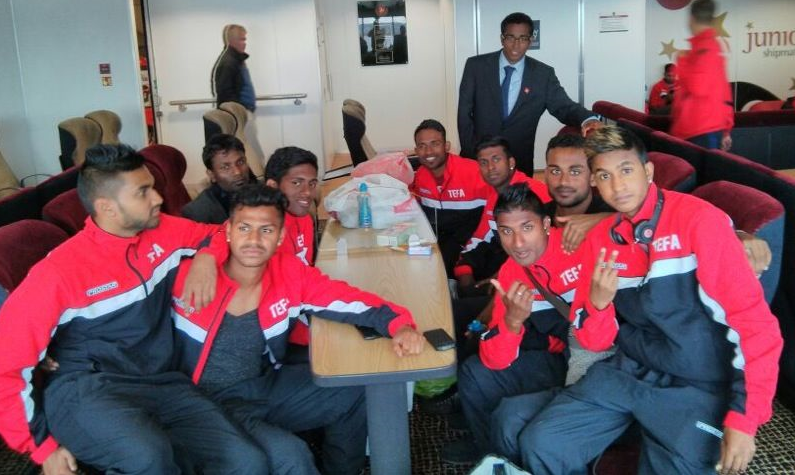 On board the ferry
As the team made their way to the Isle of Man, speculation around the team's performance has already begun, with the Non-FIFA Football association predicting a 5th place finish for the Tamil Eelam football team.
Follow @TamilGuardian on twitter for further coverage of the tournament.
Detailed minute by minute coverage of the games can be found on Tamil Eelam Football Association's twitter account @tamileelamfa
Live broadcasts of the matches can be found at http://www.tamileelamfa.org/

The tournament fixtures are as follows:
Tynwald Hill International Football Tournament Match Schedule
(Timezone:GMT)
Thursday 4th July 2013
Opening Ceremony - 12.00
St Johns United vs Raetia - 14.30
Sealand vs Tamil Eelam - 19.30
Friday 5th July 2013
St Johns United Vs Alderney - 15.00
Occitania Vs Sealand - 19.30
Saturday 6th July 2013
Alderney Vs Raetia - 14.00
Occitania Vs Tamil Eelam - 19.00
Sunday 7th July
2013
5th/6th Place Play-off - 11.00
3rd/4th Place Play-off - 15.00
Final - 19.30
Tamil Eelam Football Association 2013 Squad:
Gajendran 'Kagi' Balamurali
Age: 23
Position: Midfielder (10)
Clubs: Tus Essen West 81, Germany
Majouran 'Majo' Jeganathan
Age: 26
Position: Midfielder (17)
Clubs: Tamilstars Dortmund, Germany
Biraveen Jeyandran
Age: 19
Position: Winger (20)
Clubs: FC Affoltern, Switzerland
Panushanth Kulenthiran
Age: 23
Position: Striker (8)
Clubs: ASD Monreale Calcio, Italy
Antoni Nagalingam
Age: 29
Position: Goalkeeper (23)
Clubs: Watch Me FC, UK
Kevin Nagendra
Age: 19
Position: Defender (6)
Clubs: East London Elite FC, UK
Menan Nagulendran
Age: 23
Position: Winger (2)
Clubs: Scarborough Rangers, Canada
Mahy Nambiar
Age: 18
Position: Midfielder (12)
Clubs: Watford FC Academy U19, Whyteleafe Academy U19, Watch Me FC, UK
Gvinthan 'GV' Navaneethakrishnan
Age: 23
Position: Winger (11)
Clubs: FC Germania Friedrichstal, Germany
Shazil Niyas
Age: 24
Position: Striker (4)
Clubs: Seawaves FC, Canada
Prashanth Ragavan
Age: 21
Position: Winger (9)
Clubs: CST 93, Drancy United, France
Umaesh Sundaralingam
Age: 20
Position: Goalkeeper (1)
Clubs: CTSA U21, Canada
Sivaruban 'Siva' Sathiamoorthy
Age: 22
Position: Defender (5)
Clubs: RSC Essen, Germany
Kathiravan 'Kutty' Uthayanan
Age: 24
Position: Defender (18)
Clubs: Valvai Blues, UK
Mathanraj 'Mathan' Uthayanan
Age: 29
Position: Midfielder (15)
Clubs: Valvai Blues, UK
Ronsan Vallipuram
Age: 22
Position: Midfielder (7)
Clubs: CS Eelavar, France
Arun Vigneswararajah
Age: 19
Position: Defender (14)
Clubs: Jarvis FC, Canada