30 August 2017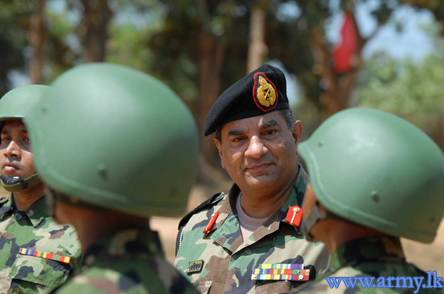 Updated 1300 GMT 
Sri Lanka's ambassador to Brazil has fled the country after human rights groups filed lawsuits accusing him of overseeing war crimes on Monday night.
Jagath Jayasuriya has now returned to Colombo via Dubai after fleeing Brazil on Sunday.   
A former military general, Jagath Jayasuriya stands accused of overseeing Sri Lankan units that bombed hospitals, as well as the execution and torture of surrendees and disappeared civilians amongst a litany of human rights abuses against Tamil civilians and militants during the final phase of the island's armed conflict in May 2009.
"This is one genocide that has been forgotten, but this will force democratic countries to do something," said Carlos Castresana Fernandez, a lawyer for the human rights groups. "This is just the beginning of the fight."
Mr Fernandez has previously worked on landmark international war crimes cases against Argentine General Jorge Rafael Videla and Chilean General Augusto Pinochet. Mr Fernandez expressed confidence in the evidence behind the lawsuit, adding that it was far more substantial than he had in previous cases. he said 
"I am shocked to see there is even more evidence of grave crimes in this law suit than in the cases we started against General Pinochet or Videla".
Similar lawsuits against the former military general have been filed in Colombia and Peru, with Chile expected to follow suit. The war crimes case against the former military general was filed by South Africa based NGO, the International Truth and Justice Project. (ITJP).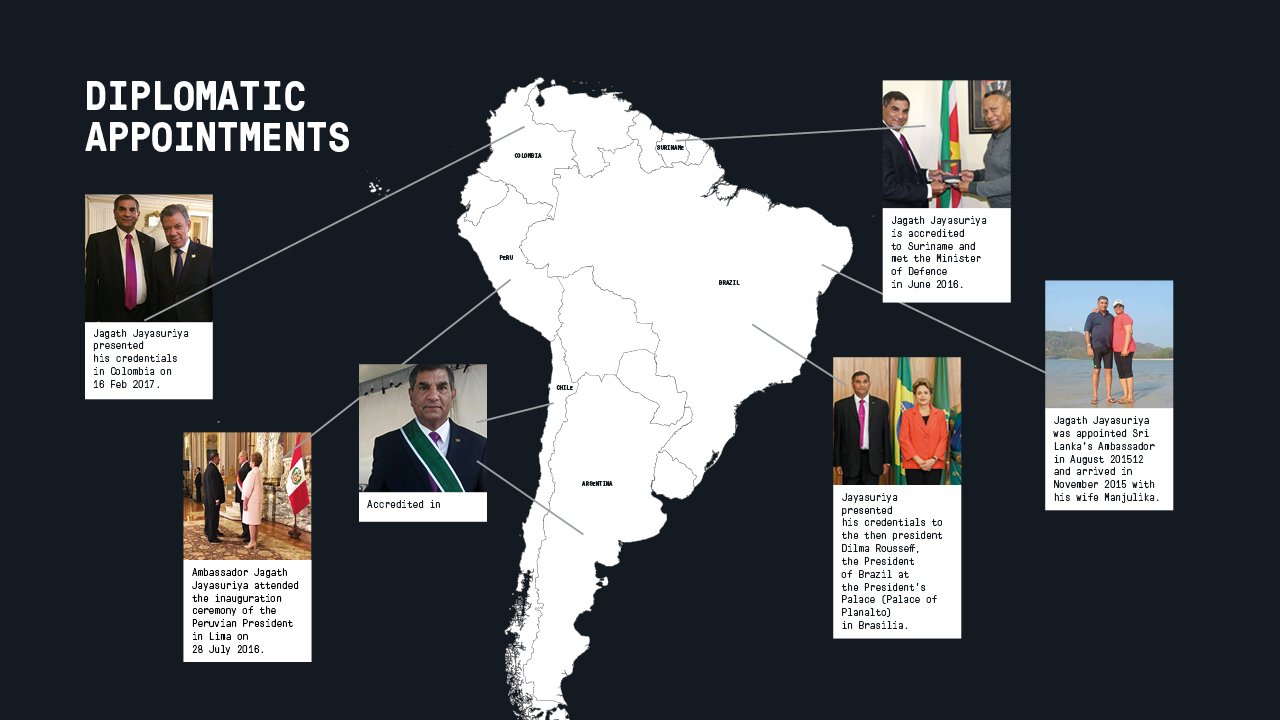 Details of General Jayasuriya's diplomatic appointments. Source: ITJP
A hasty getaway
"It is an outrage that a man like this, named in UN reports, should be sent as a diplomat abroad and accredited given what he has done," said the International Truth and Justice Project's (ITJP) executive director, South African human rights lawyer Yasmin Sooka. "We understand he's suddenly fled the region and returned to Sri Lanka."
Speaking to the Tamil Guardian, Ms Sooka said her organisation had tracked the general's final movements in the country.
"Of course somebody tipped off the general yesterday and he actually fled Brazil," she said.
"And last night as we were tracking him, we heard that he took a direct flight to Dubai. At 10 o'clock last night we knew that he was in Dubai. We don't know at what point he will reach Sri Lanka today, but apparently, he was still ambassador at the moment that he boarded that flight. And we've heard that he intends to resign in Sri Lanka, which is when he will be no longer able to claim diplomatic immunity."
Ms Sooka went on to add,
"if all of these countries actually set up arrest warrants for him, effectively General Jayasuriya will be a prisoner in his own country".
"If he really believed in his innocence, General Jayasuriya would have remained in post and faced the judicial process that would have ensued," Ms Sooka added. 
A statement released by Sri Lanka's foreign affairs ministry shortly after the news of the ambassador fleeing Brazil broke, said he was returning to Sri Lanka on a planned visit. "The Foreign Ministry denies that Jagath Jayasuriya fled Brazil in response to a human rights petition. He is returning after ending his term as planned," BBC Sinhala service quotes the Foreign Ministry Spokesperson Mahishini Collonne as saying.
The general had  handed his credentials as ambassador to Colombia just six months ago.
Award winning film maker Callum Macrae told the Tamil Guardian that the ambassador had fled from the charges.
"General Jagath Jayasuriya has run away," he said. "He has run away from these charges. He has run away from facing the consequences of what was done under his command."
"By fleeing he looks guilty," said Frances Harrison, program co-ordinator for the ITJP.
"The big question for us is, if he thinks he is a war hero, if he thinks he did nothing wrong, why did Jagath Jayasuriya not stay in Brazil?"
Command responsibility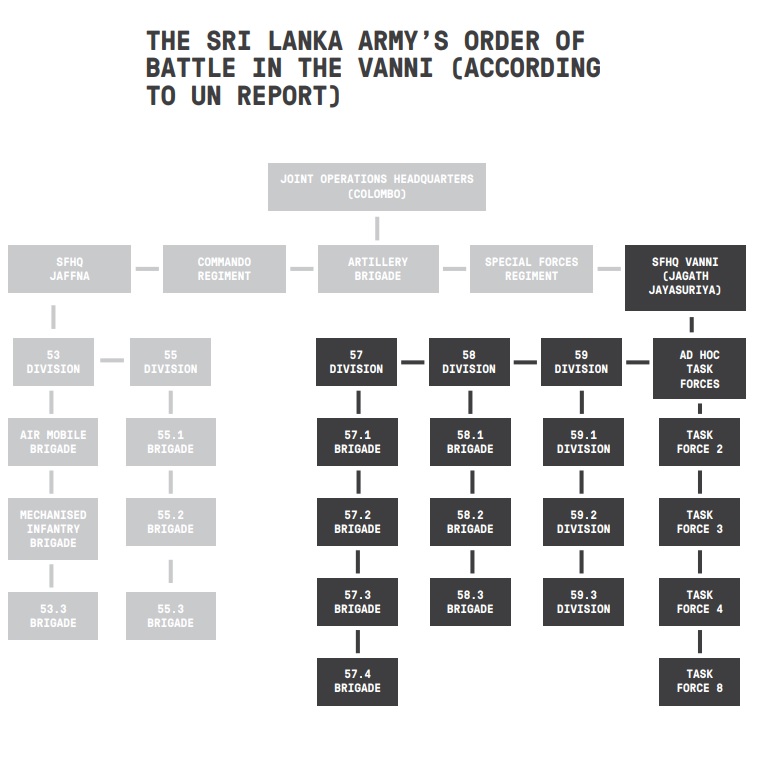 Details of the Sri Lankan military's chain of command during the final stages of the armed conflict in which tens of thousands of Tamil civilians were killed. Source: ITJP
Mr Jayasuriya was commander of the Sri Lankan security forces in Vanni during the government's massive military offensive in 2007 until its closing days in 2009. He stood alongside Sri Lankan troops as they fired artillery shells in a victory ceremony on the beaches of Mullivaikkaal in May 2009.
The commander was then appointed as Ambassador to Brazil, Colombia, Peru, Chile, Argentina and Suriname in 2015, by the current government led by Sri Lanka's President Maithripala Sirisena.
A video outlining the charges leveled against former military general Jagath Jayasuriya's involvement can be found below.
Also see the video in Portuguese here and Spanish here.
The general has repeatedly restated his roles and responsibilities in overseeing the final military operations.
"The entire northern operation was conducted in the tactical area of responsibility that came under my command," he said in 2010. "I was actively involved in the ground operations executing directives from Army headquarters and the Ministry of Defence."
"Overall I... was responsible for the conduct of the whole thing," he told the Sri Lankan government appointed Lessons Learnt and Reconciliation Commission that same year.
In 2012 Mr Jayasuriya spoke of his personal contact with senior political leaders during the massacres - including then Sri Lankan President Mahinda Rakapaksa. He statedin an interview,
"President Mahinda Rajapaksa was determined and did not give in to pressures of the international community to suddenly stop the military operations when the Wanni humanitarian operations were entering a decisive phase around April 2009."

"I still remember, the President, personally giving me a call instructing me to pursue the operations as planned, though he remained under enormous pressure to stop it. It was the country's political leadership that gave strength to us to be successful."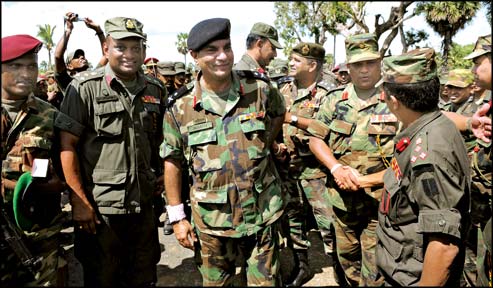 General Jayasuriya at the frontlines of the Sri Lankan military offensive in 2009.
The next steps
"The Government of Sri Lanka has committed to a process of transitional justice which includes truth seeking, reparation, justice, and guarantees of non-recurrence," continued the Sri Lankan Ministry of Foreign Affairs statement.
With virtually no progress towards accountability though, Tamil victims remain deeply sceptical.
"The Sri Lankan government has shown very little interest in really investigating the allegations made or bringing about prosecutions," said Arun Gananathan, a human rights lawyer. "And therefore Tamil victims are very very frustrated that nothing has been done and they are not seeing anyone getting prosecuted that were committed."
 "I am deeply concerned that (General Jayasuriya) feels that there is some kind of safety from these criminal charges in Sri Lanka," continued Mr Macrae.
"If a domestic process is adequate, if a domestic process can be trusted, then I confidently expect to see Jagath Jaysuriya arrested and facing these criminal charges in Sri Lanka. If he doesn't it calls into question very seriously the state's commitment to a domestic judicial process."
His comments were echoed by Ms Harrison, who called on the Sri Lankan government to live up to its commitments.
"We think that now the Sri Lankan government, if it is serious about accountability and the rule of law, ought to issue an arrest warrant for him," she said. "That's the very least they should do to show the international community that all the commitments they made in Geneva actually mean something."
The Sri Lankan government had committed to a UN resolution at the Human Rights Council in Geneva, mandating a court with international prosecutors to examine cases of mass atrocities. Though the resolution was first passed in 2015, the court has still not yet been set up.
"In the international community we always say that the obligation to deal with accountability lies first with the sovereign state," said Ms Sooka.
"But in a case where that state is unable or unwilling then the international community has to step in."
 Further details of the submission can be seen here. 
Also see live tweets from the ITJP press conference here.
We need your support
Sri Lanka is one of the most dangerous places in the world to be a journalist. Tamil journalists are particularly at threat, with at least 41 media workers known to have been killed by the Sri Lankan state or its paramilitaries during and after the armed conflict.
Despite the risks, our team on the ground remain committed to providing detailed and accurate reporting of developments in the Tamil homeland, across the island and around the world, as well as providing expert analysis and insight from the Tamil point of view
We need your support in keeping our journalism going. Support our work today.
For more ways to donate visit https://donate.tamilguardian.com.