14 June 2020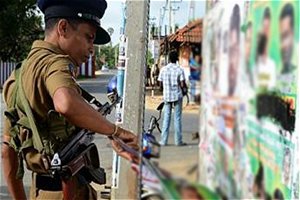 Sri Lankan police have commended a special operation to remove posters, banners and advertisements relating to the upcoming general election as part of an island-wide project to curb "illegal election propaganda".
SP Jaliya Senaratne, a spokesman for Sri Lanka's police, has stated that active measures will be taken to stop all illegal propaganda activities and those engaging in such activities will face legal action.
Opposition politician, Shiral Lakthilaka, has warned that government is increasing surveillance of civil society actors and want to post intelligence officers in every polling station.
The growing surveillance state in Sri Lanka has concerned civil society actors who are routinely threatened by Sri Lanka's security forces, especially within the North-East, where many Tamil hum rights defenders continue to face harassment and intimidation.
Read more here:  Sri Lankan opposition warns of intelligence officers at polling stations as part of state surveillance
Read more from the Colombo Page.