23 April 2018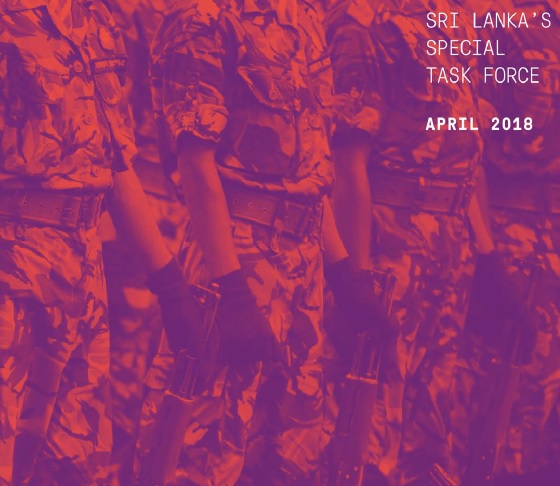 A ground-breaking report from the International Truth and Justice Project (ITJP) has identified 56 individuals in Sri Lanka's notorious Special Task Force (STF) who should not be deployed as UN peacekeepers, including an officer currently serving in Africa accused of involvement in extrajudicial killings.
The report is "based primarily on the testimony of Sinhalese security force witnesses" many of whom were involved in abductions themselves. The witnesses have supplied ITJP with names of commanding officers, alongside photographs, map coordinates and "detailed sketches of torture sites," said the organisation. Former Tamil paramilitaries allied to the Karuna, Iniyabharathy and Pilliyan factions who worked alongside Sri Lankan security forces also provided testimony and evidence.It details how STF officers abducted, tortured and executed Tamils, conducted false flag operations to deceive ceasefire monitors and committed sexual violence.

One STF troop described the abductions his team carried out in Colombo as "like a horror film". Others details horrific incidents of deliberating making Tamil civilians dig in heavily mined areas knowing that they would be killed or eating a meal and drinking arrack whilst they burnt bodies of Tamil victims. "The violations described in this report speak to an amoral attitude to the taking of life and to human dignity, and where dehumanisation has become institutionalised," said the ITJP. "Shockingly, those responsible for the violations have been rewarded post-war by successive governments in Sri Lanka."

"One STF officer who appears currently to be serving in a UN peacekeeping mission in Africa is alleged to have ordered summary executions of Tamils in the East of Sri Lanka in 2006-7," said ITJP's Executive Director, Yasmin Sooka. "This shows the UN is still clearly failing in its obligation when it comes to the vetting of Sri Lankans for peacekeeping."                                     

The ITJP submitted a list of 56 names of STF officers involved in abuses, including one currently serving in Africa, alongside detailed information on secret torture sites to the United Nations Department of Peacekeeping (DPKO), the Department of Field Support (DFS), the Conduct and Discipline Unit (CDU) and the Office of the High Commissioner for Human Rights (OHCHR).
File photograph: STF troops in Jaffna. Oct 2017.
A history of rights violations
The report comes as controversy over Sri Lanka's deployment of troops in UN peacekeeping missions continued this month. The Human Rights Commission of Sri Lanka (HRCSL) has slammed the Sri Lankan military for deploying soldiers to take part in a UN mission in Lebanon, before human rights vetting of military personnel could be completed.

Sri Lankan troops, asides from being accused of committing a long history of rights violations on the island, have also been found to have carried out sexual violence whilst as peacekeepers. At least 100 members of Sri Lanka's peacekeeping mission were implicated in a child sex abuse ring in Haiti whilst being deployed in Haiti.
"Not one individual has spent time behind bars for allegedly raping children," said ITJP on the allegations of systematic child sexual exploitation in Haiti.
Despite the lack of prosecutions, Sri Lankan soldiers continue to be allowed to participate in UN missions. The continued involvement of troops in peacekeeping missions is an "endorsement that recognizes our professionalism at international level," boasted the commander of Sri Lanka's army in December.
"Police commandos are now being sent abroad as UN peacekeepers and they should be subjected to the same stringent vetting criteria as the military", said Ms Sooka.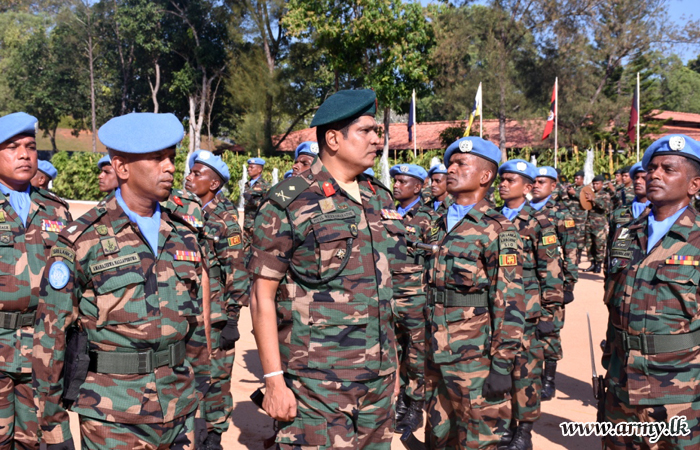 Photograph: Sri Lankan troops prepare for deployment to Lebanon earllier this year.
British trained troops

The Special Task Force has also come under scrutiny this month, as Police Scotland came out in defence of a training contract with Sri Lanka for the STF, despite continued concerns over the use of torture by security forces. In December, undercover footage provided by Yardstick films revealed deep ties between Scotland's police force and STF.
Overall, 3,500 Sri Lankan police have reportedly been trained by the Scottish Police Academy since 2007 the report noted.

"I can't understand how the STF slipped through the net if you look at the annex we compiled of human rights reports by our colleagues that name the STF again and again over three decades in connection with grave violations of human rights," continued Ms. Sooka. "And yet STF officers are being rewarded with peacekeeping jobs."
The rights violations allegedly committed by the STF have been well documented and stretch back decades, a point emphasised by Frances Harrison, a human rights activist with the ITJP.
Speaking to the Tamil Guardian,  she said that the report "builds on decades of work by the UN and other human rights groups - Amnesty in particular but also several in Sri Lanka who have painstakingly noted all the allegations against the STF - which we list in the annex".
"If you just read the annex you would wonder why this unit is being sent for peacekeeping duty, let alone what's in the report itself."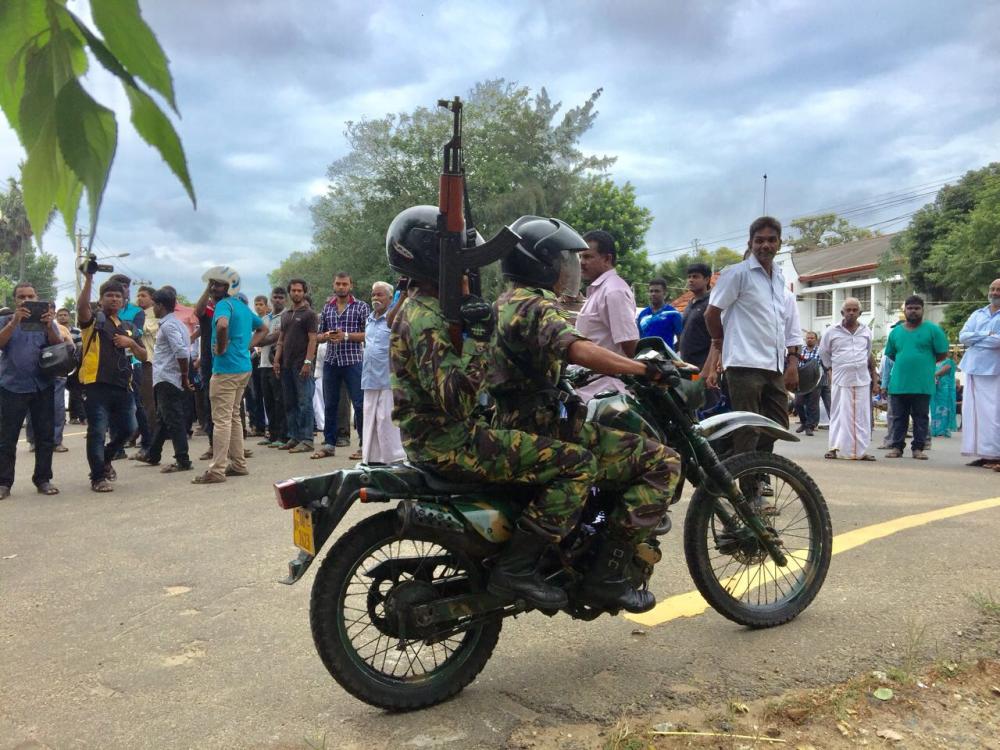 File photograph: STF troops in Jaffna. Oct 2017.
'Institutionalised and systemic'
"This is the first time the ITJP has published testimony from Sinhalese witnesses and participants in some of the violations," said the ITJP. "It has taken many years for even a handful of insider witnesses to emerge."
"Those who were involved in crimes during the war have now risen to leadership positions within the STF. As a result, no amount of training will remedy this culture of impunity for grave violations which is institutionalised and systemic."
"It's important to remember it isn't just a handful of military intelligence operatives who did all these abductions - and not just journalists who are the victims," added Ms Harrison. "This report shows the involvement of STF in abduction and we already know members of the navy and TID have been involved. "
"We've gone way beyond the idea that it's a few rotten apples responsible for all the violations. It's not humanly possible."
"A serious vetting procedure to screen out alleged perpetrators is the bare minimum," the report concludes.
"For the victims, vetting is a long way from justice but it sends a message of hope that there will one day be a reckoning for the past."
See the full text of the report here.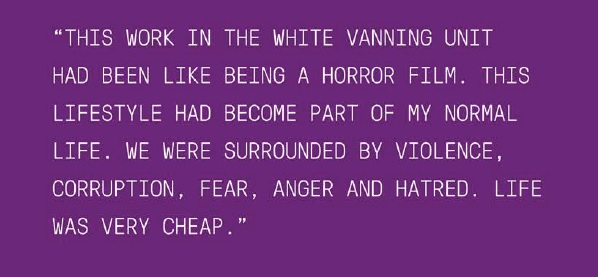 We need your support
Sri Lanka is one of the most dangerous places in the world to be a journalist. Tamil journalists are particularly at threat, with at least 41 media workers known to have been killed by the Sri Lankan state or its paramilitaries during and after the armed conflict.
Despite the risks, our team on the ground remain committed to providing detailed and accurate reporting of developments in the Tamil homeland, across the island and around the world, as well as providing expert analysis and insight from the Tamil point of view
We need your support in keeping our journalism going. Support our work today.
For more ways to donate visit https://donate.tamilguardian.com.