18 June 2019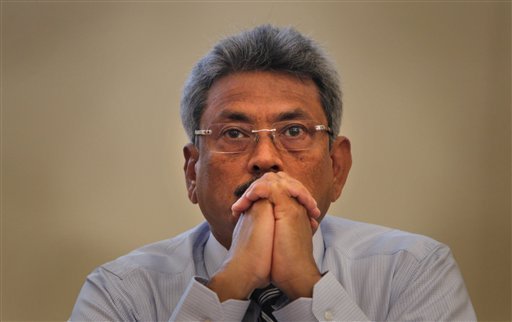 A mission is under way to save Gotabaya Rajapaksa, Sri Lanka's former defence secretary, from two separate civil lawsuits filed against him, local papers report. 
The Ministry of Foreign Affairs is attempting to absolve him from the case by requesting the US government to grant Rajapaksa diplomatic immunity, despite Rajapaksa not officially holding a current post in the Sri Lankan government.
Rajapaksa who oversaw a military offensive that massacred tens of thousands of Tamils, was formally served notice of the lawsuits in April 2019.
The first civil lawsuit was filed by the International Truth and Justice Project and Hausfield law firm on behalf of Tamil torture survivor, Roy Samathanam. Samathanam was physically and psychologically tortured for three years after being detained in Colombo in September 2007.
The second lawsuit was filed by Ahimsa Wickrematunga, seeking damages from Rajapaksa for instigating and authorising the extrajudicial killing of her father, Lasantha Wickrematunga, the former Editor of the Sunday Leader newspaper.