25 September 2020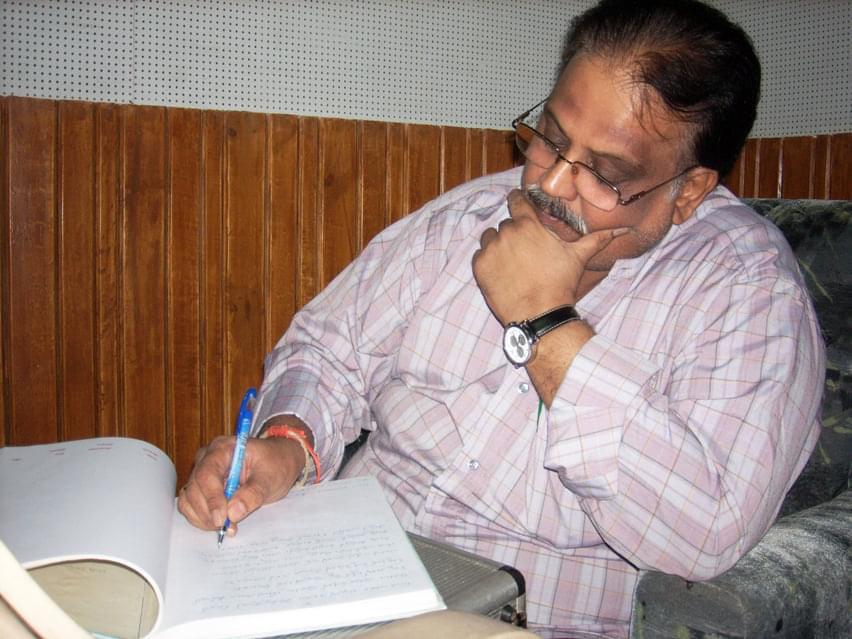 S P Balasubrahmanyam jots down lyrics while practising for Ulaga Manitham Thalaikal - 21st June 2007. Photograph: Oviar Pugazhenthi
Among the late, great S P Balasubrahmanyam's body of work, which spans over five decades and over 40,000 songs, were several enthusiastic contributions to the Tamil Eelam liberation struggle. Encompassing a variety of styles and speeds, Balasubrahmanyam frequently voiced the lyrics of Eelam revolutionary poets Puthuvai Ratnathurai, who was forcibly disappeared in May 2009, Kasi Ananthan and Joe Puradchi. We look back at a selection of SPB's Eelam liberation songs.
Operation Ellaalan
Balasubrahmanyam lent his voice to two tracks on an album marking 'Operation Ellaalan', the raid on Sri Lanka's Anuradhapura Air Force base carried out successfully by the Liberation Tigers of Tamil Eelam (LTTE). The album was composed by Theivendran. Balasubrahmanyam sang the songs Allithinru (listen), written by Joe Puradchi, and Vaanathileri (listen) whose lyrics were written by Eelam poet Puthuvai Ratnathurai.
Thaayaga Manne (video above)
A song recorded for the Eelam film 'Ellaalan'. The lyrics to the song were also penned by Puthuvai Ratnathurai.
Karaikal Thazhuvum Kaatru (listen)
You who drove your chariots over the waves
You who became flames in the deep sea
The burning ocean has not cooled
The sorrows have not scattered
The departed Sea Tigers have not left our hearts
Peralaiyin meethinile therizhuthu ponavare
Aalkadalin meethinile theeyenave aanavare
Ventha kadal aaralaiye, vethanaikal theeralaiye
Senra kadal pulikal enkal nenchai vittu pokalaiye
பேரலையின் மீதினிலே தேரிழுத்து போனவரே
ஆழ்கடலின் மீதினிலே தீயெனவே ஆனவரே
வெந்த கடல் ஆறலையே, வேதனைகள் தீரலையே
சென்ற கடல் புலிகள் எண்கள் நெஞ்சை விட்டு போகலையே
Athu Yaar Alukaiyo/Chinna Chinna Veedu (listen)
A poignant call and response style song, where SPB roleplays the LTTE leader describing the idyllic childhoods of a liberated Tamil Eelam.
We will build small houses
And grow up on the terraces
We will tie swings to the mango trees
And forget our sorrows
This will all return to us
We will be kings in our nation
Chinna chinna veedu katti
Thinnaiyile naam valarvom
Mamarathil oonchal katti
Thunbankalai naam marappom
Meendu vanthu sernthidume
Thesathil arasarkal aavom
சின்ன சின்ன வீடு கட்டி
திண்ணையிலே நாம் வளர்வோம்
மாமரத்தில் ஊஞ்சல் கட்டி
துன்பங்களை நாம் மறப்போம்
மீண்டும் வந்து சேர்ந்திடுமே
தேசத்தில் அரசர்கள் ஆவோம்
Ulaga Manitham Thalaikal (listen)
It is not right to say an island
With two nations has just one
It is not wrong to kill the foe
That invades our land and kills us
Irandu thesam ulla theevai
Onru endraal sari alla
Mannai thinru emmai kollum
Pakaiyai kondraal pilai alla
இரண்டு தேசம் உள்ள தீவை
ஒன்று என்றால் சரி அல்ல
மண்ணை தின்று எம்மை கொள்ளும்
பகையை கொன்றால் பிழை அல்ல
Karum Puli Padai (listen)
Eelam is our homeland, reclaiming it our goal.
Eelam enkal thaayakam, meetpathu enkal latchiyam.
ஈழம் எங்கள் தாயகம், மீட்பது எங்கள் இலட்சியம்.
Should our people seek refuge across the world?
Or should we die as slaves in our rightful land?
Ulakam engum emathu makkal agathiyaaka povatha?
Urimaiyulla mannil naangal adimaiyaaka saavatha?
உலகம் எங்கள் எமது மக்கள் அகதியாக போவதா?
உரிமையுள்ள மண்ணில் நாங்கள் அடிமையாக சாவதா?
Ezhuchiyum Veeramum (listen)
A tribute song to the countless revolutionary poets and writers of the Eelam struggle, both fighters and civilians.
The Tamil Eelam revolution erupted from the fire in your lines.
Ungal ezhuththukkal neruppaana varikalai kondathaal thamileela puratchi vediththathe
உங்கள் எழுத்துக்கள் நெருப்பான வரிகளை கொண்டதால் தமிழீழ புரட்சி வெடித்ததே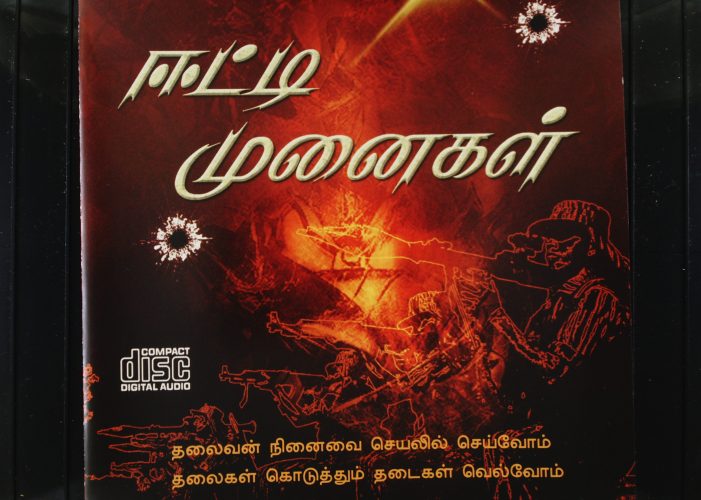 Imran Paandian Padaiyani (listen)
A tribute to the Imran Paandian Regiment, the LTTE leader's personal security unit. From the album Eeddi Munaikal (pictured above).
Ethanai Ethanai Maaperum Vetrikal (listen)
An upbeat song with tongue-in-cheek lyrics praising the prowess and innovation of the Tigers.
Ungalai Engal Thesam Marakkuma (listen)
A song paying tribute to Tamil political prisoners in Sri Lanka and incarcerated around the world.
Iruthi Yuttham (listen)
An energetic track layered with folk rhythms, praising the Sea Tigers.
Naadengum Vaazhkinra Thamizha (listen)
A song calling on Tamils around the world to unite in the struggle for Tamil Eelam.
Ithu Puzhigal Vaanpadai (listen)
A tribute to the Tamil Eelam Air Force.
We need your support
Sri Lanka is one of the most dangerous places in the world to be a journalist. Tamil journalists are particularly at threat, with at least 41 media workers known to have been killed by the Sri Lankan state or its paramilitaries during and after the armed conflict.
Despite the risks, our team on the ground remain committed to providing detailed and accurate reporting of developments in the Tamil homeland, across the island and around the world, as well as providing expert analysis and insight from the Tamil point of view
We need your support in keeping our journalism going. Support our work today.
For more ways to donate visit https://donate.tamilguardian.com.