04 December 2019
A Sinhalese diaspora group have gathered outside the Labour Party Headquarters today, as they protested against the party's commitment to the Tamil people.
A few dozen protestors are currently outside the party headquarters at Victoria Street in London, with Sri Lankan flags, cricket shirts and placards denouncing the Labour Party.
"Hands off Sri Lanka," read one placard.  Another accused Shadow Chancellor John McDonnell of supporting "terrorism".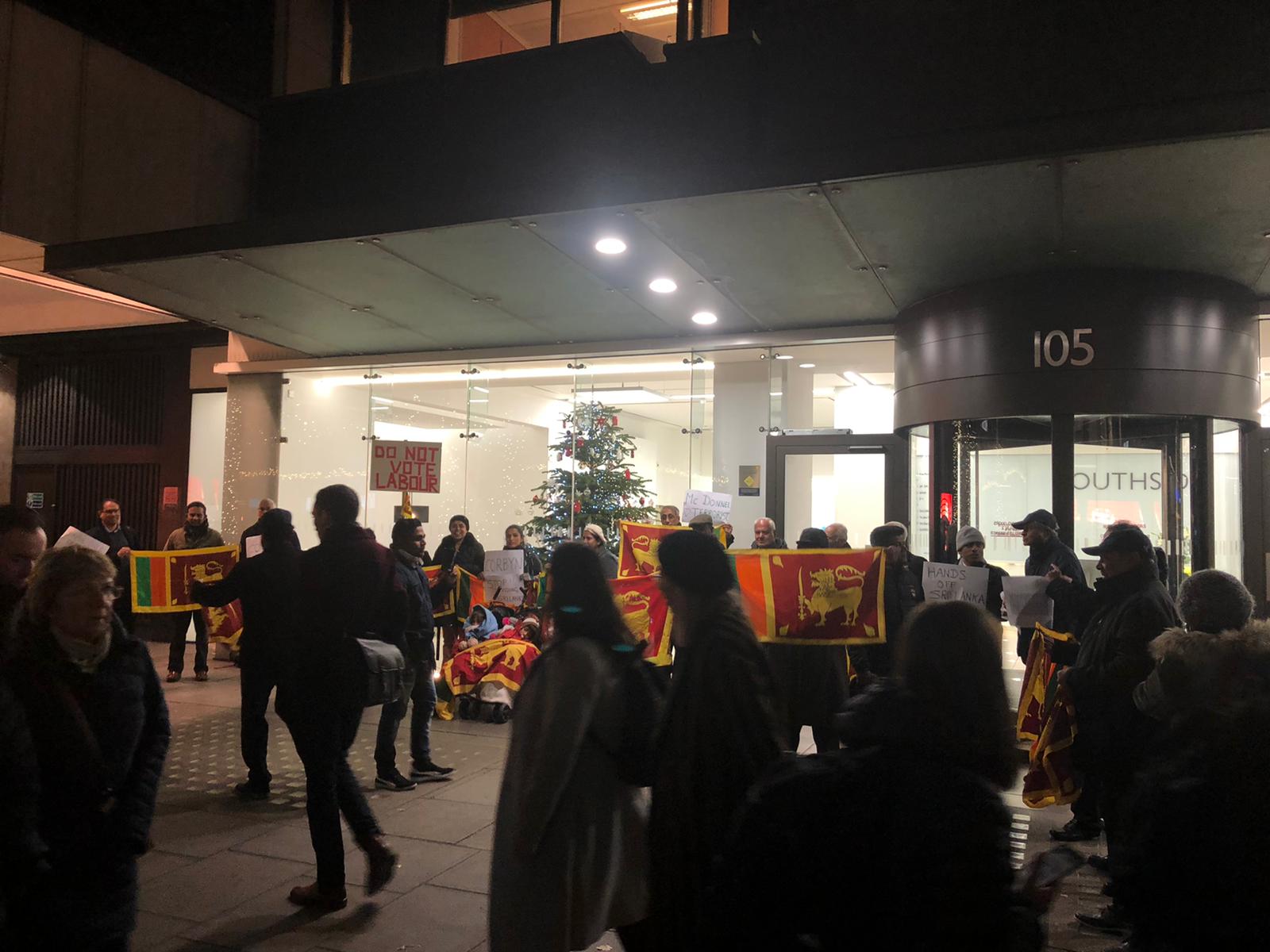 The protest comes as both the Labour Party and the Conservative party made pledges on Sri Lanka in their manifestos, ahead of next week's general election in the UK.
McDonnell released a video last month, stating that the brutal oppression in Sri Lanka "should be recognised as an attempt at genocide against the Tamils." Labour Party leader Jeremy Corbyn, wrote in the Tamil Guardian last week, stating he would "never back down" from pledges made in their manifesto, which said the party would work for the "protection of human rights for Sri Lanka's minority Tamil and Muslim populations". Corbyn added that "we still need answers to the very serious allegations of genocide against the Tamil people" in which the UN should play a central role.
Britain's Conservative Party also emphasised its continued backing for "international initiatives" for reconciliation, stability and justice "across the world" and in "former and current conflict zones", singling out the situations of divided states in Cyprus, Sri Lanka and the Middle East.
Liberal Democrat party leader Jo Swinson also wrote in the Tamil Guardian last week, speaking of her party's commitment towards genocide recognition, justice for mass atrocities and towards supporting British Tamils.