Dozens of Sinhalese protestors had to be dispersed by Sri Lankan police as they demonstrated against UN Secretary-General Ban Ki Moon in Colombo today, as he embarked on a visit of the island this week.
Sinhala parliamentarians and Buddhist monks staged the demonstration on Thursday, despite a court order against any protests. Police were forced to hold back the demonstrators as they marched towards the United Nations compound in Colombo, where the UN Secretary General was due to arrive.
"The UN is asking for investigations to punish us for defeating terrorism," said one Buddhist monk Akmeemana Dayaratne.
The Secretary-General is expected to discuss an accountability mechanism for human rights violations committed during the final phase of the armed conflict with Sri Lankan politicians.
However, his visit has faced stern opposition from Sinhala nationalists. "We urged the UNSG to stop interfering in Sri Lanka," said Sisira Jayakodi, a legislator with the opposition. Banners held by the protestors said, "We don't want your help. Go home".
Sri Lanka's Joint Opposition, the National Rights Movement and the Janasetha Peramuna handed over three petitions which they requested be passed on to the Secretary-General.
Mr Ban's convoy arrived at the compound with heavy police security, shortly after the protesters had been dispersed.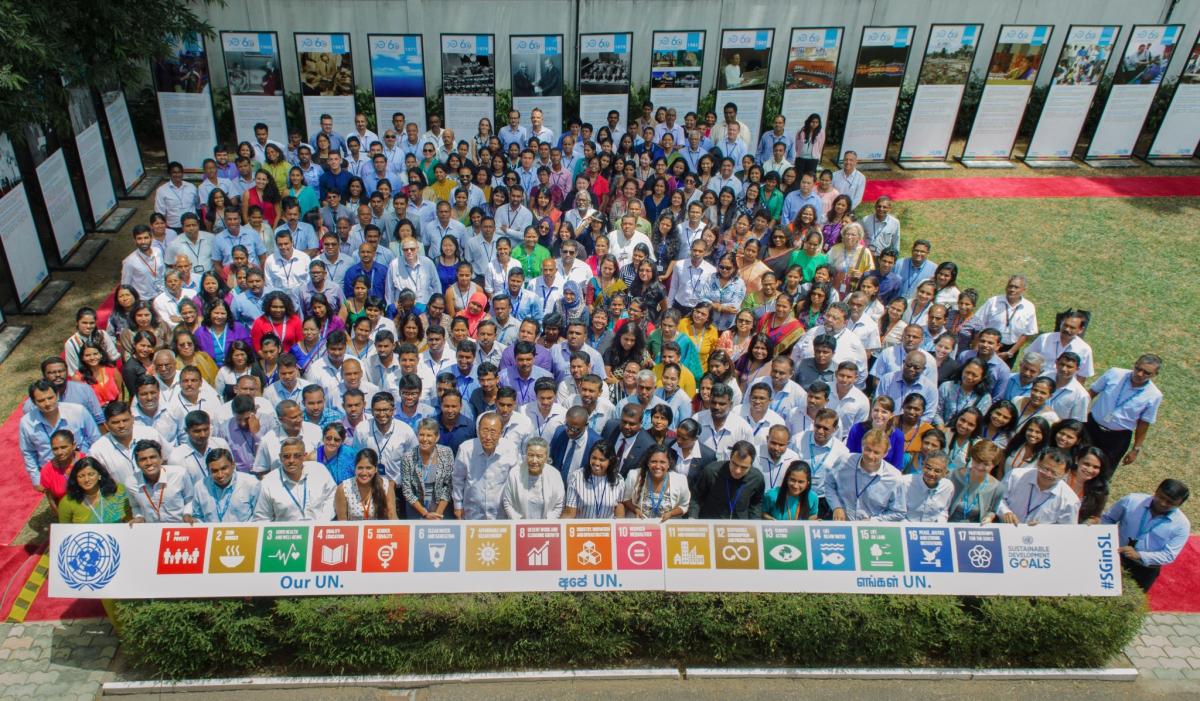 Ban Ki Moon with UN staff members inside the UN office in Colombo, shortly after protestors had been dispersed.
The mood was different on the island's North-East, where Mr Ban will meet with Tamil political leaders. Tamil victims of the conflict also hope to meet Mr Ban, whose visit has raised hopes of achieving justice for decades of human rights violations.
"If we have a chance to talk to him, we'll tell what happened to my husband," Easwary Mariyathas, a mother of three, whose husband was arrested by the Sri Lankan navy in 2009, told Reuters. "I am pressurised to accept death certificate. We want justice, we expect a definite reply. I want to tell the truth to my kids. I can't cheat them saying their dad will come tomorrow and day after tomorrow."