08 June 2014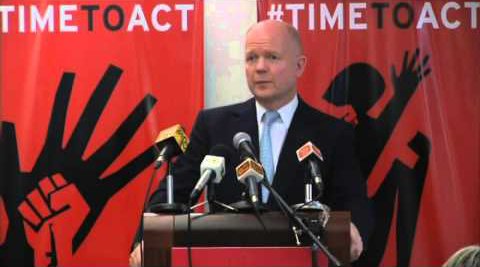 UK Foreign Secretary William Hague calls for perpetrators of sexual violence in Sri Lanka's conflict to be brought to account, speaking in Colombo, Nov 2013
The Global Summit to End Sexual Violence in Conflict begins in London tomorrow, co-hosted by the UK's Foreign Secretary, William Hague and the Special Envoy for the UN High Commissioner for Refugees, Angelina Jolie.
In the run up to the ESVC summit, we have been revisiting the mounting evidence which documents the widespread, systematic and on-going use of sexual violence by Sri Lanka's military against Tamils, that occurs with absolute impunity.
The summit follows the Declaration of Commitment to End Sexual Violence in Conflict, tabled by the Mr Hague and endorsed by two-thirds of UN member states, which condemns the on-going use of sexual violence in conflicts and pledged to ensure justice for victims.
Sri Lanka was highlighted by the US Secretary of State Hillary Clinton as a key country where rape was used as a tactic of war, in October 2009, only a few months after the armed conflict ended.
Addressing an UN Security Council focused on rape in war, she said:
"Now, reading the headlines, one might think that the use of rape as a tactic of war only happens occasionally, or in a few places, like the Democratic Republic of the Congo or Sudan. 

That would be bad enough, but the reality is much worse. We've seen rape used as a tactic of war before in Bosnia, Burma, Sri Lanka, and elsewhere.

In too many countries and in too many cases, the perpetrators of this violence are not punished, and so this impunity encourages further attacks.
Speaking in Colombo in November last year, the UK Foreign Secretary William Hague called for accountability and justice for victims of sexual violence by Sri Lanka's armed forces as part of the '#TimeToAct' campaign:
"To date, too little has been done, to hold people to account for crimes of sexual violence. The allegations include reports from the UN panel of experts that rape was used by government forces during the final stages of the conflict, and before."

"Claims from Human Rights Watch that sexual torture has been used to extract confessions and continued concerns of the vulnerability of the women and girls to sexual harassment and abuse, particularly the ninety thousand war widows living in areas with a large military presence."
See all our previous features:
An orgy of rape in final days (02 Jun 2014)
Rape, Sexual Assault and Forced Prostitution of Tamils in Military-Run in IDP camps (03 Jun 2014)
Sexual violence in detention as torture 2009-2014 (04 Jun 2014)
Systematic, deliberate and intended to destroy (05 Jun 2014)
Long history of rape by state security forces (06 June 2014)
Orgy of Rape in Final Days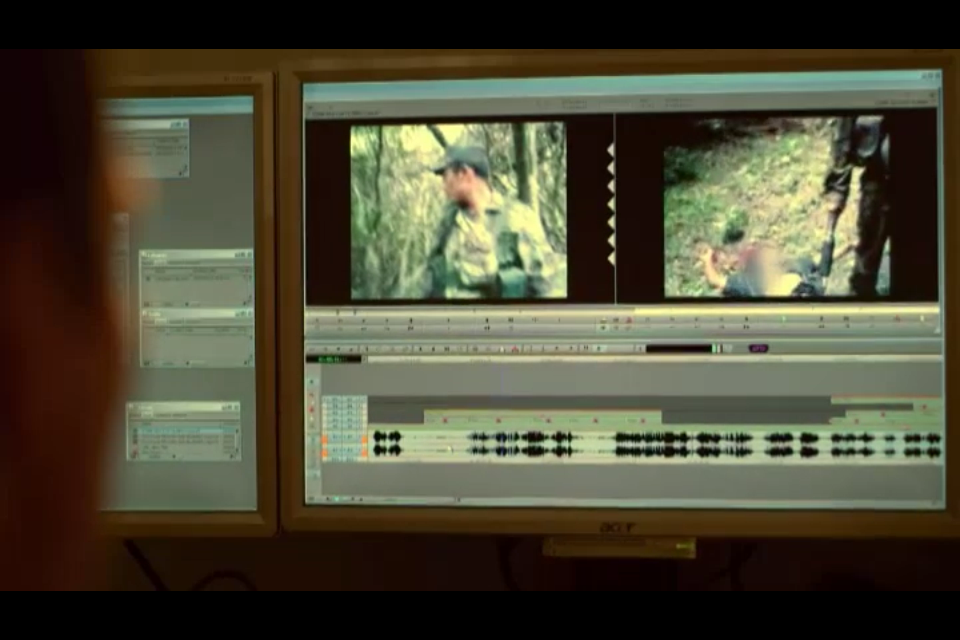 Photograph Channel 4
As the armed conflict drew to an end, Sri Lanka's soldiers committed acts of sexual violence against Tamil women and men, both civilians and LTTE cadre, at will.
One Sri Lankan soldier told Channel 4 in July 2011:
"They [Sri Lankan soldiers] shoot people at random, stab people, rape them, cut their tongues out, cut women's breasts off. I have witnessed all this with my own eyes. I have seen small children laying dead."

"If they wanted to rape a Tamil girl, they could just beat her and do it. If her parents tried to stop them, they could beat them or kill them. It was their empire."

"One day I saw a group of six soldiers raping a young Tamil girl. I saw this with my own eyes."
Much of the photographic and video evidence of sexual violence in the final stages of the armed conflict emerged in the form of 'trophy videos', filmed by Sri Lankan soldiers themselves whilst committing the crimes.
One of the latest videos to emerge depicts soldiers performing acts of sexual violence on the stripped, dead bodies of Tamil LTTE fighters.
Describing the footage, acclaimed documentary maker and director of 'Sri Lanka's Killing Fields', Callum Macrae said,
"Scattered in the clearing are the bodies of what appear to be Tamil Tiger rebels. The women, but not the men, have been stripped in a mannar suggesting sexual assault. Though many of these images are too distressing to be shown on television.

At a couple of points as soldiers laugh, acts of grotesque sexual violence are perpetrated on the bodies of one of the women."
Similarly, the rape and killing of LTTE news anchor, Isaiyapriya, has come to light through a series of photographs depicting her partially naked in the custody of military personnel, before being sexually violated and killed.
Despite the growing number of independently authenticated video footage and photographs depicting soldiers committing acts of sexual violence, the Sri Lankan government's flatly rejects all accusations.
Responding to video footage published by Channel 4 News, the Sri Lankan High Commission in the UK said in March this year:
"Your latest attempt to denigrate Sri Lanka is a continuation of your pernicious campaign that has already been exposed in the book Corrupted Journalism Channel 4 and Sri Lanka.

Your allegations are such unmitigated and unsubstantiated rubbish that you make even gutter journalism appear to be Pulitzer Prize-winning professionalism.

What makes your journalism doubly dubious and obnoxiously unbalanced is that you expect us to comment on footage which, in fairness, we have not even been given the opportunity of seeing or hearing.

It is a pity that your continuing propagandist vendetta against Sri Lanka only continues to undermine the process of reconciliation and healing that we have undertaken after a near three-decade long terrorist war.

It is certainly not going to help those in Sri Lanka you pretend you are helping but who only wish to live in peace without external meddling and posturing.

Your crude journalism exposes both Callum and your calumny".
 
Rape, Sexual Assault and Forced Prostitution of Tamils in Military-Run in IDP camps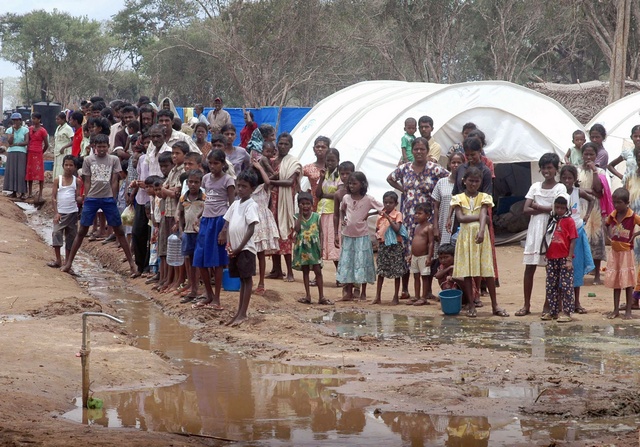 Photograph HRW - Arunachalam Camp, Menik Farm 19 August 2009
As the armed conflict drew to an end in May 2009, an estimated 300,000 Tamils, who had faced repeated displacement, shelling and a severe lack of humanitarian aid, were forced into IDP camps run by the military and detained there for several months on end.
Reports of rape, sexual assault and forced prostitution rings run by the military soon began to emerge from the camps.
A Tamil medic, based in the UK who had been working as an aid worker in the Vanni during the armed conflict before being detained in the notorious Menik Farm camp, Damilvany Kumar, told The Observer:
"Sexual abuse is something that was a common thing, that I personally saw. In the visitor area relatives would be the other side of the fence and we would be in the camp. Girls came to wait for their relatives and military officers would come and touch them, and that's something I saw.

"The girls usually didn't talk back to them, because they knew that in the camp if they talked anything could happen to them. It was quite open, everyone could see the military officers touching the girls,"

"Tamil girls usually don't talk about sexual abuse, they won't open their mouths about it, but I heard the officers were giving the women money or food in return for sex. These people were desperate for everything."
Prostitution rackets were prevalent, despite government officials being made aware of the practice, said international aid workers. International humanitarian agencies had little or no access, due to severe restrictions placed by the government.
One aid worker, who reported prostitution rackets in Pulmoddai camp, told The Australian,
"It's been brought to the attention of senior government officials but no one seems to be doing anything about it."

"It's hard to know whether it's coercive or not, but there is an average of three families living to a tent and it can be extremely difficult trying to get privacy. You can imagine the military coming in and asking for something in return for more space or more favours."
One woman, with links to the camps, told Sky News of rapes and disappearances within the camps:
"I believe there is sexual assault and harassment in the camps. I believe that these children and young ones are going to get disappeared, but we don't know what is happening to them, because there is no information, there is no transparency, we just don't know what is happening."
The Sri Lankan government rejected all reports of sexual violence in the IDP camps, with officials often accusing fellow detainees or international aid workers of abuse, or dismissing reports as consensual.
Palitha Kohona, then Secretary to the Foreign Ministry, and subsequently Sri Lanka's Permanent Representative to the UN, rejected any allegations of sexual violence by the state's security forces as "absolute rubbish".
"These [military] are the guys who are winning the war - they could have raped every single woman on the way if they wanted to. Not one single woman was raped."
Dismissing reports of prostitution rings, Kohona added,
"I am sure in a mass of people there may be individuals who want to make a quick buck one way or another, but you have to remember the tents are so close together you can't do anything without the entire neighborhood knowing. If you had a racket going, thousands of people would know about it."
Sri Lanka's Defence Secretary, Gotabaya Rajapaksa, accused the British Tamil aid worker, Damilvany Kumar of fabricating the story in an interview with Headlines Today:
"Now, she [Damilvany Kumar] says that there had been all these alleged rape and murder and all these things. Now she is one person who will get attracted by soldiers, because she is so different from others.

I want to know whether she was raped. She was there for one year. She came with the IDPs, and she was in the IDP camps."
The permanent secretary to the Ministry of Disaster Management and Human Rights, Rajiva Wijesinha, stating that allegations of rape by the military lacked sufficient details to be substantiated, told The Observer:
"We received a report that a soldier went into a tent at 11pm and came out at 3am. It could have been sex for pleasure, it could have been sex for favours, or it could have been a discussion on Ancient Greek philosophy, we don't know."
On another occasion when asked by a Sky News reporter about the allegations of sexual violence within the camps, Mr Wijesinha replied:
"There are a few blue eyed children in that camp, so you know that some of the NGOs have had a jolly good time when they were up in Vavuniya, so when you go up just have a look and try and identify them."
Despite the passing of five years, fear of reprisal, psychological trauma and social stigma, have resulted in many victims remaining silent.
Here is an extract from the testimony of one woman, published in a report - 'An Unfinished War: Torture and Sexual Violence in Sri Lanka 2009—2014' - by Yasmin Sooka, an author of the UN Panel of Experts report on mass atrocities in Sri Lanka, The Bar Human Rights Committee of England and Wales (BHRC) and The International Truth & Justice Project, Sri Lanka:
"The first time the soldiers raped her in the rehabilitation camp, she staggered to the toilet to wash the blood off, before returning to her tent in silence. She didn't breathe a word for shame – and fear that one of the other former Tamil Tiger rebels in the tent might be an informer.

"I did not tell the other women I'd been raped as it is not something we would discuss in our culture. I suspected the other women in my tent were also being raped but I did not ask them about it. Over the entire period I was in this rehabilitation camp none of us ever spoke about the rapes."

It's hard to imagine the loneliness and mistrust in that tent. Vasantha noticed scratch marks from fingernails on other women's faces. When they washed in the open air showers, fully clothed, she spotted the bruises on their legs. Sometimes she heard screaming from the main building where they were taken for interrogation. She watched other women being taken away at night and always returning via the toilet and she knew why.

Vasantha was a virgin until that night when two drunken Sri Lankan soldiers placed a bag sprayed with petrol over her head and then raped her. Some months later, she was taken for interrogation again. A soldier ordered her to strip naked and when she tried to fight him off, he knocked her to the ground and raped her, digging his nails into her back so hard that the scratches bled. Before Vasantha could put her skirt back on again, another man came into the room and started taking off his shirt, trousers and underwear. "He pushed me to the floor. I tried to put up a resistance but he raped me. I could smell the alcohol on his breath. I was exhausted and fainted. I cannot recall clearly what was happening but I heard doors being opened and closed and I think other people came into the room." In pain and bleeding heavily, Vasantha eventually returned to her tent, via the toilet once again.

The next time she was called for interrogation, the soldier used his cigarette butt to burn her several times on the arms and thigh, while saying something in Sinhala that she couldn't understand. Once he'd finished raping her, a second man raped her. Vasantha remembers these first two smelt strongly of cigarettes. A third man came, slapped her hard when she tried to resist, and raped her." I think there was a fourth and fifth man as well," she says, "I was in and out of consciousness by then."

[more]
 
Detention and torture 2009-2014
Photograph HRW
Despite the end of the armed conflict, the use of sexual violence by Sri Lanka's military against Tamil women and men continued, with Tamils routinely arrested and detained indefinitely using the country's draconian anti-terror laws.
There are on-going reports of sexual violence against Tamils in detention to the present day, with many victims recounting sexual violence used as a means of torture to extract confessions.
In 2012, Tamils Against Genocide (TAG), examined witness testimonies of Tamils deported back to Sri Lanka. In its report 'Returnees at Risk: Detention And Torture in Sri Lanka', TAG noted:
"The majority of the cases that reported abuse reported similar forms of physical torture, with 6 verified as having experienced additional forms of sexual torture. In all of the cases reviewed, judges found legitimate claims of severe torture to be "supported by photographic evidence and the medical reports" as well as through "psychological assessment". Several of the applicants suffer from continued physical pain as well as forms of mental illness caused by severe trauma."
Early last year, Human Rights Watch, in a 141-page report entitled "We Will Teach You a Lesson" - Sexual Violence against Tamils by Sri Lankan Security Forces', detailed 75 cases of rape, including that of 31 men, 41 women, and three boys aged under 18. All cases were reported to have occurred from 2006-2012 in both official and secret detention centres across Sri Lanka.
HRW stated that the report only accounts for "a tiny fraction of custodial rape". Many of the cases followed similar patterns of detention, followed by torture and rape by security forces, whilst being interrogated about "LTTE activities".
Victims reported being forced to sign confessions in Sinhalese, a language they did not understand, as well as being forced to identify and name other potential "suspects". Some of the victims recounted that they signed 'confessions' and pointed out people as LTTE cadres, knowing that they were not, simply to put an end to the torture.
Tamils returning from abroad were also shown photographs of anti-government protests that took place in Paris and London, and forced to identify those in the images.
HRW noted: "In all of the cases documented, the acts of rape and sexual violence were accompanied by other forms of torture and cruel, inhuman, and degrading treatment by state security forces."
One 32-year-old woman, detained in Kilinochchi in April 2012, told HRW:
"I was beaten up and tortured continuously. On the second day, a man came to my room and raped me. I was raped by different men on at least three days. I can't remember how many times. They would always touch my private parts after they raped me. They spoke in Sinhala but also spoke some broken Tamil. I signed a confession statement as I wanted the rapes to stop. While I was in detention, my family tried to lodge a complaint with the NHRC [National Human Rights Commission] but they refused to register a complaint. My family also approached some members of parliament. Nobody helped us."
A 17-year-old Tamil boy, detained in Jaffna in November 2009, said:
"One officer performed sexual acts in front of me. He then raped me. I lost consciousness. I was bleeding heavily from my anus."
In November last year, the BBC reported on 12 cases of men and women who were subjected to sexual violence in detention in 2013.
See here for the BBC report, by former correspondent to Sri Lanka and author of 'Still Counting the Dead', Frances Harrison.
The latest evidence emerged from a report published as recently as February this year - 'An Unfinished War: Torture and Sexual Violence in Sri Lanka 2009—2014' - by Yasmin Sooka, an author of the UN Panel of Experts report on mass atrocities in Sri Lanka, The Bar Human Rights Committee of England and Wales (BHRC) and The International Truth & Justice Project, Sri Lanka, detailed reports of sexual violence in detention carried out from 2009, till the beginning of this year.
The report includes 40 sworn statements from Tamil witnesses, recounting abductions and torture that all occurred within the time frame of May 2009 to February 2014, with over half of the abductions having taken place during 2013 and 2014.
"All detainees were sexually assaulted, with many witnesses quite young and having no experience of sexual intercourse. Some detainees were mothers of babies or young children. Most detainees, male and female, were raped, confirming that they had experienced vaginal or anal penetration or both. Many were raped on more than one occasion with most sexual violence occurring in their private holding cell. Most were raped after enduring repeated physical torture in the torture chamber. Witnesses report being raped violently, usually amid verbal abuse and derision by one or two men, sometimes more. Witnesses allege that the men did not wear condoms when raping them."
An 18-year-old male detainee said:
"The door to where the women were kept was slightly open. I saw a female cadre lying on her back on the floor. She was totally naked. I clearly saw a soda bottle shoved inside her vagina. Her arms were spread out wide, as were her legs. The door was not open enough to see the other two girls. I could not tell if the girl or the others were alive. None of them was making any sound and the girl I saw was not moving."
Detention locations are mainly in the North-East, including Mannar, Jaffna, Kilinochchi, Vavuniya, PTK, Trincomalee and Batticaloa, where arbitrary arrest and disappearances continue despite the passing of five years. A number of victims also describe facing sexual violence whilst detained in Colombo.
Extracts from the report published below:
"The evidence of the witnesses suggested that the security forces were working together and in most instances there was more than one branch involved in the detention and torture. Given that the abductors sometimes travel to high security zones or military camps they would require inter-agency cooperation amongst the various branches of the security forces, as well as orders and clearances from superiors to enter these areas. More broadly travelling through heavily militarised areas with frequent checkpoints would also require the involvement of other units of the security forces."

"Interrogation was almost always about LTTE involvement despite the interrogators, in many cases, being in possession of the answers and often already having the evidence to prove it.

What they purported to be looking for usually appeared to be a wider understanding both of the status of existing networks as well as historical events. They wanted informers. Another key motive appeared to be the punishment of those who testified before the Lessons Learned Commission or whose families reported cases to the Human Rights Commission, or those who had peacefully protested war crimes and human rights abuses from abroad.

Most detainees are tortured every time they are interrogated. Indeed, almost all witnesses reported torture continuing after they had admitted their involvement with the LTTE."
A male victim recounted the torture he experienced:
"He used one hand to squeeze my neck while I was standing and then he reached down with his other hand and squeezed my penis and testicles. He told me "you are a Tamil dog and should not have any future generations". He squeezed hard and it caused me terrible pain. He told me to hold his penis. When I refused he slapped me and told me "Tamil dog you will be dead if you do not hold it". In fear I held it. … On one occasion one of the army guards came in and urinated on me. While doing so he told me, "you Tamils need a separate state. If you want a separate state you will have to take a bath in our urine."
 
Systematic, deliberate and intended to destroy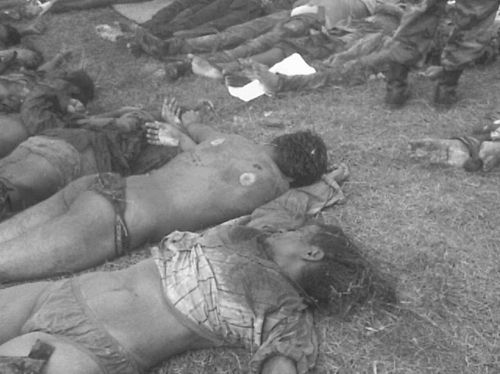 Photograph Salem News
Testimonies collected from the victims and from those within the Sri Lankan military suggest sexual violence against Tamils, far from being confined to one rogue detention centre or regiment, was widespread and systematic.
A former UN field officer, present during the final months of the armed conflict, told Human Rights Watch:
"A large number of women fleeing from the conflict areas during the peak of fighting were sexually assaulted. The abuse was extensive, causing a large number of civilians to flee back to the theater of conflict to escape the abuse"
Examining 40 cases of sexual violence and torture in detention facilities across the North-East and in Colombo, authors of the 'An Unfinished War: Torture and Sexual Violence in Sri Lanka 2009—2014', which includes Yasmin Sooka, co-author of the UN Panel of Experts report on mass atrocities in Sri Lanka, concluded:
"The similarity of the torture, rape and sexual violence perpetrated against the witnesses confirms a well-organised pattern of systematic abuse on the part of the Government of Sri Lanka security forces."
Many analysts have described a deliberate policy of sexual violence, not only as a means of torture on individuals, but to terrorise the Tamil population as a whole.
Examining the on-going use of sexual violence against Tamils in detention facilities in Sri Lanka since the armed conflict ended, Human Rights Watch, in its report published in February 2013, 'We Will Teach You a Lesson' - Sexual Violence against Tamils by Sri Lankan Security Forces', said sexual violence was intended "to instill terror in the broader Tamil population".
The group's UK director, David Mepham, said,
"There is method in this. It is coercive. It is a deliberate policy. People throughout the security forces in Sri Lanka are involved. This is deeply entrenched and systematic."
HRW's Asia advocacy directory, John Sifton noted:
"Not only is rape systematic, but it's indicative of a larger pattern of abuse. This is not reconciliation, but an effort to say, 'You lost the war, now we're in charge," 
In an interview to VoA, Mr Sifton added,
"The problem is really on a systemic level. Regardless of who committed these specific abuses, a bigger question is, will any high level officials in the Sri Lankan military ever be held accountable for the fact that they allow their forces to engage in abuses as a matter of course, as a systemic issue, and fail to hold them accountable. People who allow an entire military structure to enjoy almost complete impunity in terms of rape, sexual abuse, and other abuses against Tamil civilians, they should be held accountable for that as well, not just for the actual physical acts of soldiers, but for their dereliction of duty and their failures hold their own forces accountable,"
The extent of sexual violence and structural violence inflicted on Tamil women was highlighted by the rights group, Tamils Against Genocide (TAG), in a submission made to the UN Human Rights Council earlier this year – 'Intent to destroy: Ongoing violence and violations against Tamil women'.
The executive summary is reproduced below:
"Women's bodies have historically been a secondary battlefield in the theater of war, a space where victors claim their spoils and nations plant their flag. In Sri Lanka post-2009, Tamil women's bodies in the North and East have become both the site of a violent Sinhalisation. process and their only means of survival in a militarized environment. Direct interviews and a compilation of secondary sources reveal that in the period from 2008-2013 women lost their reproductive rights, were forced into coercive sexual relationships or marriages, and faced the constant threat of rape, even as they desperately tried to escape the island. These acts collectively highlight the structural violence that marginalizes Tamil women and subjugates Tamil society. Due to the cultural positioning of Tamil women, these acts go far beyond the immediate physical and psychological damage to the individual woman, they also serve to humiliate Tamil men and reinforce Tamil powerlessness. Violations against Tamil women are a powerful symbolic display of the domination of the Sinhala Buddhist state and majority; they are one of the myriad ways by which the state seeks to destroy the essential foundations of the life of the Tamil people."
See here and here, for reports of coercive birth control in the Tamil areas.
Margaret Owen, the director of Widows for Peace through Democracy, an organisation that is actively involved in launching the British government's conference against sexual violence in conflict next week, said at a panel discussion in the Houses of Parliament last month that the crime was "organised" from the those at the top of the Sri Lankan state.
Highlighting sexual violence in conflict, Ms Owen was nonetheless critical of the continued lack of justice and international inaction:
"We need to end this, holding conferences, yet denying justice for these women,"

"It's not adhoc. These rapes come from the top. It's organised, it is a form of genocide of the Tamil people."
 
Sexual Violence in Conflict: Sri Lanka - long history of rape by state security forces
Krishanthy Kumaraswamy,
18y, gang raped and killed by soldiers on 7 August 1996
The use of rape and sexual violence by Sri Lankan armed forces against Tamils, far from being a feature of the last stages of the armed conflict, has been prominent through out the thirty year period of armed conflict, as well previously.
Cases reported before 2009, include the rape of Tamil civilians in the North-East, paramilitary run prostitution rackets in camps and the use of sexual violence as torture in military-run detention facilities.
The incidence of rape by security forces has always remained vastly under reported. In 1996, Amnesty International, in its report, 'Sri Lanka: Wavering Commitment to Human Rights', noted:
"Amnesty International has documented several cases of rape by members of the security forces. Because many women are reluctant to give testimony about their treatment by the security forces, Amnesty International believes that these testimonies represent only a fraction of a widespread pattern of human rights violations. In those cases reported to Amnesty International, the authorities took some initial action against the alleged perpetrators. However, the organization does not know of any member of the security forces who has been brought to justice on charges of rape."
Over the years however, a few cases have gained international prominence after rights groups such as Amnesty International and Human Rights Watch launched campaigns or victims bravely came forward to seek justice.
Notorious incidents of sexual violence perpetrate by the Sri Lankan army include:
On 18 July 1983, three Tamil schoolgirls were raped by Sri Lankan army soldiers in Jaffna. One of the victims committed suicide. This incident sparked the infamous period of anti-Tamil rioting commonly known as 'Black July 1983', where over 3000 were killed by state sponsored mobs, claiming revenge for the killing of 13 Sinhala soldiers by the LTTE.

Lakshmi Pillai was raped at her home in Trincomalee in August 1995 in front her two sons by two army informants. Amnesty wrote, "the motive may have been revenge as she had spoken out about being raped before at Plantain Point army camp in August 1993. The informants were arrested but later released on bail pending trial."

Three Tamil women were raped by soldiers at Poomachcholai and Kayankaddu, Batticaloa district in January 1995. Amnesty said the incident could be "in reprisal for an attack by the LTTE on the nearby army camp at Thandavanveli."

Arumaithurai Tharmaletchumi, a 17-year-old girl from Kumarapuram in Trincomalee district was raped and murdered by Sri Lankan army soldiers on11 Feb 1996, when soldiers stormed the village killing 24 civiliians.

Amnesty noted:

"The Kumarapuram incident - The largest incident of deliberate and arbitrary killings of civilians by the security forces since the resumption of the armed conflict in April 1995 took place at Kumarapuram, Trincomalee district, on 11 February 1996. According to several survivors interviewed by Amnesty International, 24 civilians, including 13 women and seven children below the age of 12, were killed by soldiers from the 58th Mile Post and Dehiwatte army camps, accompanied by Home Guards from Dehiwatte. The killings were in apparent reprisal for the killings by the LTTE of two soldiers near the 58th Mile Post about half an hour earlier. According to one witness, a group of soldiers, some of whom were drunk, gathered at Dehiwatte junction and then proceeded towards Kumarapuram, shouting "death to the Tamils". The villagers of Kumarapuram had taken refuge inside their houses. The soldiers broke open the shutters and aimed their guns at the people hiding inside. One woman recounted how she pleaded with them not to shoot but to no avail. In her house, seven people were killed, including a six-year-old child.

Among the victims was 17-year-old Arumaithurai Tharmaletchumi. She was dragged from a boutique in the village and taken to the milk collection centre where she was raped before being shot. Antony Joseph, a 14-year-old boy, who tried to stop the soldiers from dragging her away, was shot between his legs."

A 45-year-old woman was raped by soldiers at Thiyavedduwan checkpoint on 7 March 1996 and her husband was beaten with rifle butts. Both were admitted to Valaichchenai hospital. Amnesty noted, "following a complaint by several people of Thiyavedduwan at Valaichchenai army camp, an identification parade was held and the soldiers were identified and taken into custody by the military police. It is not known whether any further action has been taken against them."

Koneswary Murugesapillai, a mother of four, was raped and killed on 17 May 1997 by policemen in Central Camp police in the Kalmunai, who inserted a hand grenade into her genitals. The British Refugee Council Publication, Sri Lanka Monitor said in May 1997: "Policemen are accused of killing her after gang rang by exploding a grenade inserted into her vagina. The brutal manner of the murder has shocked residents and human rights workers say rape is increasingly used to terrorise the population".

Krishanthy Kumaraswamy, 18-year-old  student, raped and murdered in 7 August 1996 by 6 Sri Lankan Army soldiers after being stopped at the check point in Kaithady in Jaffna district. Her mother, younger brother and neighbour, who went out in search of her after she failed to return home that day were also killed. Their bodies were found in shallow graves in October 1996.

Farheen Ida Carmelitta Laila Figerardo, 19-year-old was gang raped and killed in Mannar district by Sri Lankan army soldiers on 12 July 1999.
Sarathambal Saravanbavananthatkurukal, a 29 years old  from Jaffna district, was gang raped and killed by Sri Lankan navy sailors on 28 December 1999.

Wijikala Nanthan, 24 years old and Sivamani Sinnathamby Weerakon, 22 years old were raped by Sri Lankan navy personnel, after being arrested along side Sivamani's husband and son in Mannar on 19 March 2001. All of them faced torture.

Thambipillai Thanalakshmi, 43 years old, raped on July 7, 2001 in Jaffna. Amnesty International reported that Sri Lankan army soldiers were responsible.

Tharsini Ilayathamby, a 20-year-old woman from Jaffna district was raped and killed by Sri Lankan navy personnel on 16 December 2005.

Mary Madeleine, a  27-year-old was raped and killed on June 8, 2006 in Mannar, by Sri Lankan soldiers. The soldiers also tortured and killed her husband, daughter and son during the attack.

Premini Thanuskodi, the Chief Accountant for TRO and a 25 year old university student from Batticaloa, was abducted along with fellow TRO workers on 30 June 2006, near Welikanda army check point. She was later found raped and murdered. The paramilitary group run by Karuna Amman was later implicated.
The use of sexual violence on Tamils detained within state facilities is long-standing, though severely under reported.
The US State Department noted in its 2002 human rights situation report:
"During 2001 there were a number of reports of women being raped by security forces while in detention. One such case involved two women arrested in March 2001 in Mannar who claimed that they were tortured and repeatedly raped by naval and police personnel. The women were released on bail in April 2001 and filed charges against their assailants. At year's end, the 14 accused were standing trial for rape, torture, or both. A fundamental rights case also was opened against the accused. Four other cases in which the security forces are accused of raping women in detention still were pending at year's end."
Sexual violence within state IDP camps has also been noted long before the mass displacement seen at the end of the armed conflict in 2009.
In a leaked US embassy cable, dated 18 May 2007, the then US Ambassador, Robert O' Blake, reported the running of prostitution rings by paramilitary groups actively endorsed by the government.
See here for full cable, extract reproduced below:
"Allegations of government complicity in crimes committed by organized paramilitary groups have mounted in the last year. Paramilitaries such as the Liberation Tigers of Tamil Eelam (LTTE)-breakaway Karuna group and Eelam People's Democratic Party (EPDP) have helped the Government of Sri Lanka (GSL) to fight the LTTE, to kidnap suspected LTTE collaborators, and to give the GSL a measure of deniability. The GSL, which denies any links to paramilitary groups, has recently touted its efforts to improve its human rights record, such as the re-publication of procedures on arrests and detentions and the appointment of a "One-Man Commission" to investigate reported disappearances (ref C). However, these efforts so far appear aimed more at improving Sri Lanka's image abroad and have yet to produce concrete improvements in the human rights situation. Outside the capital, the incidence of human rights abuses has continued, including extrajudicial killings, abductions, child trafficking, extortion, and prostitution.

XXXXXXXXXXXX also explained that Karuna operates prostitution rings out of the IDP camps to "take care of" GSL soldiers, stating that the women "had no choice" but to acquiesce to Karuna cadres' demands. XXXXXXXXXXXX and XXXXXXXXXXXX independently described how women are forced into prostitution, or to give up their children to traffickers. The methods are similar to those in Jaffna (paras 17-18). Families sometimes try to arrange their daughters' marriages at the age of 12 or 13 in the hope that it will reduce the likelihood of their being forced into prostitution.

12. (S) Although the GSL has consistently denied supporting Karuna, XXXXXXXXXXXX allowed PolOff to listen to tapes of his interview with Gothabaya. The Defense Secretary was effusive in his praise for Karuna and the SIPDIS benefits the GSLXXXXXXXXXXXX"
Related reports:
'Recurring Nightmare: State Responsibility for "Disappearances" and Abductions in Sri Lanka' by Human Rights Watch, March 2008.
'ASIA: REFUGE! ETHNICITY AND NATIONALITY. REFUGEES IN ASIA' by Amnesty International in 1997.
An Unhealed Wound
Rape, sexual violence and torture have afflicted the Tamil people for decades at the hands of the Sri Lankan state and this weekend we are publishing artwork and poetry born from the trauma inflicted on the Tamil nation.
The following paintings are by the second generation Tamil Canadian artist, Keera Ratnam.
Krishanthy
As the birds sang
And the sun fell into the sea
Her death took place
At the open space of white sand
No one knew about it
When she was born a female child
She wouldn't have thought of such an end
Her mother neither
First their look pierced her like a thorn
Then their terrible hands seized her arms
No sound arose
She fell in a faint
They raped her senseless body
It happened
At the open space of white sand
She was buried
At the edge of the salty cremation ground
When she was born
Would she have thought of such an end?
Vinothini. 2007. Mukamuudi Seypaval. Nagarcoil: Kalachuvadu Pathappagam
Krishanthy Kumaraswamy, 18-year-old  student, raped and murdered in 7 August 1996 by 6 Sri Lankan Army soldiers after being stopped at the check point in Kaithady in Jaffna district. Her mother, younger brother and neighbour, who went out in search of her after she failed to return home that day were also killed. Their bodies were found in shallow graves in October 1996.
Koneswaries
Her death didn't give me pain
How can it shake me
When my feelings are numb?
Dears, my Tamil women
What have you done
For the peace for this Island ?
So, come
Remove your dress
And be naked
You too, my mother,
Open your yoonis*
For those who follow the Buddha's path
And fight for peace
Pity them
Where can they release their perversity?
Heroes, come on
Fulfill your perversity
My school-going sister is also behind me.
Have you finished?
Don't stop there
Tomorrow's generation
May sprout out from our yoonis
So, smash them
Throwing grenades
Collect the pieces and bury them
To prevent our race sprouting any more
Sinhala sisters,
Your yoonis are free now.
*yooni = female genitals
Kala. July 1997. Sarinikar.
- Koneswary Murugesapillai, a mother of four, was raped and killed on 17 May 1997 by policemen in Central Camp police in the Kalmunai, who inserted a hand grenade into her genitals. Her four-year-old daughter was the only witness to the crime.
We need your support
Sri Lanka is one of the most dangerous places in the world to be a journalist. Tamil journalists are particularly at threat, with at least 41 media workers known to have been killed by the Sri Lankan state or its paramilitaries during and after the armed conflict.
Despite the risks, our team on the ground remain committed to providing detailed and accurate reporting of developments in the Tamil homeland, across the island and around the world, as well as providing expert analysis and insight from the Tamil point of view
We need your support in keeping our journalism going. Support our work today.
For more ways to donate visit https://donate.tamilguardian.com.