02 June 2014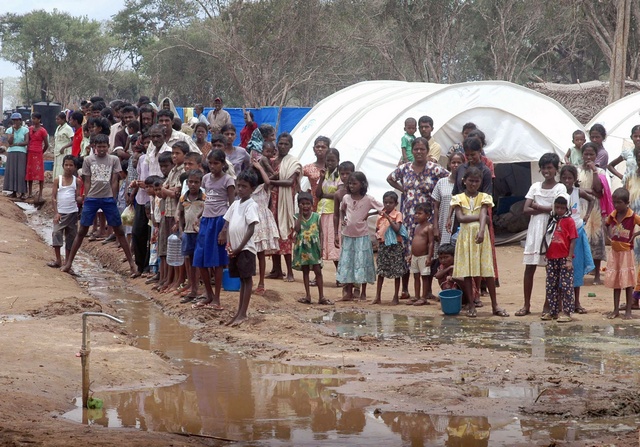 Photograph HRW
Arunachalam Camp, Menik Farm 19 Aug 2009

Next week, the Global Summit to End Sexual Violence in Conflict is due to take place in London, co-hosted by the UK's Foreign Secretary, William Hague and the Special Envoy for the UN High Commissioner for Refugees, Angelina Jolie.

In the run up to the ESVC summit, we revisit the mounting evidence which documents the widespread, systematic and on-going use of sexual violence by Sri Lanka's military against Tamils, that occurs with absolute impunity.
See our full feature: 'Sexual Violence in Conflict: Sri Lanka'
As the armed conflict drew to an end in May 2009, an estimated 300,000 Tamils, who had faced repeated displacement, shelling and a severe lack of humanitarian aid, were forced into IDP camps run by the military and detained there for several months on end.
Reports of rape, sexual assault and forced prostitution rings run by the military soon began to emerge from the camps.
A Tamil medic, based in the UK who had been working as an aid worker in the Vanni during the armed conflict before being detained in the notorious Menik Farm camp, Damilvany Kumar, told The Observer:


"Sexual abuse is something that was a common thing, that I personally saw. In the visitor area relatives would be the other side of the fence and we would be in the camp. Girls came to wait for their relatives and military officers would come and touch them, and that's something I saw.

"The girls usually didn't talk back to them, because they knew that in the camp if they talked anything could happen to them. It was quite open, everyone could see the military officers touching the girls,"

"Tamil girls usually don't talk about sexual abuse, they won't open their mouths about it, but I heard the officers were giving the women money or food in return for sex. These people were desperate for everything."

Prostitution rackets were prevalent, despite government officials being made aware of the practice, said international aid workers. International humanitarian agencies had little or no access, due to severe restrictions placed by the government.
One aid worker, who reported prostitution rackets in Pulmoddai camp, told The Australian,


"It's been brought to the attention of senior government officials but no one seems to be doing anything about it."

"It's hard to know whether it's coercive or not, but there is an average of three families living to a tent and it can be extremely difficult trying to get privacy. You can imagine the military coming in and asking for something in return for more space or more favours."

One woman, with links to the camps, told Sky News of rapes and disappearances within the camps:


"I believe there is sexual assault and harassment in the camps. I believe that these children and young ones are going to get disappeared, but we don't know what is happening to them, because there is no information, there is no transparency, we just don't know what is happening."
The Sri Lankan government rejected all reports of sexual violence in the IDP camps, with officials often accusing fellow detainees or international aid workers of abuse, or dismissing reports as consensual.
Palitha Kohona, then Secretary to the Foreign Ministry, and subsequently Sri Lanka's Permanent Representative to the UN, rejected any allegations of sexual violence by the state's security forces as "absolute rubbish".


"These [military] are the guys who are winning the war - they could have raped every single woman on the way if they wanted to. Not one single woman was raped."
Dismissing reports of prostitution rings, Kohona added,


"I am sure in a mass of people there may be individuals who want to make a quick buck one way or another, but you have to remember the tents are so close together you can't do anything without the entire neighborhood knowing. If you had a racket going, thousands of people would know about it."
Sri Lanka's Defence Secretary, Gotabaya Rajapaksa, accused the British Tamil aid worker, Damilvany Kumar of fabricating the story in an interview with Headlines Today:


"Now, she [Damilvany Kumar] says that there had been all these alleged rape and murder and all these things. Now she is one person who will get attracted by soldiers, because she is so different from others.

I want to know whether she was raped. She was there for one year. She came with the IDPs, and she was in the IDP camps.

"
The permanent secretary to the Ministry of Disaster Management and Human Rights, Rajiva Wijesinha, stating that allegations of rape by the military lacked sufficient details to be substantiated, told The Observer:


"We received a report that a soldier went into a tent at 11pm and came out at 3am. It could have been sex for pleasure, it could have been sex for favours, or it could have been a discussion on Ancient Greek philosophy, we don't know."
On another occasion when asked by a Sky News reporter about the allegations of sexual violence within the camps, Mr Wijesinha replied:


"There are a few blue eyed children in that camp, so you know that some of the NGOs have had a jolly good time when they were up in Vavuniya, so when you go up just have a look and try and identify them."
Despite the passing of five years, fear of reprisal, psychological trauma and social stigma, have resulted in many victims remaining silent.
Here is an extract from the testimony of one woman, published in a report - 'An Unfinished War: Torture and Sexual Violence in Sri Lanka 2009—2014' - by Yasmin Sooka, an author of the UN Panel of Experts report on mass atrocities in Sri Lanka, The Bar Human Rights Committee of England and Wales (BHRC) and The International Truth & Justice Project, Sri Lanka:


"The first time the soldiers raped her in the rehabilitation camp, she staggered to the toilet to wash the blood off, before returning to her tent in silence. She didn't breathe a word for shame – and fear that one of the other former Tamil Tiger rebels in the tent might be an informer.

"I did not tell the other women I'd been raped as it is not something we would discuss in our culture. I suspected the other women in my tent were also being raped but I did not ask them about it. Over the entire period I was in this rehabilitation camp none of us ever spoke about the rapes."

It's hard to imagine the loneliness and mistrust in that tent. Vasantha noticed scratch marks from fingernails on other women's faces. When they washed in the open air showers, fully clothed, she spotted the bruises on their legs. Sometimes she heard screaming from the main building where they were taken for interrogation. She watched other women being taken away at night and always returning via the toilet and she knew why.

Vasantha was a virgin until that night when two drunken Sri Lankan soldiers placed a bag sprayed with petrol over her head and then raped her. Some months later, she was taken for interrogation again. A soldier ordered her to strip naked and when she tried to fight him off, he knocked her to the ground and raped her, digging his nails into her back so hard that the scratches bled. Before Vasantha could put her skirt back on again, another man came into the room and started taking off his shirt, trousers and underwear. "He pushed me to the floor. I tried to put up a resistance but he raped me. I could smell the alcohol on his breath. I was exhausted and fainted. I cannot recall clearly what was happening but I heard doors being opened and closed and I think other people came into the room." In pain and bleeding heavily, Vasantha eventually returned to her tent, via the toilet once again.

The next time she was called for interrogation, the soldier used his cigarette butt to burn her several times on the arms and thigh, while saying something in Sinhala that she couldn't understand. Once he'd finished raping her, a second man raped her. Vasantha remembers these first two smelt strongly of cigarettes. A third man came, slapped her hard when she tried to resist, and raped her." I think there was a fourth and fifth man as well," she says, "I was in and out of consciousness by then."

[more]
We need your support
Sri Lanka is one of the most dangerous places in the world to be a journalist. Tamil journalists are particularly at threat, with at least 41 media workers known to have been killed by the Sri Lankan state or its paramilitaries during and after the armed conflict.
Despite the risks, our team on the ground remain committed to providing detailed and accurate reporting of developments in the Tamil homeland, across the island and around the world, as well as providing expert analysis and insight from the Tamil point of view
We need your support in keeping our journalism going. Support our work today.