12 July 2018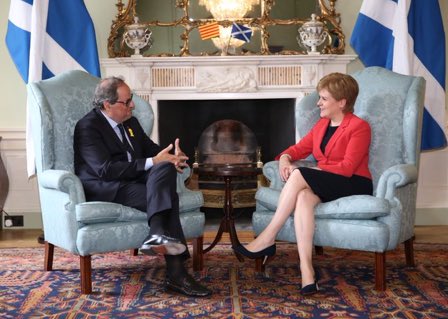 Scotland's first minister and SNP leader, Nicola Sturgeon met with the Catalan president, Quim Torra on Wednesday during the newly elected leader's visit to Edinburgh this week. 
In a joint statement issued after the meeting the two leaders said "the way forward for Catalonia must be through peaceful and democratic solutions involving dialogue between the Spanish and Catalan authorities".
"In 21st century Europe, issues of self-determination must ultimately be addressed through democratic referendums", which should be "agreed between both parties and have corresponding international recognition," they added. 
Their meeting came as a Catalan minister, Clara Ponsati faces extradition from Scotland to Spain over Catalan's independence referendum. 
Thanking the Scottish people and the first minister for her support to Ms Ponsati, Mr Torra expressed his admiration for "the Scottish model" as "an example for the world".
Speaking to the BBC, he said the Catalan referendum was "absolutely" justified. 
"In the Catalan case, after years and years trying to get this referendum agreed with Madrid, with the impossibility to do it in an agreed way, we decided to do it by ourselves," he added. 
"Each nation knows the moment in which its necessary to do things, to preserve the dignity of the nation. Maybe Scotland in the future has to take a decision like that. I don't know, but I respect for any decision the Scottish people might take in the future."