02 October 2020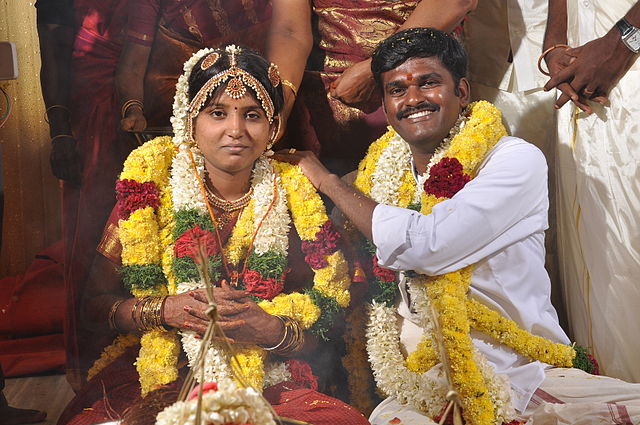 (Photo of married couple credit: Tshrinivasan)
Writing in "The Caravan", Amita Arudpragasam, highlights how increasing militarisation, war loss, and social pressures are increasing the burden on "Tamil women [...] to marry at any cost, which usually means an expensive dowry".
Dowry, as described by Sonia Dalmia and Pareena G Lawrence in their seminal text "The Institution of Dowry in India: Why it Continues to Prevail", is an "economic transaction that functions to 'equalize' the value of marriage services exchanged by the households of the bride and the groom".
Under this logic, grooms which are considered well educated and employed may demand a higher dowry.
The rising cost of dowry
In the North-East, men are overvalued as they are seen as "providing a security premium". This arises in a context of increasing militarisation despite over a decade passing since the end of the armed conflict. Tamil women in Sri Lanka are routinely subject to "rampant sexual harassment, intimidation and violence", often perpetrated by Sri Lanka's security forces. Men in such a context are seen as providing protection to single women.
This protection, notes scholars Kate Cronin-Furman and Nimmi Gowrinathan, "often emerges in the form of a hasty or ill-advised marriage, and the pressure to get married may compel women to marry much older men".
Shanthi, a Tamil woman working in Jaffna, notes that under the rule of the Liberational Tigers of Tamil Eelam, "there was more protection" due to the organisation's strict prohibition against sexual abuse. Since the end of the armed conflict, many Tamil women "still feel unsafe when walking around at night".
Another explanation provided for the increasing cost of dowry is the shifting demographic as "women of marriageable age greatly outnumbering marriage-eligible men". Arudpragasam notes that from "1953 to 1971, the relative number of men for every 100 eligible women declined across Sri Lanka, and it has continued to decrease since then in Tamil provinces". This was partially due to the fact that men were more likely to be recruited for combat.
With fewer eligible bachelors and continuing concerns over security the cost of dowry has increased.
According to a resident from Point Pedro:
"Thirty years ago women only paid a hundred thousand Sri Lankan rupees in dowry—for a marriage within her caste. Now, even if they have jobs and steady incomes, women must expect to pay dowries up to two million rupees. If the man is educated and has a lucrative career—for example, if he is a doctor or engineer—the dowries go up to five million rupees, excluding jewellery, property and donations to the groom's family"
Prospective grooms may even demand property in Jaffna or Colombo.
Dowry in the Tamil community
According to economists Danesh Jayatilaka and Kopalapillai Amirthalingam, dowry used to be a practice that was usually only affordable within the Tamil upper class and was subject to flexibility depending on assets available and the number of children. However it has since become ubiquitous.
There have also been reports of dowry-related crimes in which women are of their dowry and then abandoned. In Manipay, a Tamil woman had married a "well-known man" from her village only to have him disappear overseas.
Dowry is also known to cause significant strife within families as families struggle to provide enough to secure their daughters marriage, an issue complicated for families with multiple daughters.
The practice, writes Arudpragasam "is designed to invoke feelings of indignity, anger and shame in women".
A history of dowry
Commenting on the dowry, Arudpragasam notes, that the traditional came under significant criticism during the colonial period and in the 19th century a British abolitionist movement alongside an Indian reformist movement generated momentum for anti-dowry campaigns. Whilst the movement was largely ineffectively, in 1961 the Prohibition of Dowry Act was finally passed and India's penal code was subsequently amended, however there has been a low conviction rate.
In Sri Lanka the anti-dowry campaign was less vociferous, partly because it was less connected to female infanticide as it had been in India. This was partially due to infanticide being a punishable offence by the Dutch colonial authorities in 1789 and the kingdom of Kandy in 1812.
Dowry as practice was resisted in at least two instances, writes Arudpragasam;
"when a two-year resolution to ban dowry was rejected at the State Council in 1938, and when Tamil communities resisted LTTE attempts to ban the practice".
Arudpragasam further notes that the different trajectories of India and Sri Lanka is also due to a difference in inheritance laws.
According to anthropologist Stanley Tambiah, the Thesawalamai, a compilation of the traditional laws and customs of Jaffna's Tamil population, "invests women with stronger property rights than the Indian shastric systems. Whereas in Northern Ceylon, women inherited land, Indian systems restricted them to moveables, and only exceptionally to land."
Under these rules, men are not permitted to unilaterally alienate matrimonial property and as a consequence woman here faced fewer insecurities and vulnerabilities to dowry crime than their Indian counterparts. 
Read Amita Arudpragasam full at The Caravan
We need your support
Sri Lanka is one of the most dangerous places in the world to be a journalist. Tamil journalists are particularly at threat, with at least 41 media workers known to have been killed by the Sri Lankan state or its paramilitaries during and after the armed conflict.
Despite the risks, our team on the ground remain committed to providing detailed and accurate reporting of developments in the Tamil homeland, across the island and around the world, as well as providing expert analysis and insight from the Tamil point of view
We need your support in keeping our journalism going. Support our work today.