19 August 2017
Tilak Marapana taking up office as Sri Lanka's new foreign minister this week. Source: MFA
The Sri Lankan government named Tilak Marapana as the regime's new foreign minister this week after his predecessor quit amid allegations of corruption.
Mr Marapana is a seasoned Sri Lankan politician, having held ministerial posts himself previously. He takes over from Ravi Karunayake, who was forced to resign after just a few months in office, following persistent allegations of corruption.
However, Mr Marapana too is no stranger to controversy.
As the newly appointed foreign minister takes office, we look back at his turbulent political career.
A fierce Ranil loyalist
A former Attorney General of Sri Lanka, Mr Marapana was first appointed as a national list member of parliament with the United National Party (UNP) in 2000. He currently remains a national list MP, having never contested an election.
In 2011, Sri Lanka's current prime minister Ranil Wickremesinghe fended off a leadership challenge from within the UNP and swiftly moved to purge the party of dissidents. Mr Wickremesinghe went on to appoint 15 nominees into the party's Working Committee, of which close confidante Mr Marapana was one. He was also named as one of the party's three main legal advisers alongside current Sri Lankan justice minister Wijeyadasa Rajapaksha and current Bank of Ceylon Chairman Ronald Perera.
The move demonstrated how tight Mr Marapana was to the current prime minister, to whom he served as a senior aide. Their close relationship though stretches back further.
Sri Lanka's defence minister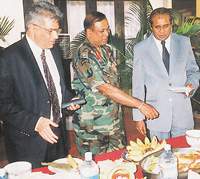 In late 2001, the south was in political turmoil with a no confidence motion being brought against then Sri Lankan president Chandrika Kumaratunge. Facing a collapse in government, she dissolved parliament and announced fresh elections, campaigning on a hard-line Sinhala nationalist stance. Following a series of heavy military defeats to the LTTE, a war weary south opted for Mr Wickremesinghe's United National Front coalition, who were granted a cabinet of 25 ministers.
Mr Marapana was entrusted with the key post of defence minister as the Sri Lankan government entered into the stormy ceasefire agreement just months later. He remains the island's first, and to date, only, defence minister who was not also the country's prime minister or president.
Though his party steered the Sri Lankan government into negotiations with the LTTE, he also remained a staunch defender of Sri Lankan military presence in the Tamil North-East. Despite moves to bring about a negotiated settlement, he constantly reiterated to the increasingly agitated Sinhala south that "the number of army soldiers in the northeast province has not been reduced by any means" and ensured High Security Zones (HSZ) were not dismantled.
"Only a temporary ceasefire is currently in force in the country," he told reporters. "Hence the government has been forced to strengthen the security of the country and as such there is no room for any compromise regarding the removal of HSZ."
As defence minister, he also ensured the abolition of the widely criticised Prevention of Terrorism Act (PTA) was rebuffed – a draconian piece of legislation he would continue to work with in his later role as Minister of Law and Order and Prison Reforms.
Throughout his time in the defence portfolio, he also ensured he was steadfast to Mr Wickremsinghe.
"Defence or, for that matter any other portfolio, one holds is directly responsible to the Prime Minister," he told the Sunday Times in 2002. "I am not on my own. I have to consult the Prime Minister before making important decisions."
Following months of an uneasy cohabitation between Sri Lanka's President Kumaratunge and Prime Minister Wickremesinghe, Ms Kumaratunge plunged the south into crisis by seizing the portfolios of the ministry of defence, interior and media.
Mr Marapana was sacked.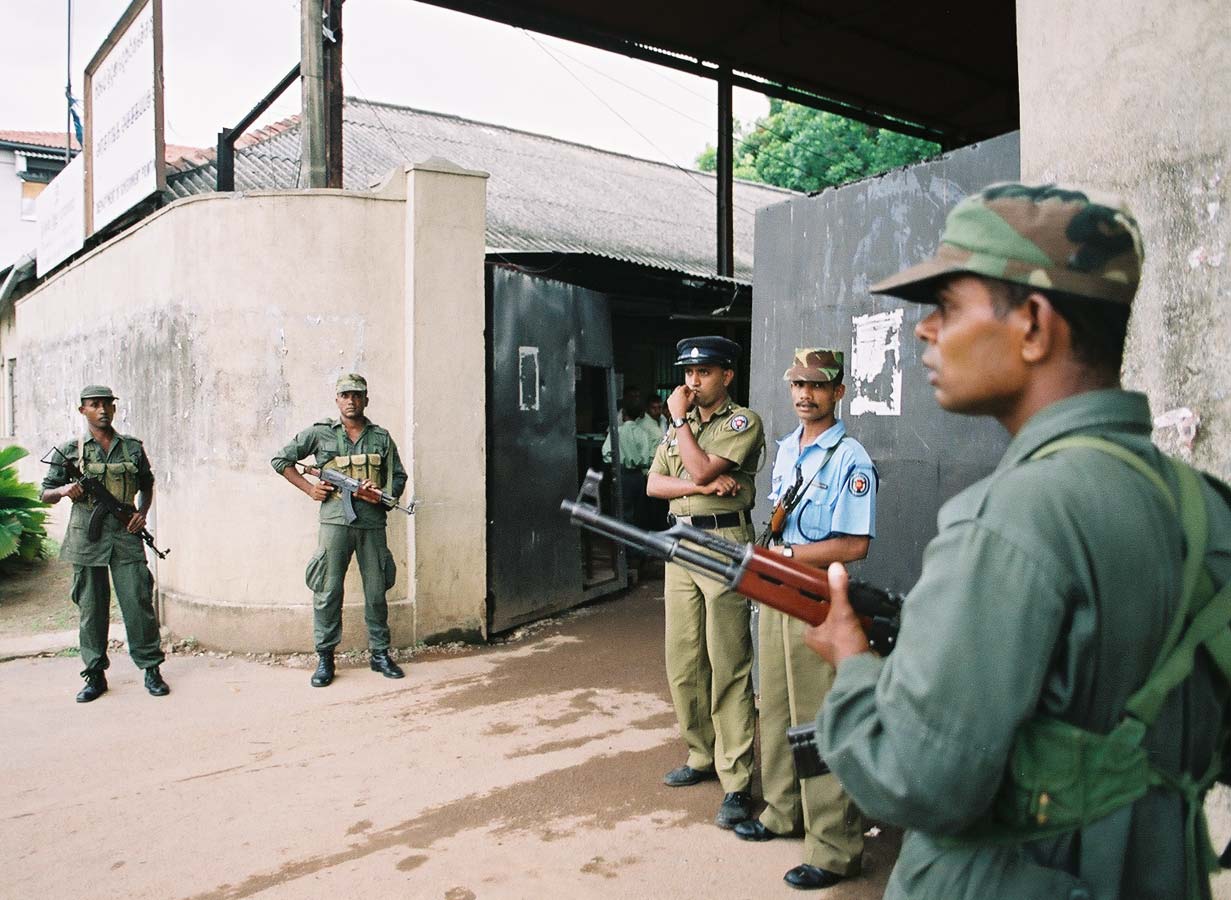 Above centre: Sri Lanka troops deployed in front of government press in 2003 after then President Chandrika Kumaratunge took over the ministries of defence, interior and media. Source: TamilNet
Above right: Tilak Marapana with then Prime Minister Ranil Wickremesinghe and the Sri Lankan military. Source: Sunday Times
A ministerial return
His dismissal, however, did not mark the end of Mr Marapana's political career. Years later, in September 2015, he was once again appointed as a national list MP for the UNP and given a cabinet post as the Minister of Law and Order.
He was in that role when over 200 Tamil political prisoners, languishing in jails across the island, launched a hunger strike that year, protesting against their continued detention. Whilst the issue spread with demonstrations across the North-East, the response from Colombo was typically lacklustre.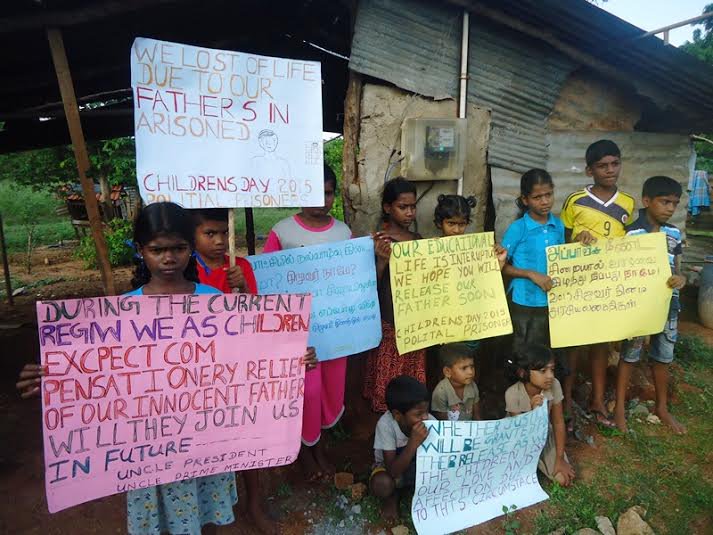 Children of Tamil political prisoners joined protests across the North-East in 2015, calling for their parents' release. Source: Tamil Guardian
Mr Marapana himself obfuscated around the classification of who was deemed to be a political prisoner. He told the Sunday Leader that there had not been any discussion about granting an amnesty to these prisoners and continued that even if the PTA was to be repealed, "their cases will proceed as if the law was not repealed".
Though he acknowledged there should be an "immediate replacement of the prevailing legal system" and said in Jaffna that he would "reduce the number of detainees by at least 25 per cent", no further action was taken.
It is still not yet known how many Tamils remain detained by the Sri Lankan state.
Yet another corruption scandal
In this ministerial role too, Mr Marapana did not last long. After just two short months, he was forced to resign after being dogged by what has been coined by the southern press as the "Avant Garde" scandal.
Avant-Garde Security Services [Pvt] Ltd describes itself as a company which has the "ability to face any challenge in Security promptly". The private security firm illegally acquired hundreds of weapons from Sri Lanka's defence ministry and was accused of running "floating armouries" in the Indian Ocean, allegedly with the blessings of former Defence Secretary Gotabhaya Rajapaksa. A raid on a vessel in October found 816 guns and over 202,674 rounds of ammunition on board. Some 59 automatic rifles also had their serial numbers obliterated from the weapons making them impossible to trace. A further 3,000 weapons stashed in 20 containers owned by the company in Galle were also seized, with thousands of government-owned arms reported missing. Mr Rajapaksa was accused of allowing private militias to function, with the Sri Lankan government reportedly suffering Rs. 11.4 billion in losses.
It was during this period that Mr Marapana was working as a legal adviser for the company.
Whilst he denied continuing in that role once he became a minister, his ties to the firm were indisputable. Remarkably, it was his ministry that was tasked with compiling an investigation into Avant Garde's illegal activities in 2015. Instead of conducting an impartial inquiry, Mr Marapana rose to the defence of the firm, giving an emboldened speech in Sri Lanka's parliament that even disturbed many of his own party MPs according to reports.
He denied the firm had engaged in any wrong doing, sparking a backlash from southern civil society, that eventually forced him into resignation from the cabinet.
"We worked hard to create this government," said Mr Marapana, announcing his decision to quit.
"Any man who is intelligent enough, would make a decision that is beneficial for the country."
Out with the old?
As Mr Marapana picks up from his predecessor's resignation, one of the most pressing issues facing his office will be the implementation of a 2015 UN Human Rights Council resolution on accountability for mass atrocities committed during the final phase of the war.
The resolution calls for "foreign judges, defence lawyers and authorized prosecutors and investigators" to participate in a judicial mechanism to try perpetrators of war crimes. Following delayed progress in implementation, the council granted Sri Lanka an extension in March of this year., giving Sri Lanka until 2019 to set up a court.
Taking up office this week though, Mr Marapana insisted that no such deadline is being imposed.
"No, we are not being pushed to implement it in 5 or 10 years," he said. "We are not being pushed in that way at all."
He went on to echo the comments of other senior Sri Lankan leaders in rejecting the involvement of international judges – a key requirement for any proposed accountability mechanism. "We have told the international community that our constitution does not permit that and they have accepted it," Mr Marapana claimed.
The foreign minister's comments are a blow to both Tamil and international efforts in seeking justice for the crimes committed during the final stages of the armed conflict, in which tens of thousands of Tamil civilians were killed. Demonstrations continue to take place across the North-East and in Tamil diaspora centres across the globe, calling for accountability more than 8 years after the killings took place. But following decades of failed domestic processes at obtaining justice for victims of human rights violations, Mr Marapana's defiant comments as he took up office give little hope.
"That judicial mechanism is left for us to formulate and for us to tell them," he said. "And it is a long way off."
So too, seem hopes for change.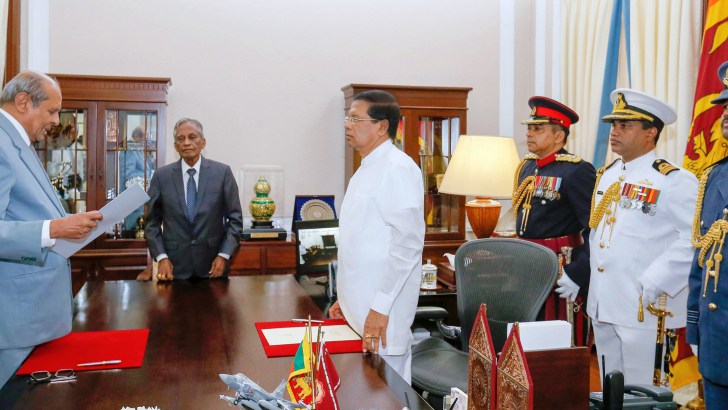 Mr Marapana taking up duties earlier this week. Source: MFA