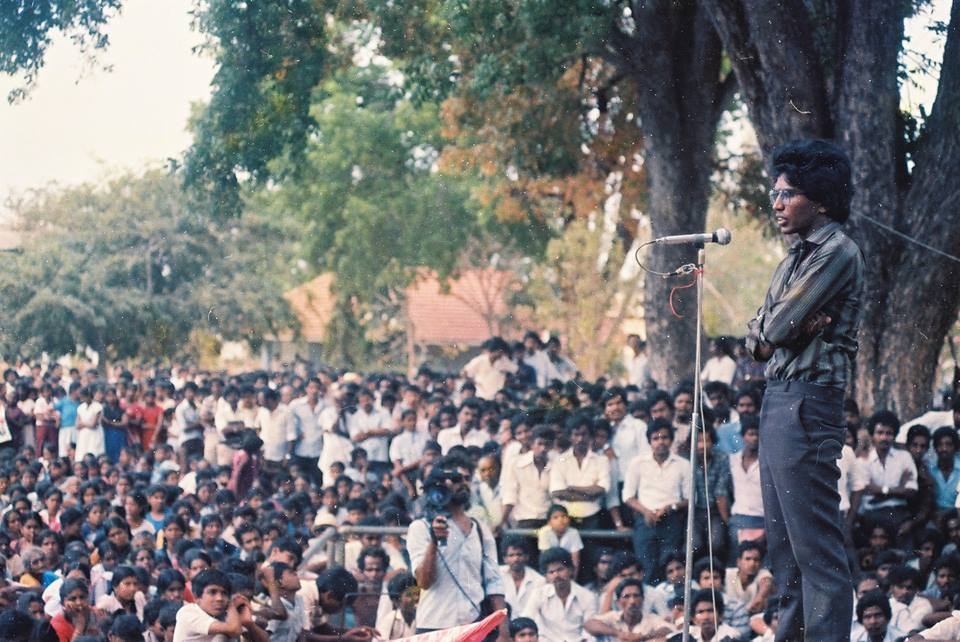 Lt. Col. Thileepan addresses crowds at Nallur, Jaffna as he commences his hunger strike.
Today marks the 28th anniversary of the death of Lt. Col Thileepan, after he fasted to death on hunger strike, appealing to the Indian government to honour pledges made to the Tamil people.
Thileepan, a former medical student, was the political wing leader of the Jaffna district for the LTTE. On the 15th of September 1987, Thileepan took to a podium around the historic Nallur Kandaswamy temple in Jaffna. Over 100,000 people had gathered to hear Thileepan outline 5 demands to the Indian government:
- the release of all Tamils held under Sri Lanka's Prevention of Terrorism Act (PTA),
- a halt to the state-sponsored Sinhala colonisation of Tamil lands,
- an end to the building of new Sri Lankan military camps in the Tamil areas,
- the withdrawal of the Sri Lankan security forces from Tamil schools, and
- the disarming of Sinhala and Muslim paramilitary militia.
See a video of his speech below.
After 11 days of fasting, Thileepan passed away.
Read an eye witness account of the hunger strike, as told by Adele Balasingham below.
Witness to Thileepan's fast (Feature)
A memorial tower built in his memory at the spot of his fast was destroyed in 2012. 
Also see: 

Self-sacrifice for the greater good has a long tradition (Opinion)
See also, the Indo-Sri Lanka Accord and the LTTE's response to it.