16 January 2019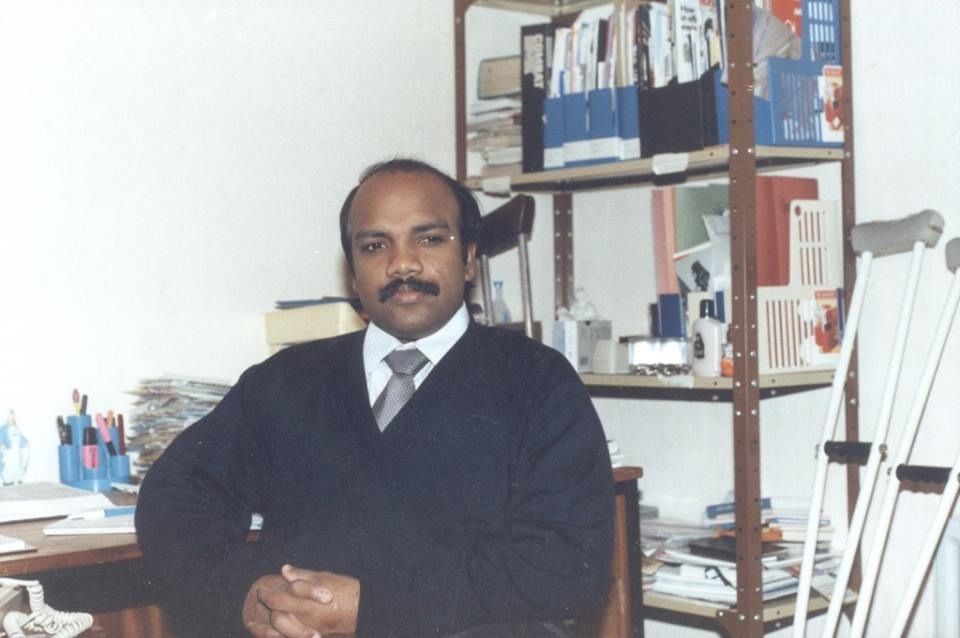 Today marks 26 years since the death of Sathasivam Krishnakumar alias Colonel Kittu, and nine other LTTE cadres, who committed suicide after being surrounded by Indian navy warships in 1993.
The nine other cadres who passed away with Col. Kittu were:
- Lt.Col. Kuttisiri: Rasaiah Sri Ganesan from Suthumalai, Jaffna

- Sea Tiger Captain Jeeva: Nadarajah Mark Jeyarajah from Pashaiyoor, Jaffna

- Sea Tiger Captain Gunaseelan: Segan Cruz Michael Jeeva from Maniam Thottam in Jaffna

- Major Malaravan (Velan): Suntharalingam Suntharavel from Viyaparimoolai, Point Pedro

- Sea Tiger Captain Rosan: Ratnalingam Arunarajah from Nallur, Jaffna

- Sea Tiger Captain Nayagam: Sivalingam Seharan from Polikandy in Point Pedro

- Sea Tiger Lt. Thuyavan: Mahalingam Jeyalingam from Kandy Road, Jaffna

- Sea Tiger Lt. Amuthan: Aloysius Johnson from Navanthurai, Jaffna

- Sea Tiger Lt. Nallarasan: Sivagnanasundaram Ramesh from Columbuthurai, Jaffna
Col. Kittu rose to public prominence as the LTTE's Jaffna Commander from 1985-1987 and was based in the Paduvankarai region during the first phase of the war. He was later appointed head of the LTTE's International Secretariat in London and was on his way home from the UK when his ship was intercepted.
"The former Jaffna Commander of the LTTE was on his way to meet the LTTE leader Velupillai Prabhakaran to brief him on the latest peace proposal arranged with the assistance of certain European countries to find a solution to the ethnic crisis in Sri Lanka," said a statement from the LTTE, released after his death.
"Kittu had explained to the navy officials, who surrounded him, but they had rejected his explanation and had taken the LTTE ship by force to the shores. Following this action by the Indian navy Kittu and nine of his comrades committed suicide to prevent themselves from becoming prisoners of the Indian government".
Days after the deaths were announced a vigil was held in Jaffna, with mourners marching from Nelliyday to Thiruvil in Vadamarachi, where flowers were laid before a portrait of the late commander. Similar vigils also took place in London, Paris, Canada and Switzerland, alongside demonstrations outside Indian embassies.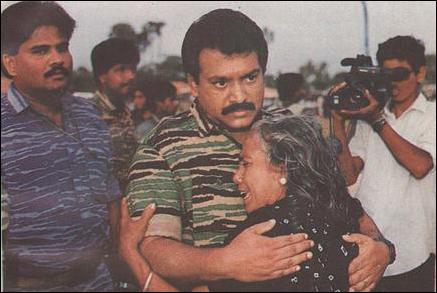 LTTE leader V. Prabhakaran comforting the mother of Col. Kittu at a vigil in Jaffna
Speaking at the time, Anton Balasingham the chief negotiator of the Liberation Tigers of Tamil Eelam (LTTE), said that the Tamil struggle had already met irreparable losses "and now those losses have been aggravated with the death of Kittu".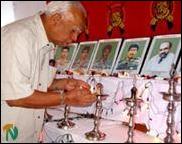 TNA Leader R Sampanthan paying tribute to Col. Kittu in 2003. Photograph: TamilNet
In subsequent years Col. Kittu's death continued to be widely marked across the North-East and throughout the diaspora. Numerous commemoration events took place throughout the North-East, with current TNA leader R Sampanthan saying in 2003:
"Colonel Kittu was the commander of the Jaffna peninsula at a time when the LTTE did not possess modern weaponry. Colonel Kittu led several successive battles with the Sri Lanka Army in Jaffna. He was military leader who was loved by the people of Jaffna."

"When he was in United Kingdom Colonel Kittu made his presence to harness world support to the Tamil armed freedom struggle."
In 2004, the President of the Jaffna Muslims Peace Consortium, Al Aleem Marleen also praised the former LTTE commander, stating:
"Col.Kittu, Lt.Col.Thileepan and several others from Jaffna worked together with Muslim people in Jaffna and sacrificed their lives for the benefit of all Tamil speaking people."
Kittu Park, in the heart of Jaffna town in Muththirai Santhi was named in his memory.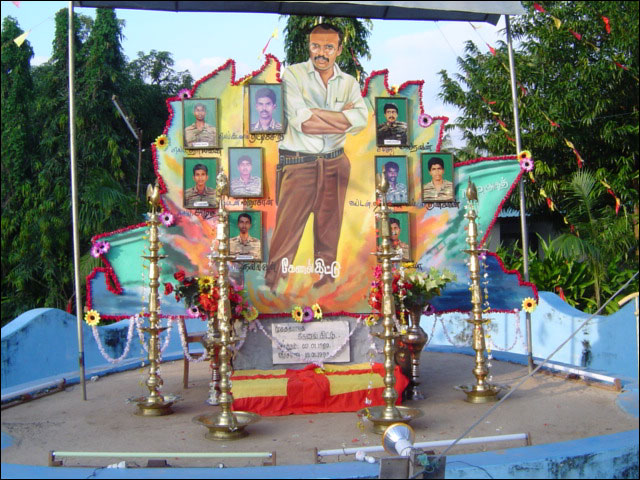 A memorial to Col. Kittu from commemorations in 2005. Photograph:TamilNet
Addressing Maaveerar Naal commemorations in Zurich Switzerland, in 1991, Col. Kittu recalled to the audience a conversation he held with an official from the British Refugee Council. He told the audience:
'I was once asked by an Englishman connected with the British Refugee Council: "You say Tamil Eelam, but where are the boundaries of this Tamil Eelam that you talk about? Show me."

I was taken aback by the directness of the question. I thought for a while.

Then I replied.

"Take a map of the island. Take a paint brush and paint all the areas where Sri Lanka has bombed and launched artillery attacks during these past several years. When you have finished, the painted areas that you see - that is Tamil Eelam."
With discussion in the Sri Lankan parliament over a new constitution for the island ongoing, we look back at Col. Kittu's interview with Melbourne CR3 Radio in June 1991.
Speaking on the topic of negotiations with the Sri Lankan government, Col Kittu said:
"Indeed even if the Sinhala politicians seek to settle the conflict, Sinhala Buddhist chauvinism may try to prevent such a settlement. This is the political reality that those who are aware of the Sri Lankan situation are well aware of. This is the result of the grievous error committed by Sinhala politicians. In 1956 for the first time this 'communalism' was openly put forward for electoral gain. This Sinhala chauvinism which was nurtured by Sinhala politicians for their electoral advantage, has grown into a Frankenstein monster which now has the power to destroy and make politicians. This we understand very well."

"Sri Lanka needs to recognise that the Tamils are a nation, that we have the right of self determination. On this basis it will be possible to resolve the conflict. The Sri Lankan constitution is a unitary constitution. The conflict between two peoples cannot be resolved within a unitary constitution."

"At the same time, if we recognise that in Sri Lanka there are two nations, then we can talk about how these two nations may live."