14 December 2020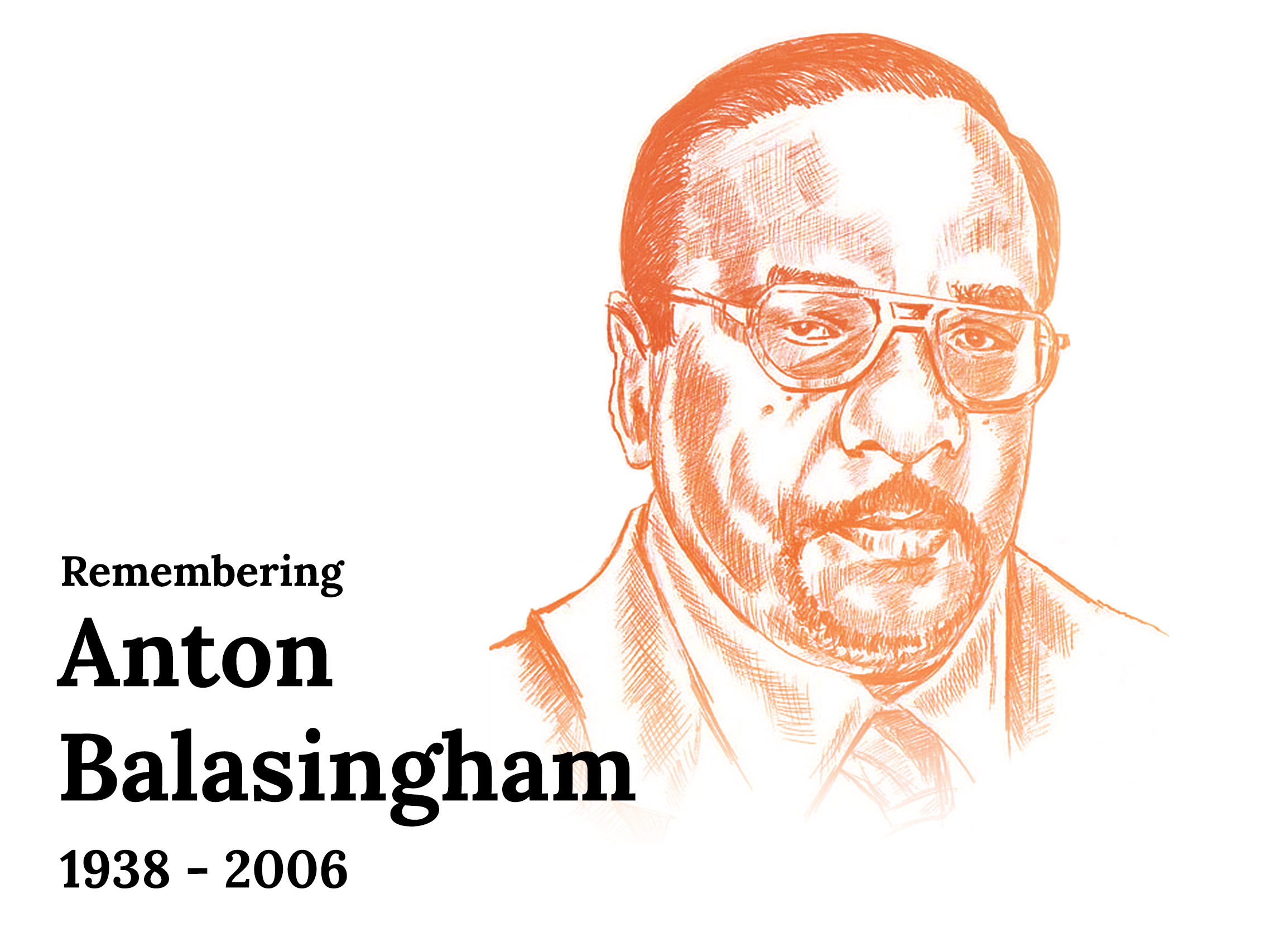 Image courtesy of Tamil Narratives
Today marks 14 years since the passing of the chief negotiator and political strategist of the Liberation Tigers of Tamil Eelam (LTTE), Anton Balasingham. 
Balasingham, or as he was fondly known among Tamils - Bala Anna, was widely respected and adored by the nation. His charismatic addresses in venues around the world drew tens of thousands, as he provided political analysis with sharp wit. Leading LTTE delegations through numerous negotiations, Bala Anna eloquently and forcefully articulated the rights of the nation. His intellectual prowess and political acumen earned him respect from all sides of the negotiating table.
He remains an extraordinary theoretician and a formidable figure within the Tamil struggle.
Bala anna's special relationship with the Tamil Guardian is a bond that we remain deeply proud of to this day.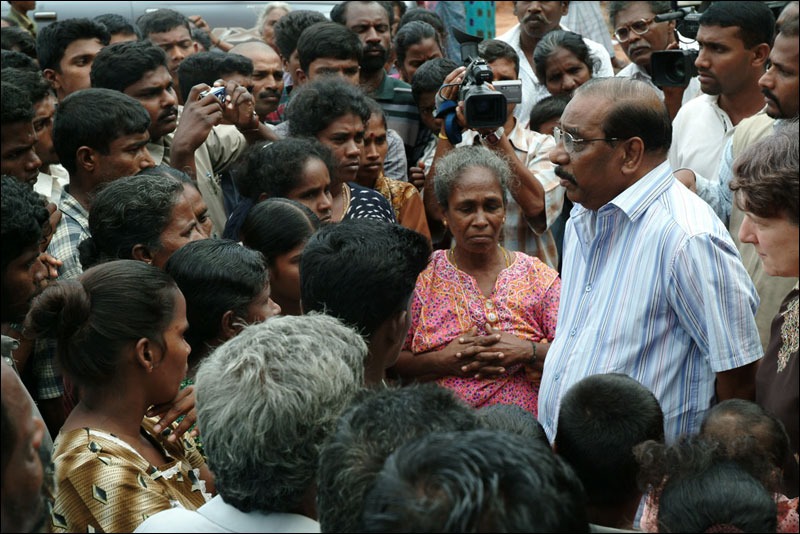 A nation mourns
Balasingham, aged 68 years, passed away at his home in South London on December 14, 2006. His death sparked grief across the Tamil nation, with three days of mourning declared.
In the Tamil homeland, LTTE leader Velluppillai Prabhakaran led commemorations alongside other senior commanders.
"A source of unwavering strength in the political and diplomatic efforts of our freedom movement, and the light of our nation is extinguished," he said in a condolence message. "It is an irreplaceable loss for our entire nation and for me."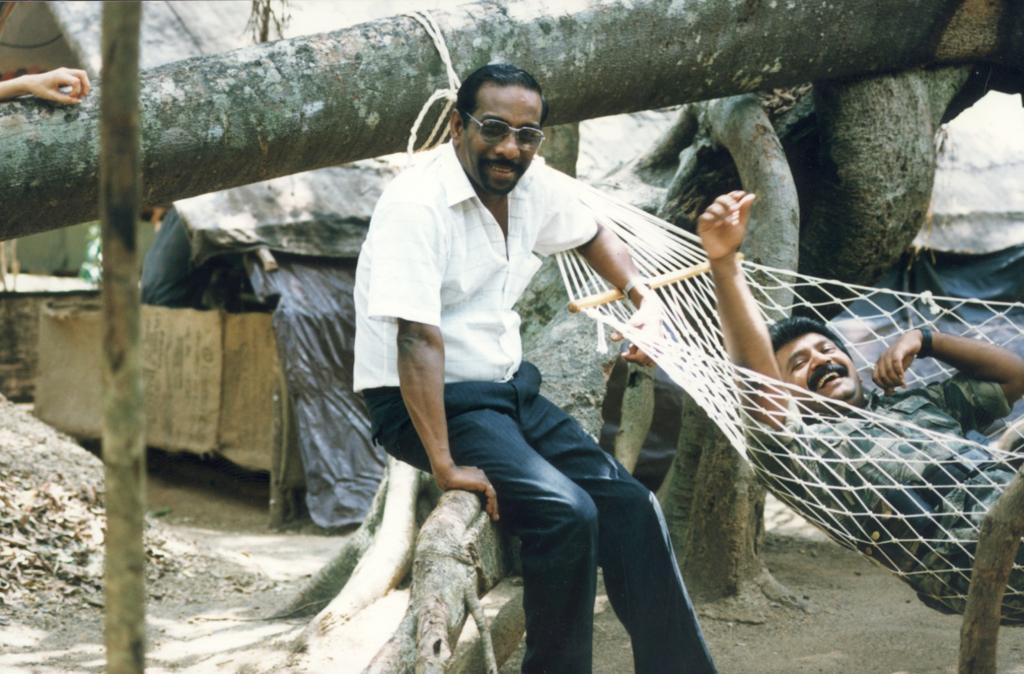 In the UK an estimated 50,000 Tamils from Britain, across Europe and other diaspora centres attended his funeral, queuing patiently for hours to place wreaths and flowers alongside Balasingham's body lying in state at Alexandra Palace.
The ceremony was broadcast live across the world to North America, India, Australasia and the Vanni, where commemorations were simultaneously taking place with tens of thousands of attendees.
Bestowing the title "Voice of the Nation" on Balasingham, the LTTE leader went on to add:
"There is a permanent place for Bala annai in the development and growth of our expanding movement. As elder statesman, as ideologue, as philosopher, above all as my intimate friend, he gave me inspiration and encouragement; gave advice and support. He shared my feelings and my burden. From the very inception of our movement he shared with me burdens of all the trials, tribulations, challenges and difficulties. He stood as the protagonist in the forefront of our political and diplomatic maneuvers."

"Bala annai has, in truth, not departed from us. He will remain in our stream of consciousness as an enduring memory, forever."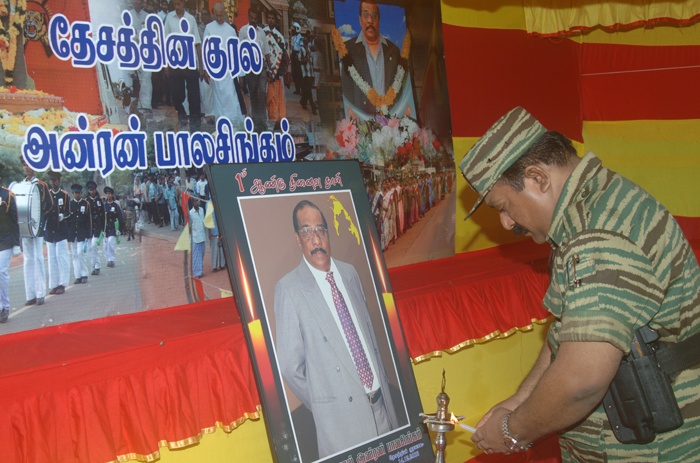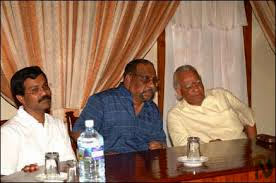 In a speech from the Tamil homeland that was broadcast live to London, head of Liberation Tigers Political Division S P Thamilchelvan, said Balasingham "shone bright as a gifted diplomat endowed with impressive political acumen who could direct, and express with clarity diplomatic and strategic moves of our leadership".
"We respected him as a guru," said the LTTE's military spokesman Rasaiah Illantherian. "All of us read his books. He motivated us for our struggle."
Senior political figures, including current Tamil National Alliance leader R Sampanthan mourned Balasingham's death, stating that it came at a "critical juncture in the political struggle of the Tamil people [and] has caused much grief".
Balasingham "had clear comprehension of the political aspirations and goals of the Tamil people," he added. "He was able to articulate the views of the Tamil people on these questions with clarity."
Tributes worldwide
Tributes hailing Balasingham flooded in from all over the world following his passing. In Tamil Nadu, parties across the political spectrum united in their grief and sent messages of condolence across the Palk Strait. 
.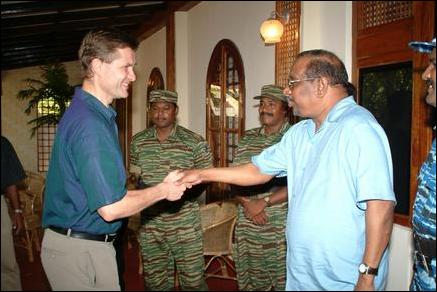 Then Chief Minister of Tamil Nadu M Karunanidhi praised Balasingham, stating he had "kept the flame of self-respect of Tamils burning bright until his last breath".
Amongst the others who sent messages of condolence were Vaiko, the General Secretary of the MDMK,  Dr S Ramathas of the Pattali Makkal Katchi (PMK), Thol Thirumavalavan, the General Secretary of 'Viduthalaich Siruththaigal', Pala Nedumaran, the Leader of Tamil National Organization, K Vijayakanth, the Leader of Tamil National Dravidian Progressive Party and K Veeramani, the Leader of Periyar Dravidian Party.
A four-person Norwegian delegation also attended Balasingham's funeral in London. Then International Development Minister Erik Solheim, gave a short speech saying Balasingham had shown his strength and dignity to the very end. "He was a sincere person. He was on the very few people [in the peace process] who never lied to me amongst many people from all communities," continued Solheim.
At a memorial in Oslo the Norwegian special envoy for the peace process in Sri Lanka Jon Hansen-Bauer said he had "not met a person, both among Tamils and Singhalese, who did not respect him for his steadfastness".
"Anton Balasingham was a theoretician. I had great pleasure discussing with him the key thinkers in Europe and relate their philosophy and approach to the peace process in Sri Lanka," Mr Bauer added. "He could draw the lines back to 1970's, 80's and to the first talks in Thimpu, to the five rounds of talks that did not work, and tell us the focus needed in the sixth and the new rounds of talks. He was not only a experienced man; he was also a negotiation practitioner."

"With the demise of Mr. Balasingham, the LTTE has lost its Chief negotiator; the Tamil people have lost one of their most important spokesman; an unbeatable power standing for the Tamil people, forcefully articulating their rights… And, Norway will miss a trusted friend and a central wall in the building of "Peace" constructed painstakingly block-by-block, has fallen," he concluded.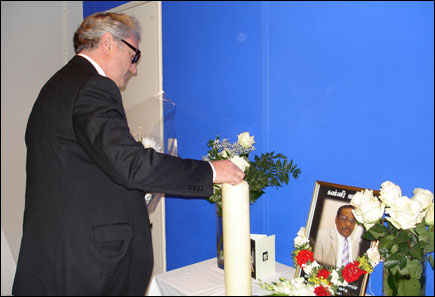 In an obituary, The Times of London described Balasingham as "the one man the Tigers could trust with their destiny in what looked like being a breakthrough in talks."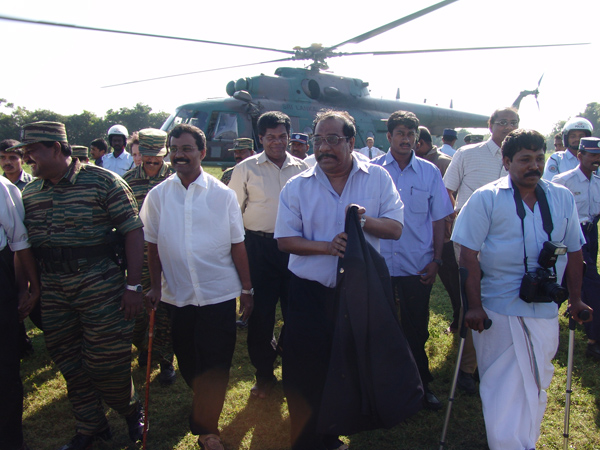 Bala Anna's indomitable character and commitment to reliving the suffering of his people is best illustrated in his own words. In his final words to the public, as he announced news of his illness just three weeks before he passed away, he said his aggressive cancer was "an unfortunate personal tragedy".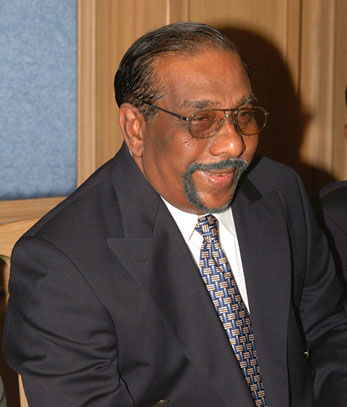 "However, when compared to the vast ocean of the collective tragedy faced by my people, my illness is merely a pebble," he continued.
"I am deeply sad that I am crippled by this illness, unable to contribute anything substantial towards the alleviation of the immense suffering and oppression of my people."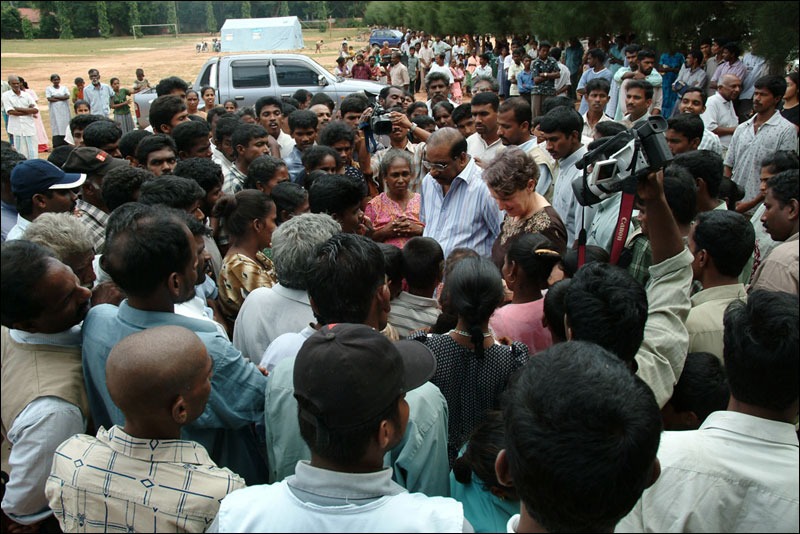 "Mr. Balasingham was many things to the Tamil struggle," wrote the Tamil Guardian at the time of his passing. "The formal titles of theoretician and chief negotiator do not capture them all."
Read more extracts from our editorial 'Bala Anna' below.
"This newspaper and its staff are privileged to have had a very special relationship with Bala Anna. It began soon after he arrived in London in 1999. He readily agreed to meet the volunteers of the Tamil Guardian when we asked. Our discussions quickly became regular and frequent. We always met at the study in his home, where we were warmly welcomed by him and his wife, Adele. An experienced journalist, Mr. Balasingham had a passion for media. He also appreciated that we were committed to articulating the Tamil cause. He spent considerable time with us in prolonged discussion on the ethnic question, on the Tamil struggle, on international affairs, and many other subjects. The depth of his knowledge was unfathomable. A warm, convivial and humorous man, he was a patient tutor. He scrutinized our work and was generous with his praise and scathing in his criticism. Yet he never constrained us, encouraging us to write freely on the Tamil cause. As with a handful of other Tamil correspondents, he took us into his confidence in exchange for our discretion. In March 2000 we were privileged to be exclusively granted his first media interview after leaving Vanni. He gave many of his infrequent subsequent interviews to us."

"Our relationship with the Balasinghams went beyond the production of the newspaper. It was individual, personal and very affectionate. They took an active interest in each of us, inquiring of those who met them about those who were not there. Bala Anna encouraged us to develop our individual interests and offered welcome advice on our academic and professional pursuits. We drew much inspiration and not a little courage from him. Being close to Bala Anna, we were, for a long time, acutely aware of his health difficulties. His health declined rapidly this year, but only until recently were we unable to converse regularly with him. His death comes as a devastating personal loss to each of us. Our hearts go out to Adele Aunty, his beloved wife and constant companion. Her loss is the deepest. We will all miss him very much. We, at the Tamil Guardian, couldn't be more proud of our close association with Mr. Balasingham over the past seven years. He was, quite simply, a remarkable man."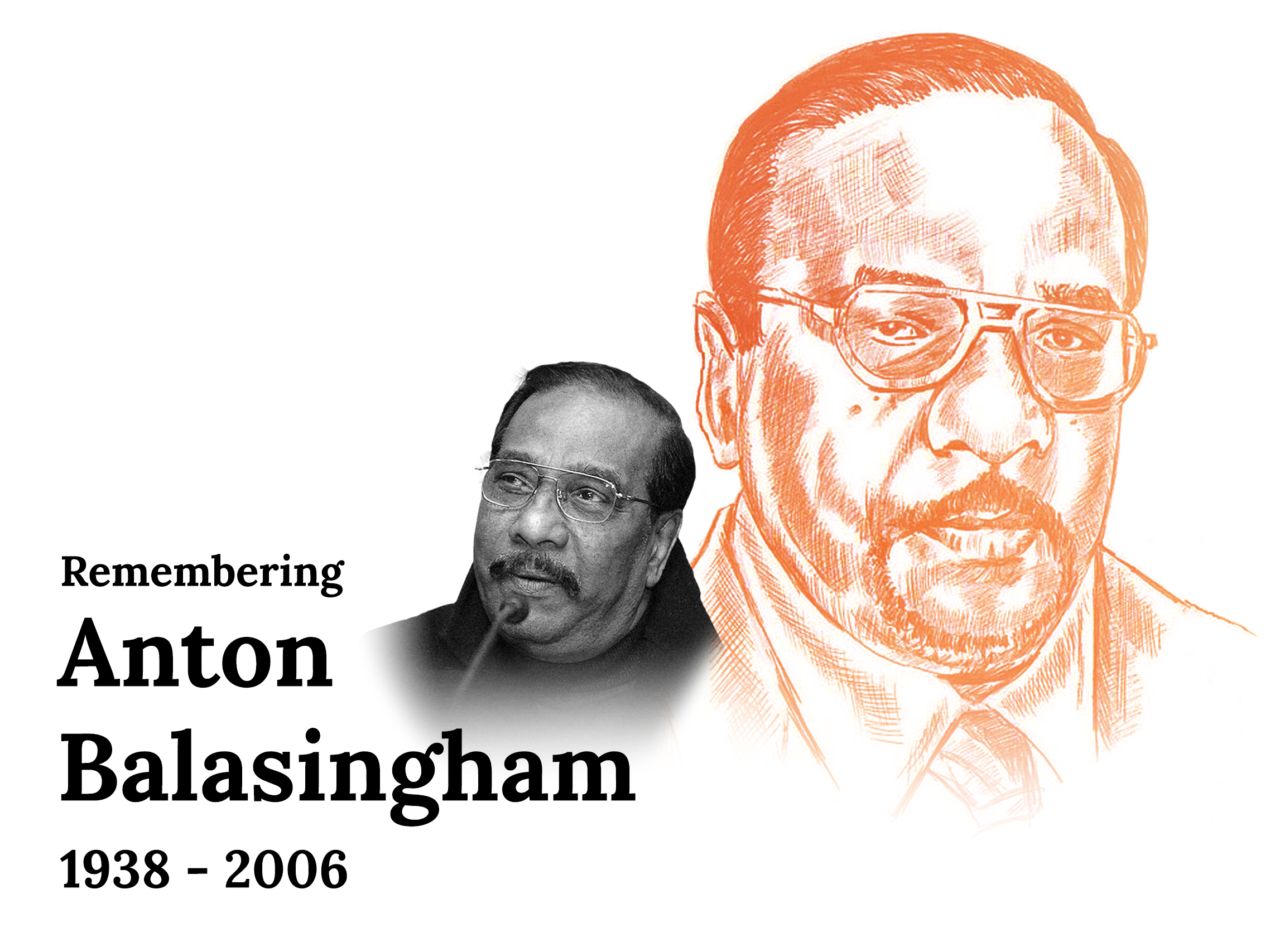 Image courtesy of Tamil Narratives
We need your support
Sri Lanka is one of the most dangerous places in the world to be a journalist. Tamil journalists are particularly at threat, with at least 41 media workers known to have been killed by the Sri Lankan state or its paramilitaries during and after the armed conflict.
Despite the risks, our team on the ground remain committed to providing detailed and accurate reporting of developments in the Tamil homeland, across the island and around the world, as well as providing expert analysis and insight from the Tamil point of view
We need your support in keeping our journalism going. Support our work today.