09 February 2014
Almost five years after the fighting ceased, impunity still rules. Quiet diplomacy, expert reports, video footage of atrocities and two UN Human Rights Council (UNHRC) resolutions have failed to force Sri Lanka to fall in line. Instead, emboldened by the lack of international action and the military defeat of the LTTE, an increasingly brazen Sri Lankan state is rebuffing the international community, whilst systematically dismantling the Tamil nation and its homeland in the North-East. Sri Lanka's lamentations of insufficient time and space belie a reality where the more time and space granted, the worse the situation becomes for the Tamil people. The end of the armed conflict, far from bringing them the promises of peace, left them at the mercy of a Sri Lankan state drunk on its Sinhala-Buddhist chauvinism. Amidst this intensifying crisis, Tamils both at home and abroad, along side all those who believe in justice and accountability, have high expectations for the year to come. As all eyes look to the UNHRC next month, on which key states have pinned warnings and deadlines, the calls for an international inquiry are at fever pitch.
Sri Lanka cannot investigate itself - no word or deed over the coming weeks, months and even years will change this. For over six decades successive governments of both main parties, have failed to provide justice for Tamils. Anti-Tamil riots, assassinations of Tamil journalists, killings of ACF aid workers and the Trinco 5, as well as the recently unearthed mass grave in Mannar stand as inescapable reminders of the impunity with which anti-Tamil crimes are carried out. Moreover, as a report published last week on impunity in Sri Lanka notes, there are suggestions that the government may have already begun destroying evidence on a large scale. Ultimately, the allegations of war crimes, crimes against humanity and genocide are too serious to be addressed through any internal inquiry. Put simply, how can Sri Lanka, which orchestrated the mass killing of the Tamil population in the Vanni with the silent endorsement of its wider polity, judiciary and civil society, investigate itself? Indeed over the past five years Sri Lanka has proved itself to be false. Its tale of zero casualties and soldiers armed with a gun and human rights charter, now stands as a fiction that was used to hide a horrific truth. Similarly, its present tales of development and reconciliation, are but a façade covering a programme of re-engineering the ethnic demography of the North-East through militarised colonisation and a catalogue of abuses including coercive birth control, rape, abductions and murder.
It is within this context of deepening crisis that the spotlight created by high-profile international visits is emphatically welcomed by the Tamil people. Personal visits to the Tamil homeland and direct engagement with Tamil politicians and activists, have served to create space for Tamil voices in the North-East to be aired on an international stage. However, as the Defence Ministry's call for Ananthi Sasitharan to be 'rehabilitated', and the  intimidation of Tamils who speak to international visitors illustrates, grave risks remain. Indeed despite the clear warning by US diplomat Nisha Biswal against intimidation of such Tamils, a government-aligned news site vilified them as "informants" - a sinister move that brands all Tamils engaging with the international community as enemies of the state and thereby, 'legitimate' targets. As international visitors to the North-East would have observed, the reverse is also true - their engagement with the Tamils, earns them the ire of the Sri Lankan state. From defamatory remarks in the Sri Lankan press, to the refusal of a visa to a US official, Sri Lanka no longer cares to even pretend to play by the rules. Meanwhile, international engagement with Tamils has highlighted yet another deepening polarisation on the island: whilst Tamils call out for yet more, Sri Lanka responds with increasing hostility and cries of neocolonial interference.
It comes as no surprise that even when faced with intimidation, given the slightest space to speak, Tamils in the North-East call for an international inquiry, most recently witnessed through the passing of a resolution at the Northern Provincial Council. Indeed despite a prevailing tendency to decry a seeming lack of Tamil unity by pointing to effective family squabbling, there is unanimous agreement on key issues. Tamils across the world, whether they are situated in the homeland, diaspora, or even Tamil Nadu, are calling for an international investigation. Likewise however, there is an increasingly accordant Sinhala move against such an investigation, at best calling for yet more time to launch an internal inquiry, and at worse co-opting the government line of defending a 'righteous war on terror'. The UNP's almost hysterical criticisms against the government, are not for their inaction over Tamil injustice, rather over the government's failure to stave off international scrutiny. Indeed to this end, the UNP has consistently sought to work with the government, perversely united against justice for the Tamil people. Equally dismaying are pleas from Colombo civil society groups to delay an international inquiry, arguing it would jeopardise their operative space. This ignores the fact that for over sixty years, Colombo's civil society has consistently failed, whether through a lack of capability or will, to deliver justice to Tamils. Whilst there are a notable handful of Sinhala voices that have campaigned for justice, it is an uncomfortable truth that despite immediate calls for an international inquiry into the military's shooting of three Sinhala protesters in Weliweriya, there is persistent, overwhelming Sinhala unity on deflecting an international inquiry into the killings of tens of thousands of Tamils.
Five years ago, as Tamils stood on the streets of world capitals, helplessly calling on the world to act, it failed to do so. This year, as the call for an international investigation by Tamils and non-Tamils alike grows louder by the day, the question being asked, is will the international community deliver justice for what it failed to prevent? Sri Lanka's wanton disregard for international criticism and calls to abide by accepted norms is precisely why, now more than ever, warnings and deadlines pinned to the UNHRC must be effected. Key member states must make an unambiguous call for an international inquiry. Fear of having such a motion defeated within a notoriously self-interested circle, should not deter responsible states from putting it forward and building support for it. Tabling a resolution calling for an international inquiry sends a powerful message on the global stage: on the question of crimes against the Tamil people, Sri Lanka cannot investigate itself. It also stands as a pledge of will, which can be pursued through multiple avenues; after all, the fight for justice was never to end in March. Ultimately, a resolution which sanctions Sri Lanka's status quo, not only sanctions the Rajapaksa regime, but emboldens other rogue states, who would not fail to see the international community barking empty threats. The warnings must be realised, and the reckoning must begin.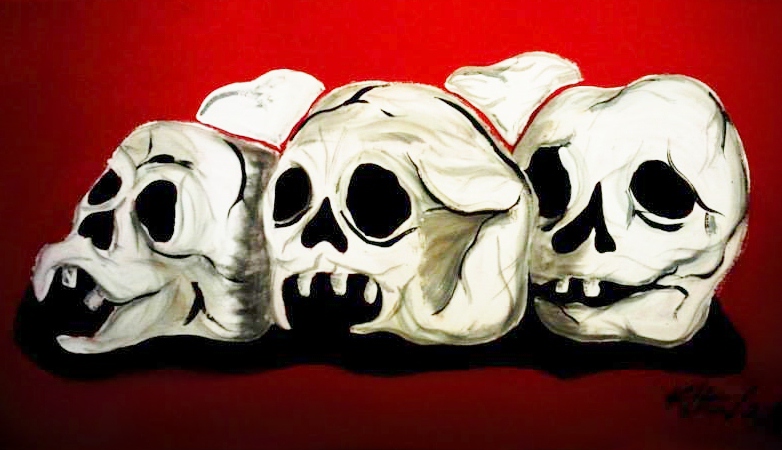 Illustration by Keera Ratnam
We need your support
Sri Lanka is one of the most dangerous places in the world to be a journalist. Tamil journalists are particularly at threat, with at least 41 media workers known to have been killed by the Sri Lankan state or its paramilitaries during and after the armed conflict.
Despite the risks, our team on the ground remain committed to providing detailed and accurate reporting of developments in the Tamil homeland, across the island and around the world, as well as providing expert analysis and insight from the Tamil point of view
We need your support in keeping our journalism going. Support our work today.
For more ways to donate visit https://donate.tamilguardian.com.