18 February 2020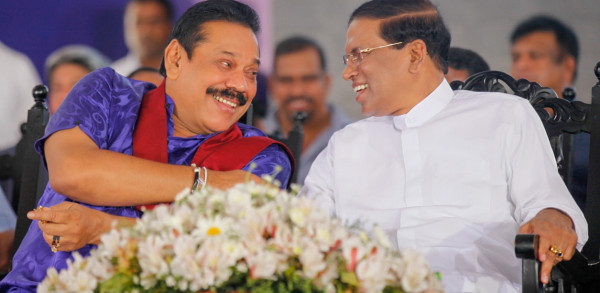 Current Sri Lankan prime minister Mahinda Rajapaksa will lead a newly formed coalition between the Sri Lanka Podujana Peramuna (SLPP) and the Sri Lanka Freedom Party (SLFP), ahead of Sri Lanka's parliamentary elections next month.
The new coalition, Sri Lanka Nidahas Podujana Sandanaya or the Sri Lanka Freedom People's Alliance, is made up of at least nine recognised political parties, as well as groups such as the Sinhala extremist Pivithuru Hela Urumaya (PHU).
Former MP and SLPP National Organizer Basil Rajapaksa has been proposed as the General Secretary of the new alliance, while UPFA General Secretary Mahinda Amaraweera has been proposed as the Deputy General Secretary.
Mahajana Eksath Peramuna (MEP) Leader and Minister Dinesh Gunawardena has been proposed as the Deputy Chairman, while the names of Wimal Weerawansa and Dayasiri Jayasekara have been proposed as National Organizers of the new alliance. National Organisers have been named as Dayasiri Jayasekara and Wimal Weerawansa, whilst other officers' bearers include MEP leader Dinesh Gunawardena (Deputy Leader) SLFP MP Mahinda Amaraweera (Deputy Secretary) and MPs Udaya Gammanpila, Tissa Vitharana, D.E.W. Gunasekera and Vasudeva Nanayakkara. 
The alliance sees a uniting of Rajapaksa with his former political rival Maithripala Sirisena, under a new Sinhala coalition, which looks set to sweep next month's polls. Sirisena unexpectedly ran against and beat Rajapaksa at the 2015 presidential elections, leading to the Rajapaksa clan forming the SLPP as a breakaway from the SLFP. Rajapaksa's party went on to sweep local polls in 2018, before Sirisena attempted to heal rifts and appoint Rajapaksa as prime minister in 2019, launching a political crisis on the island.
Though he relinquished the post, the elder Rajapaksa was subsequently appointed prime minister after Gotabaya Rajapaksa triumphed in November's presidential election.