12 December 2019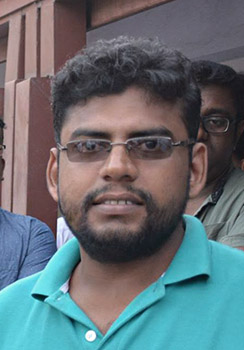 (Photo:JDSlanka)
A joint petition by US based law firm, Proskauer Rose LLP and non-profit, Freedom Now has been filed to the United Nations over the arbitrary imprisonment of Sri Lankan author Shakthika Sathkumara by Sri Lankan authorities for allegedly insulting Buddhism.
Sathkumara was arrested in April 2019 for publishing a short story on his social media titled 'Ardha'. The post resulted in Buddhist monks filing a complaint arguing that the story defamed Buddhism, despite the author reiterating that it was not his intention.
Maran Turner, Freedom Now Executive Director stated "The Sri Lankan Government's imprisonment of Shakthika Sathkumara for a short story is a clear violation of his right to freedom of expression; we are confident that the UN Working Group on Arbitrary Detention will come to the same conclusion".
Ream more from Colombo Gazette here
Buddhist monks have frequently protested and spoken out against actions that they feel have "insulted" Buddhism, with extremists from organisations such as the Bodu Bala Sena, accused of hate speech and inciting violence.