People for Equality and Relief in Lanka (PEARL) released its most recent report, "Impunity reigns in Sri Lanka: the Kumarapuram Massacre and Acquittals" during a side session during the Human Rights Council session in Geneva on March 20.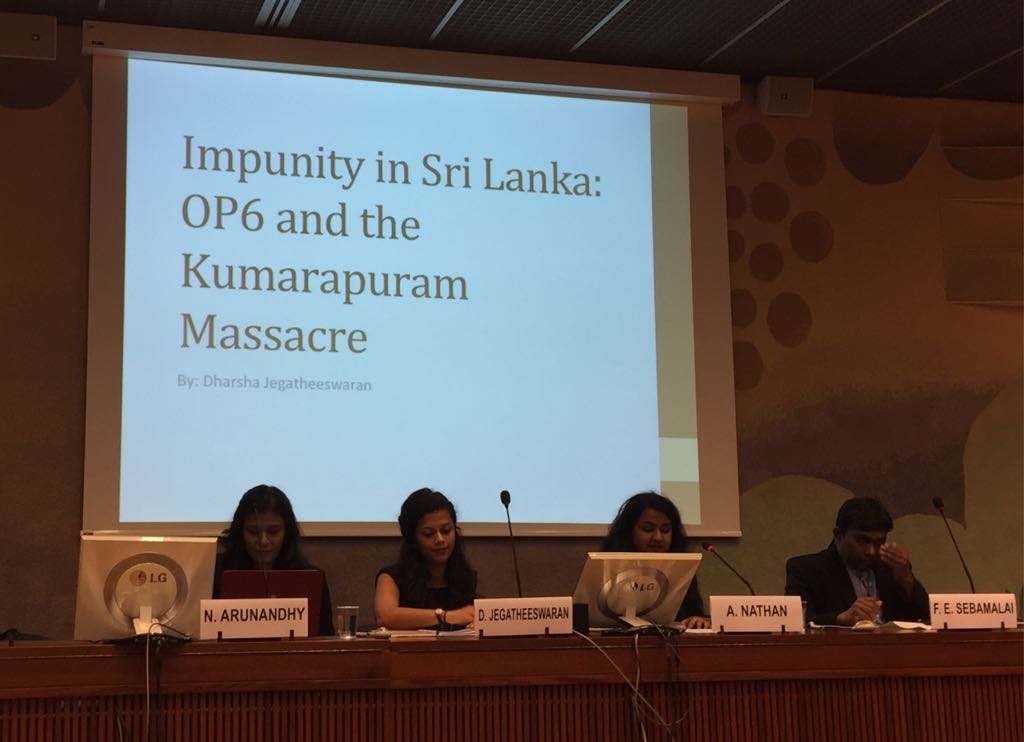 The side session featured a panel discussion including Dharsha Jegatheeswaran, Human Rights Director of PEARL and Senior Researcher of the Adayaalam Centre for Policy Research, Niranjala Arulanandhy, Legal Coordinator at the Centre for Human Rights and Development, Father Sebamalai, the Director of the Mannar Citizens' Committee, and Dr. Kate Cronin-Furman, human rights lawyer and transitional justice expert. The panel was moderated by Abinaya Nathan, Editor-in-Chief of Tamil Guardian. 
The panelists discussed the lack of implementation of operative paragraph 6 (OP6) and operative paragraph 8 (OP8) of HRC Resolution 30/1, which commit the government of Sri Lanka to establish a credible accountability mechanism featuring international involvement and to security sector reform, respectively.
Ms. Jegatheeswaran spoke about the lack of progress on OP6 through the lens of the Kumarapuram massacre describing PEARL's report which she-co-authored, while Ms. Arulanandhy considered OP6 using the example of the Mirusavil massacre. Both panelists concluded that there was a critical need for significant international involvement in the form of a majority of judges, prosecutors, and investigators in order for any accountability mechanism in Sri Lanka to be credible. They both spoke on issues with the domestic legal system including politicization of the Attorney General's department, lack of credible police investigations and lack of political will in the government for accountability. 
Father Sebamalai spoke about security sector reform in the context of militarization in Mannar, pointing to numerous examples of ongoing occupation of private lands by the military in the area. Dr. Cronin-Furman joined over skype to point out the necessity for security sector reform as a part of transitional justice processes and to create the environment conducive for accountability mechanisms.
From the audience, former navy officer and Rajapaksa ally, Rear Admiral Sarath Weerasekara, read out a statement during the question and answer session of the event, denying that war crimes had been committed by the Sri Lankan Army. While the panellists responded that the need for accountability had long been established, another audience member said in an intervention that Weerasekara himself was a war criminal and should have been arrested by the Swiss government.
Angered by the remarks, Weerasekara accused the commenter, a member of a Tamil diaspora group, of treason, and shouted "I have given my blood to the Tamil people, have you done that?" The Admiral left the event after being forced to end his tirade by the chair. A reporter from a Sinhalese language newspaper who was accompanying the admiral took close up photos of the panellists in a manner that reflected military intimidation and surveillance tactics in Sri Lanka. The reporter was several times reported to security during the council session and forced to delete photos of Tamil activists and journalists from his phone.
See also UNHRC final week gets dramatic as pro-Rajapaksa ex-military officer makes appearance (Daily FT)