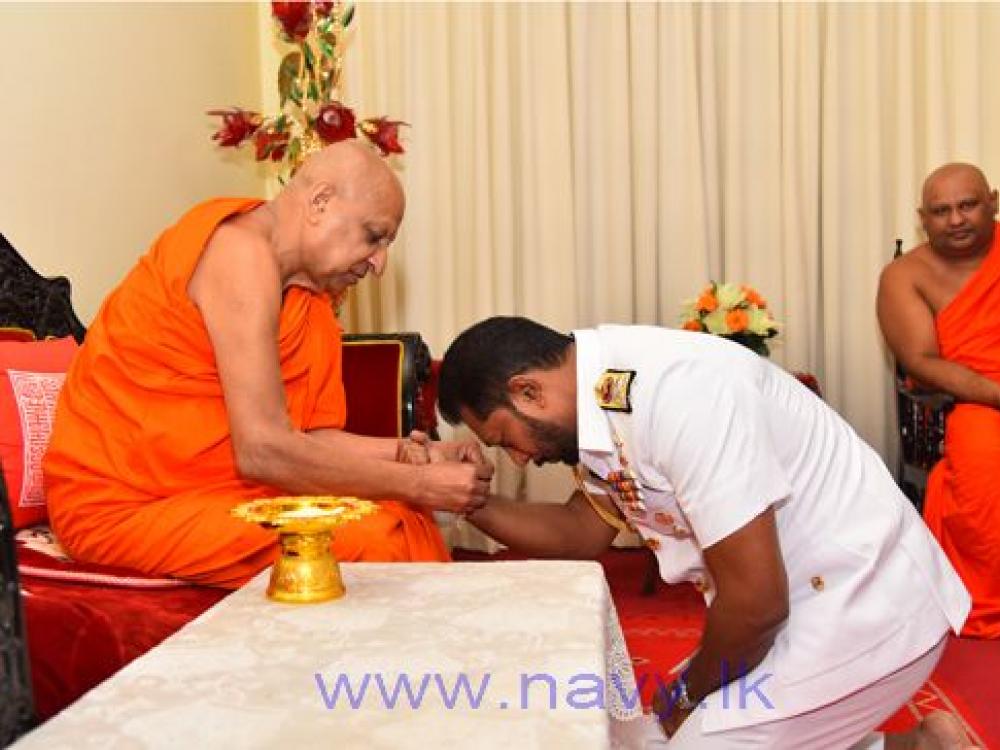 Sri Lanka's new navy commander, visited Kandy on Friday to pay homage to Buddhism's Sacred Tooth Relic and seek the blessings of senior Buddhist clergy from the Mahanayakes of the Malwatte and Asgiriya Chapters. 
Vice Admiral Travis Sinniah was the senior most naval officer in active combat operations at sea during Sri Lanka's war with the Liberation Tigers of Tamil Eelam (LTTE).
Following Former Army Chief Sarath Fonseka's imprisonment in 2010, Rear Admiral Sinniah left the Navy and worked for the US Embassy as a security specialist. Upon initial request by the US Embassy in Colombo to hire Sinniah the then defence secretary Gotobaya Rajapaksa refused, and was later convinced to allow the move to happen. After his stint at the US Embassy in Colombo Sinniah migrated to Australia citing political victimisation. The election of the Sirisena government in 2015 saw Sinniah appointed as the Navy Commander of the Eastern province amidst controversy for his work with the US embassy in Colombo.
"The Mahanayakes invoked the blessings of the Triple Gem on the new Navy Commander and delivered Anushasanas wishing him strength and courage to carry out the duties entrusted to him. The Navy Commander, paying obeisance to the Mahanayakes, offered them Atapirikaras and expressed his heart-felt gratitude for their wise counsel," the navy's website reported.