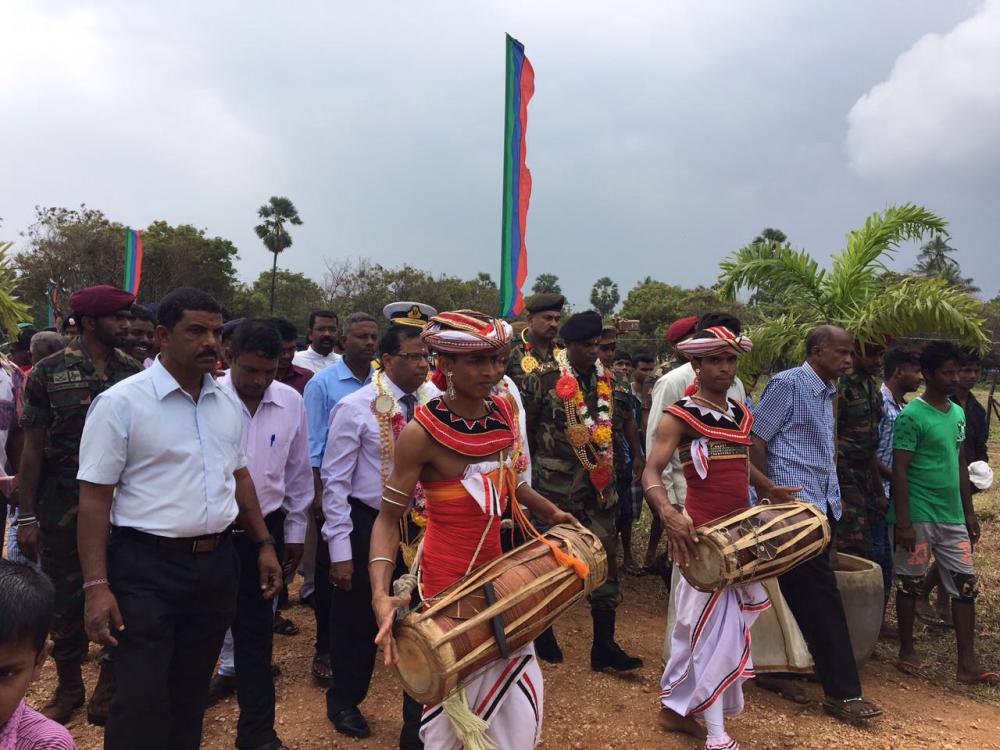 In a ceremony in Thyiddy, Jaffna today, the military professed to hand over a 2-acre Oorani Fishing Anchor Point to fishermen who have been displaced from the area for 27 years, but instead gave over a new unconstructed anchor point which is in a rocky area unsuitable for docking and launching fishing boats.  The 4 pre-existing anchor points in Oorani still remain under military control.  
The ceremony heavily featured the military and displays of Sinhala culture, and included an address by the Secretary to the Ministry of National Integration and Reconciliation, Mr. Sivagnanasothy, as part of the last day of events for the government's "National Reconciliation and Integration Week."
Displaced families from Oorani and Thyiddy at the ceremony questioned how they will be able to use the anchor point when they would have to travel far distances from their current places of displacement to get to the fishing area. Over 200 fishermen's families still have not received their land back while around 600 fishermen's families who did receive their land back last year, have not been able to return due to a lack of assistance from the government for rebuilding.   
During the ceremony, displaced Tamil families spotted Sinhala families of soldiers playing in the water beyond the barbed wire fence on lands that have yet to be returned. "Imagine how we feel seeing soldier's children playing over there on our land, which we have not been allowed to step onto for 27 years," said one displaced Tamil woman attending the ceremony.