16 March 2019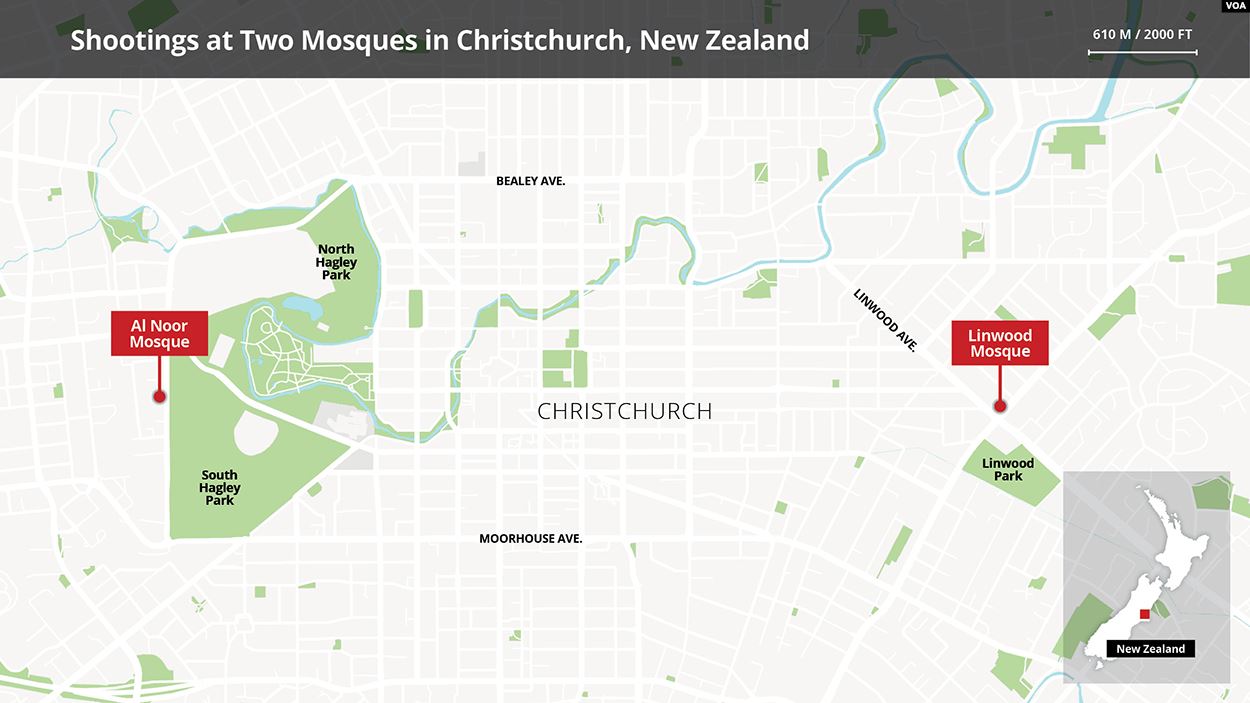 Map of the attacks in Christchurch on Friday (VOA)
Political leaders from across the world have sent their condolences and condemned a mass shooting in New Zealand on Friday that has left at least 49 people dead.
A 28-year-old Australian man, who police have not identified, has been charged with murder and is set to appear in court on Saturday. 
He reportedly posted White supremacist material online minutes before the massacre, which he video streamed live on social media.
"This is and will be one of New Zealand's darkest days," the country's Prime Minister Jacinda Ardern said. "It is clear that this can now only be described as a terror attack."
Australian Prime Minister Scott Morrison confirmed that an Australian man had been arrested over the massacre, calling him an "extremist, right-wing violent terrorist".
The UN Security Council also released a statement condemning the killings as "heinous and cowardly", adding,
"The members of the Security Council reaffirmed that  terrorism in all its forms and manifestations constitutes one of the most serious threats to international peace and security".
Leaders in the UK, Canada and the EU, as well as US President Donald Trump all released statements expressing condolences over the killings.
Meanwhile Turkish President Recep Tayyip Erdogan said the attack was "the latest example of rising racism and Islamophobia".
Pakistani Prime Minister Imran Khan also blamed the attacks on rising Islamophobia around the world, tweeting,
"I blame these increasing terror attacks on the current Islamophobia post-9/11 where Islam and 1.3 billion Muslims have collectively been blamed for any act of terror by a Muslim".
See more reactions from across the world on Reuters here and CBC here.