26 September 2012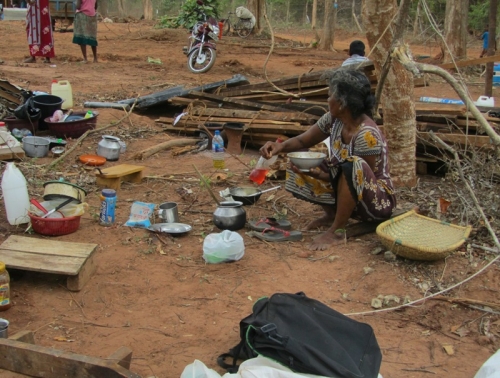 Photographs Tamilwin
Tamil IDPs from Keppapulavu, supposedly 'resettled' by the Sri Lankan government earlier this week, were moved to the Suriyapuram forests by Nandikadal Lagoon, reports Uthayan and Tamilwin.
See here for coverage, including an interview, on TamilNet.
Dumped in little more than a clearing in the woods, families - many of whom headed by widows - have no access to drinking water, adequate shelter or food. 
According to Tamilwin, the families were moved by the Sri Lankan military from the Cheddikulam IDP camp to Vattrapalai school on Monday where they were told that they could return to their own homes. However, on Tuesday when the families demanded that they be allowed to return, the Sri Lankan military took them to the forests.