23 June 2020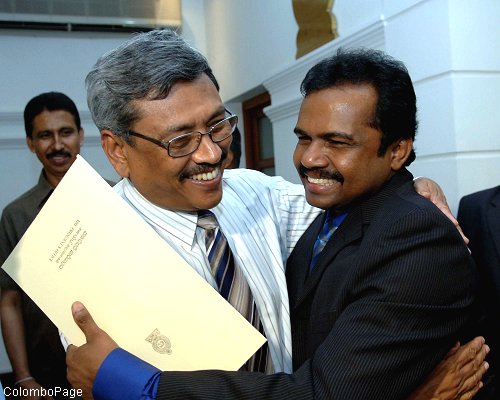 File photograh: Paramilitary leader Karuna embraces current Sri Lankan president Gotabaya Rajapaksa
Pro-government paramilitary leader Karuna Amman caused controversy in the Sinhala south this week, after he boasted of killing thousands of Sri Lankan soldiers as part of the LTTE's capture of Elephant Pass in 2000, before he defected and joined the Sri Lankan state.
Addressing a political rally in the East, Karuna claimed to have killed "2000 to 3,000 Sri Lankan Army personnel in one night at Elephant Pass".
"I have killed more in Kilinochchi," he added. "That is certainly higher than the number of lives the coronavirus has claimed in Sri Lanka."
His comments came in response to remarks from the Karathivu Pradeshiya Sabha Chairman, who called the paramilitary leader 'deadlier than coronavirus'. After Karuna's defection from the LTTE, he led a government aligned paramilitary group - the Tamil Makkal Viduthalai Pulikal - accused of kidnappings, extortion and executions. His organisation was often supplied weapons and training from the Sri Lankan state, as well as cover for the crimes they committed. Karuna's support for the Sri Lankan military was key in assassinating Tamil political and military figures, as well as allowing the military to launch an offensive that killed tens of thousands of Tamil civilians.
Karuna's recent boast however, made in a bid to boost his popularity in the East ahead of parliamentary elections, has caused a stir in the south.
Though Sri Lanka's ruling military and political leaders have often lauded over the military defeat of the LTTE and "eliminating terrorism", Karuna's boast of the LTTE's military victory has left Sinhala politicians and the security establishment up in arms.  
Sri Lanka's Criminal Investigations Department (CID) reportedly summoned Karuna for an investigation, whilst Sinhala leaders across the political spectrum were quick to condemn his statement. Sri Lankan Police Spokesperson SSP Jaliya Senaratne also added that his department have dispatched two teams to Amparai and Batticaloa to further investigate Karuna's claims. Former Sri Lankan army chief Sarath Fonseka attempted to rubbish Karuna's claims stating he "is trying to be a hero as if he killed everyone in the army". "But he did kill personnel who surrendered," he added.   
Sri Lanka Podujana Peramuna (SLPP) General Secretary Sagara Kariyawasam claimed Karuna, who previously held a ministerial post under the Rajapaksas, "is not affiliated with the SLPP anymore". "He is contesting from a separate political party," he added. "We will not work with those who are not ready to protect the sovereignty and unitary status of the State. The SLPP has always been a political party that is committed to protecting the motherland and this will be continued."
Meanwhile Karuna responded criticism from the United National Party (UNP) claiming his statement "has been taken out of context". "What I meant is that during the war, both the army and the LTTE suffered heavy casualties. However, under Mahinda Rajapaksa's leadership peace was brought in. So I was referring to the lives lost."
The paramilitary leader also claimed that he was offered a national list parliamentary seat by Sri Lankan prime minister Mahidna Rajapaksa, who the offensive that massacred thousands of Tamil civilians. By taking a national list seat, Karuna would not have to contest in the elections, however he claimed he wanted to contest and win in Amparai. "A lot of land issues also exist between the Tamil and Muslim communities as so far many Muslim politicians have crushed the Tamil people there," he said. "I want to change all that and look after both these communities."