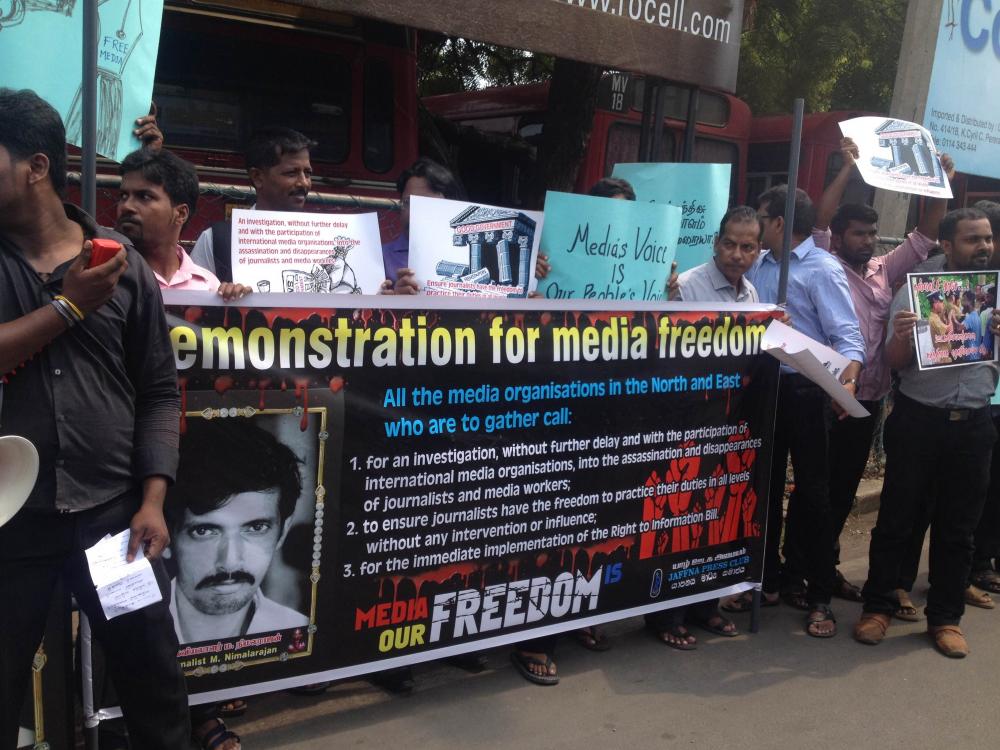 Journalists, media workers and their supporters gathered in Jaffna today on the anniversary of the death of journalist Nimalarajan to demand investigations into murdered journalists in Sri Lanka, media freedom and immediate implementation of the Right to Information Act, as Sri lankan police officers watched on.
First gathering at a monument dedicated to slain journalists in Sri Lanka erected last year by the Jaffna Press Club, the group had a moment of silence to pay their respects to Nimalarajan and all the other journalists who were killed during and after the war.
In a statement released on Wednesday, marking 16 years since the death of Nimalarajan, the JPC called for an "urgent investigation with the involvement of international media organisations into the massacre and disappearance of media workers and journalists".
"This government, which portrays itself as that of 'good governance', is attempting to show that it has begun investigating the killing of media workers by announcing investigations into the death and disappearance of our colleagues in the South, Lasantha Wickrematunge and Prageeth Eknaligoda. However, as even these investigations waver this government is not yet prepared to announce even a nominal investigation into the killing of Tamil journalists and media workers," the JPC added. 
See full statement here. 
Members of the TNPF, NPC and Marxism-Leninism party joined the protest, alongside more than 100 journalists from the North-East and Colombo.
Protestors expressed frustration and anger with the lack of attention that has been paid to journalists from the North-East who were killed during and after the war. Chanting the names of Sivaram, Nimalarajan, Nadesan and Ravivarman, protestors asked for investigations aided by international media organizations into their deaths. "Is there one kind of justice for the North and a different kind for the South?" the group chanted.
A few Southern Sinhalese media workers also came to show solidarity with the protest and add to the demand for investigations of deaths of journalists across the country.
At least three CID officers were spotted monitoring the protest from market stalls next to the Jaffna bus stand.