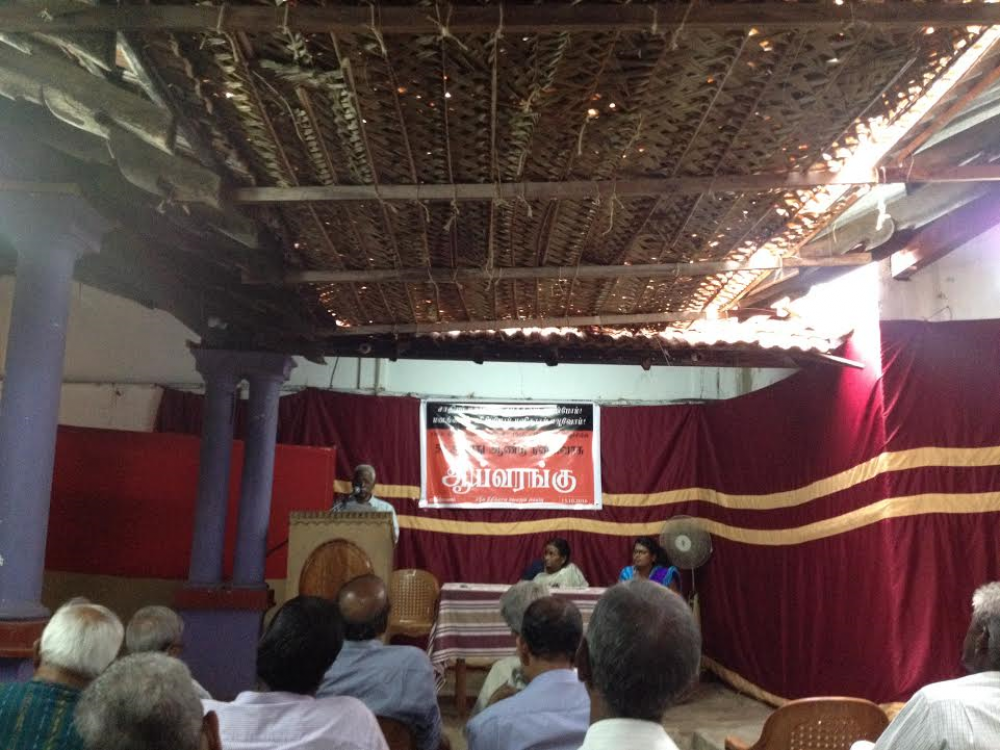 Marking the 50th year since the 21st October 1966 uprising against caste and untouchability in Sri Lanka, the Mass Movement for Social Justice held a conference today in Kokuvil, Jaffna. A series of academics and activists spoke about the history of the struggle against caste on the island and also about the ongoing perpetuation of caste-based discrimination and the disregard paid to it by Tamil political parties and leaders.
Speaking about caste in the education system, one local activist, Ahalya, explained that while students from all different castes could now go to the same school, you had to look beyond that kind of superficial equality. In reality, students from oppressed castes were at a disadvantage as the majority of jobs and positions of power were still held by Vellalar caste (high caste) Tamils in Jaffna and even if students from oppressed castes were able to succeed in school, they were offered few job opportunities.
Other speakers pointed to numerous recent examples of caste-based discrimination in respect of government administrative officials in the North-East, land disputes, marriages and entrance to temples and churches. "We used to fight to be able to enter the sample temple; now we are in a situation where there is a different temple for each caste," said Ahalya. 
Many people voiced frustration and anger at the fact that there were no Tamil politicians from any political party that were willing to take a public stance against caste and address the issue.  A number of speakers pointed to the failure of Tamil nationalism, which has been the basis for mainstream Tamil politics in Sri Lanka since the 1970s, at addressing caste issues. People stated that Tamil nationalists have often viewed caste as a subject to deal with after dealing with the issue of oppression by the Sinhala state and that they brushed the anti-caste struggle which had been quite strong leading into the 1970s, under the rug.
Speakers were also critical of the sentiment held by some in the North that the LTTE got rid of the caste system saying instead that at best it was suppressed. One speaker pointed to the fact that while under the LTTE many cadres were married without regard to caste, several of those marriages were broken up by families after the war ended on the basis of caste.
The conference concluded with an open conversation on next steps and strategy to combat caste systems and discrimination on the island. For more information please refer to the facebook page for the Mass Movement for Social Justice here.