10 December 2018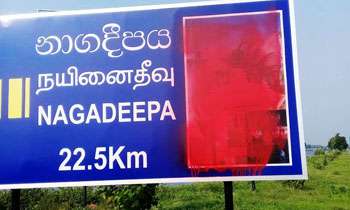 The image of a Buddhist vihara on the sign board for Nainativu was found covered with red paint on Saturday. 
Nainativu, which is site of an iconic Tamil Hindu temple, has become a focal point of Tamil anger towards the post-conflict Buddhisation of the Tamil homeland. 
Following the end of the armed conflict, the Sri Lankan military has refurbished a Buddhist temple in the area, erecting a new Buddha statue and a resting house for Sinhala pilgrims. 
The Sri Lankan government also issued a gazette notification, officially changing the name of the island from the Tamil name Nainativu, to the Sinhala name 'Nagadeepa'.
Transport services to the island are controlled by the Sri Lankan navy which operates a ferry service for pilgrims, stopping first at the Buddhist temple, then the Hindu temple.