02 December 2019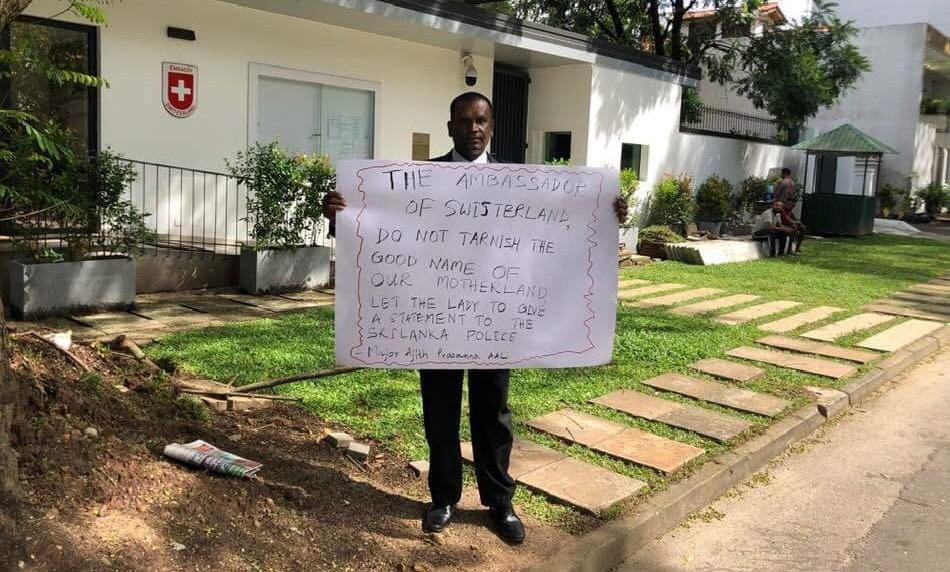 A former Sri Lankan army soldier and lawyer has commenced a protest outside the Swiss embassy in Colombo, demanding the victim of an abduction last week be interviewed by Sri Lankan authorities.
The Sri Lankan military's Major (Rtd.) Attorney-at-Law Ajith Prasanna began his protest this morning, with a placard that states:
"The Ambassador of Swisterland, do not tarnish the good name of my motherland. Let the lady to give a statement to the Sri Lanka police". (sic)
His protest comes after the Sri Lankan government dismissed accounts of the abduction that was presented by Switzerland's ambassador. The Sunday Times quoted a diplomatic source who said the staffer was "molested, questioned and threatened" after she was abducted.
The New York Times reported the men "forced her to unlock her cellphone data, which contained information about Sri Lankans who have recently sought asylum in Switzerland, and the names of Sri Lankans who aided them as they fled the country because they feared for their safety after Gotabaya Rajapaksa won the presidency in elections this month". Before releasing her, they reportedly threatened to kill her if she told anyone of her ordeal.
Colombo has however called for the victim to have a medical examination and be interviewed by Sri Lankan authorities.