14 June 2019
The former mayor of Harrow, a London borough which is home to the largest population of Tamils in the UK, has been formally censured after she was found to have brought the council into disrepute by posing for photographs with senior Sri Lankan military officials.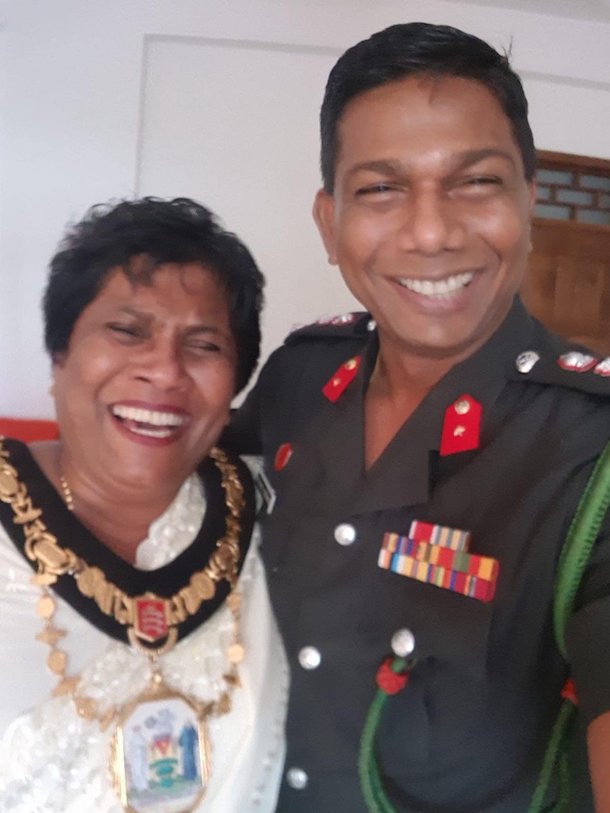 Former mayor Kareema Marikar, a Labour councillor of Sri Lankan Muslim origin angered the local community last year when she posted photographs of herself wearing the mayoral chain, alongside senior military officials with captions praising Sri Lanka's military forces. Particularly contentious was Marikar's photos with Brigadier Priyanka Fernando (pictured above), the former Sri Lankan defence attaché in London who was recalled after gesturing death threats to Tamil protestors.
Following complaints, a petition and a protest against the mayor, the council's Standards Working Group decided that Marikar had breached the councillors' code of conduct and brought the council into disrepute.
The full decision, which was placed in the local newspaper the Harrow Times, stated:
The Standards Working Group considered a complaint and the Mayor Councillor Marikar's written response to it, they unanimously recommended to the Monitoring Officer the following:

That the Mayor Councillor Marikar had breached paragraph 5 of the Code of Conduct for Councillors and Members. She conducted herself in a manner which could reasonably be regarded as bringing the Council and her office as Councillor into disrepute by uploading photographs of herself and a member of the Sri Lankan military onto Facebook causing distress to the local community.

They recommended that she should be censured, that a notice should be placed on the Council's website and in a local newspaper, and that the guidance on mayoral visits should be updated.

The Monitoring Officer concurred with their recommendations.