07 November 2013
Writing in the Tamil Guardian on Thursday, British Premier David Cameron set out his government's rationale for rejecting the growing calls, both at home and abroad, for him to boycott the Commonwealth leaders' summit in Sri Lanka next week. Whilst noting the Sri Lankan government's "poor record on human rights and cruel treatment of the Tamils" – an understatement given the steadily mounting evidence – and the grave "allegations" of war crimes and sexual violence, Mr Cameron's argument, in sum, is that to secure the "change" he wants to see, "the right thing to do is to engage" with Colombo.
 
We disagree. In fact, it is precisely Britain's policy of essentially unconditional engagement that has enabled, and emboldened, President Mahinda Rajapaksa's regime to thumb its nose at international demands for accountability and justice, and to intensify its repression of the Tamil people. Whilst the United States, Canada and other liberal states, have sought to bring concerted international pressure to bear on Colombo, such efforts have been directly undermined by Britain's contradictory policy of 'quiet diplomacy'. In short, British engagement is key to legitimising and sanitising the Rajapaksa regime and securing for it the time and space to continue its repression of the Tamil people and consolidation of an explicitly Sinhala nationalist domestic order.
 
The logic put forward by Mr Cameron rests on flawed assumptions, and flies in the face of Sri Lanka's conduct. First, no amount of gentle coaxing is going to persuade the Rajapaksa regime to seek accountability for its wartime atrocities, or the abuses inherent to its post-war policies. As is now well evidenced, culpability for the wholesale slaughter of Tamil civilians extends to the President and the rest of Sri Lanka's apex political and military leadership. International protests against the mass killings of Tamil civilians began even as these were unfolding in 2009. The then British Foreign Secretary David Miliband and his French counterpart even went to Colombo to plead the case – and were told to get lost. Sri Lanka's response to the early post-war demands for accountability was shrill defiance and the launch of a sham investigation – the LLRC. If the passing of - not one, but two - UN Human Rights Council resolutions against Sri Lanka, as well as the crescendo of international criticism to date, could not persuade Colombo, further "frank conversations" from Mr Cameron, evidently will not.
 
Second, it is precisely because engagement has not worked that the international community has sought to take more forceful, albeit ineffective, steps against Sri Lanka - such as the UNHRC resolutions. It is in this very context that calls to boycott CHOGM emerged. Sanctions are the international community's tools for securing recalcitrant regimes' compliance with international law and norms. When asked in an interview on Thursday where else British engagement has yielded regime compliance, British Foreign Secretary William Hague suggested Myanmar. This is misleading, for as he well knows given Britain's contribution, it was in fact international isolation and sanctions, not cajoling, that produced the now celebrated breakthrough in Myanmar. Perhaps one of the most authentic voices on the efficacy of international sanctions, Archbishop Desmond Tutu, agreed Thursday that the world "has to apply all the screws it can" in the face of Sri Lanka's defiance. 
 
Mr Cameron also argued that his visit to Sri Lanka would "shine the international spotlight on the lack of progress" there. In fact, Sri Lanka has been in the international spotlight for several years, and the lack of progress has been extensively documented by international human rights groups, Tamil actors, the UN Human Rights Commissioner Navi Pillay, other UN experts and even the British parliament's Foreign Affairs Committee. Thus it is not clear how Mr Cameron thinks his visit could add to these cumulative findings. Indeed, what propelled the present scrutiny of Sri Lanka to the foreground - and helped precipitate Mr Cameron's difficulties - was Canada's decision to boycott CHOGM and Premier Harper's emphatic remarks on the subject. In any case, what is needed now is not more information about Sri Lanka's conduct, but concrete international action to arrest it.
 
No matter how sincere and well meaning Mr Cameron and Mr Hague may be – and there are some who question this - their presence at CHOGM will not advance the cause of accountability and justice for wartime atrocities, nor will it persuade Sri Lanka to cease its repression, rights abuses or ethnic cleansing and colonisation of the Tamil areas. On the contrary, their presence will extend a much needed semblance of respectability and legitimacy to President Rajapaksa and his regime. This was why Colombo fought to host the summit in the first place. Thus, boycotting Sri Lanka would not be 'sitting on the sidelines' as Mr Cameron has suggested, but would instead be a powerful demonstration of Britain's resolve. The loudest message Britain could deliver to the Sri Lankan government is the silence of the Prime Minister's absence.  
 
Whatever happens in the seclusion of the CHOGM venue, the repression of Tamils will not stop. Once the present brouhaha fades and the state leaders return home, it will once again intensify. Rather than merely the failure of the rule of law, Sri Lanka's wartime mass atrocities and its post-war policies embody a strategic logic: destroying the Tamil nation and its identity and establishing a Sinhala majoritarian order. This is why Tamils argue it is genocide. Britain's policy of engagement is, at best, tacit acceptance and, at worst, active endorsement. If Mr Cameron is serious about accountability, justice and human rights, his government must abandon the ineffective, indeed counterproductive, policy of 'frank conversations' with the Rajapaksa regime and instead take a lead in concerted international action against it.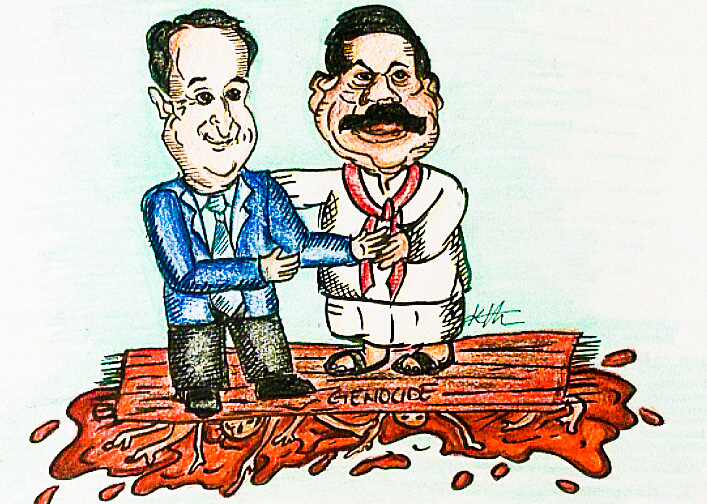 Illustration by Keera Ratnam
We need your support
Sri Lanka is one of the most dangerous places in the world to be a journalist. Tamil journalists are particularly at threat, with at least 41 media workers known to have been killed by the Sri Lankan state or its paramilitaries during and after the armed conflict.
Despite the risks, our team on the ground remain committed to providing detailed and accurate reporting of developments in the Tamil homeland, across the island and around the world, as well as providing expert analysis and insight from the Tamil point of view
We need your support in keeping our journalism going. Support our work today.
For more ways to donate visit https://donate.tamilguardian.com.