17 August 2018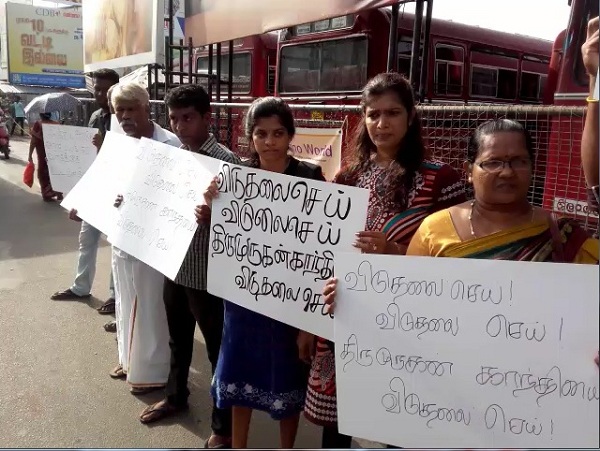 Tamils in the North-East have joined calls across Tamil Nadu for the release of May 17 movement leader Thirumurugan Gandhi, who was arrested by Indian police last week.
Last Thursday, the Central Crime Branch of the Chennai police arrested Mr Gandhi at the Kempegowda International Airport in Bengaluru on counts of violating Section 124A and 153A of the Indian Penal Code, respectively, sedition and promoting race-based enmity.
Mr Gandhi was returning to Chennai via Bengaluru from the UN Human Rights Council in Geneva, where he had spoken on the recent protests in Thoothukudi, against the copper and mining subsidiary Sterlite Industries. Tamil Nadu police had fired on protestors, killing 13 of them.
He was arrested and produced before the Saidapet Court, in which the XI Magistrate had initially reprimanded the arrest and released him. However, he was arrested again shortly after in connection with a different criminal case and reproduced once again in court, where an XVII Magistrate remanded him until August 24. Mr Gandhi was incarcerated at a central jail in the town of Puzhal, in the Thiruvallur district, a town also home to the second largest number of Eelam Tamil refugess in Tamil Nadu.
Following his arrest a protest was held in Jaffna by the Tamil National People's Front, condemning the arrest and calling for his release.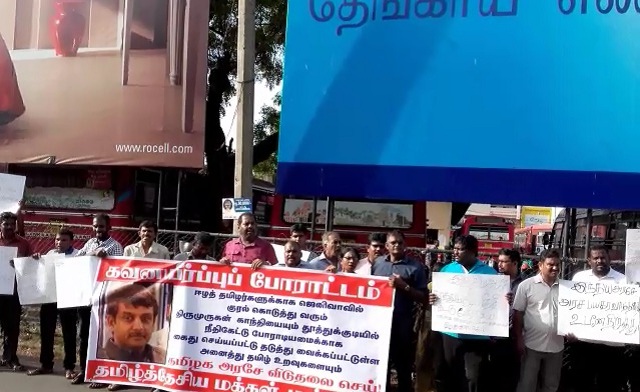 "The continuous harassment of #ThirumuruganGandhi by the Indian Government is unacceptable," said the Tamil Civil Society Forum in a tweet. "He has been arrested at the airport on his way back from the #UNHRC sessions where he raised the Thoothukudi killings. We join activists from Tamilnadu and elsewhere demanding his release."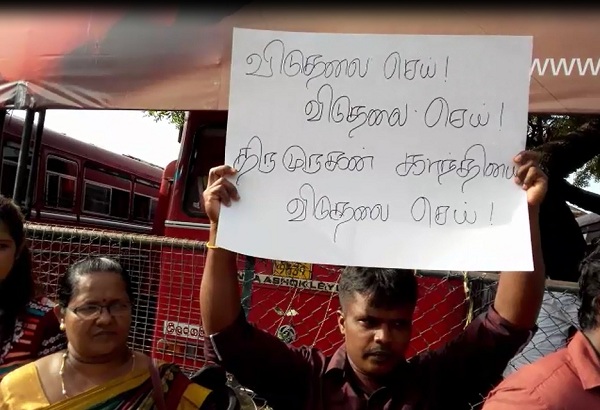 Several political parties, most notably the Tamil Nadu division of the Social Democratic Party of India, have strongly urged the Tamil Nadu State Government to release Mr Gandhi immediately, who was later shifted to a larger penitentiary in Vellore after police cited security concerns.
Mr Gandhi currently has 22 cases registered against him by the Chennai Metropolitan Police for various congregations and "agitations" throughout Tamil Nadu, as well as allegations of cybercrime.