05 March 2016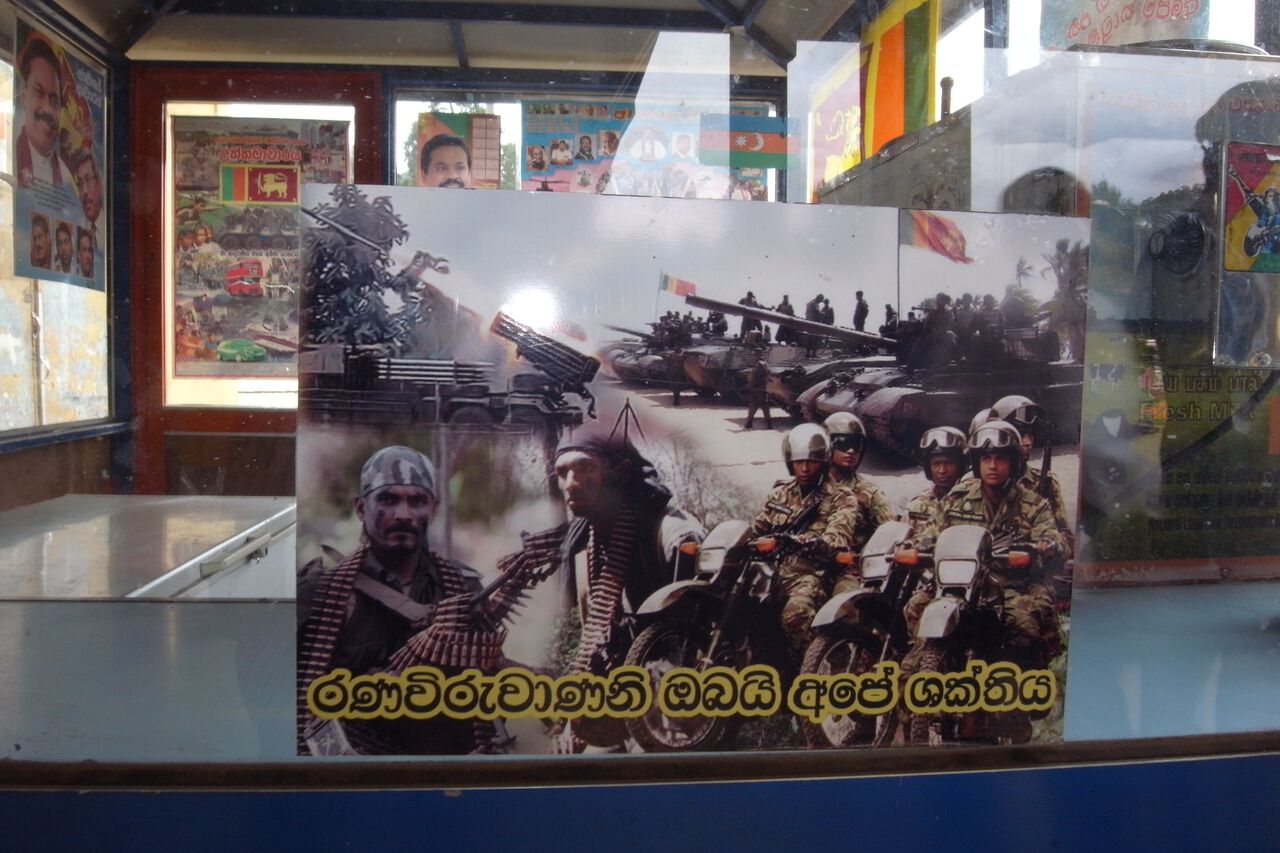 "War hero, you are our strength"
A poster seen in a Sri Lankan window in 2009. Photograph courtesy of Robin Bell - Bell Visuals
definition: a statement of the meaning of a word
accountable: 
required or expected to justify actions or decisions;
responsible.
authority:
the power or right to give orders, make decisions, and enforce obedience;
a book or other source able to supply reliable information or evidence.
border:
form an edge along or beside;
be close to an extreme condition.
broken:
fractured or damaged;
disrupted;
spoken falteringly, as if overcome by emotion.
community: 
a similarity or identity; 
joint ownership or liability. 
conflict: 
an incompatibility between two or more interests;
a clash of opposing wishes or needs. 
constitution:
a body of fundamental principles; 
the composition of something; 
one's physical state with regard to vitality, health, and strength. 
contradiction: 
a situation in which inconsistent elements are present; 
the statement of a position opposite to one already made.
defeat:
reject or block;
overcome;
be impossible for someone to understand.
diaspora: 
the dispersion of any people from their original homeland. 
die:
become extinct;
be forgotten.
difference:
the remainder left after subtraction of one value from another.
disappear: 
cease to be visible;
cease to exist or be in use;
or cause to disappear, as by consumption.
equal:
considered to be the same as another in status or quality.
ethnic: 
denoting origin by birth or descent rather than by present nationality. 
fact:
the truth about events as opposed to interpretation.
flight:
the movement or trajectory of a projectile through the air; 
the action of fleeing or attempting to escape; 
a series of steps between floors or levels.
foreign: 
coming or introduced from outside; 
characteristic of a country or language other than one's own. 
goal:
an aim or desired result.
a point marking the end of a race.
govern: 
control, influence, or regulate. 
grab:
a quick, sudden clutch or attempt to seize;
a frame of video, stored as a still image for subsequent display.
guard:
watch over someone to prevent them escaping;
protect against damage or harm;
stay close to an opponent.
hero:
central character, with whom the reader is expected to sympathize.
impunity: 
freedom from the injurious consequences of an action.
involvement: 
the fact of participating in something.
justice: 
the quality of being fair and reasonable. 
land:
an area of ground, especially in terms of its ownership or use;
succeed in obtaining or achieving something;
go ashore.
liberation: 
freedom from limits on thought or behavior. 
majority:
the greater number.
mechanism: 
a system of parts working together in a machine;
a contrivance in the plot of a literary work.
minority: 
a relatively small group of people. 
nation:
a large aggregate of people united by common history, culture, language.
neighbor:
be situated next to or very near.
occupy:
take control of a place by military conquest or settlement;
enter, take control of, and stay in forcibly, as a form of protest.
official:
having the approval or authorization of an authority or public body.
oppression:
prolonged cruel or unjust treatment or control. 
peace:
freedom from violence;
freedom from disturbance;
quiet and tranquility. 
   
question:
a matter forming the basis of a problem requiring resolution;
feel or express doubt about;
raise objections to.
   
radical: 
far-reaching or thorough; 
affecting the fundamental nature of something;    
relating to the root of something.  
reconciliation:
the restoration of friendly relations; 
the action of making one view or belief compatible with another. 
rehabilitate:
restore to former privileges after a period of official disfavor;
return to its former condition.
self-determination:
the freedom to make your own choices;
determination by the people of a territorial unit of their own future political status.
signal: 
an apparatus on a railroad notifying trains
of whether or not the line is clear;
an indication of a state of affairs. 
tactic:
an action or strategy carefully planned to achieve a specific end.
victim:
a person harmed, injured, or killed. 
warning: 
advance notice of something. 
watch: 
carefully observing something over a period of time.
weapon: 
a means of gaining an advantage or defending oneself in a conflict. 
weep: 
shed tears;
mourn for. 
when: 
at what time; 
considering that. 
where: 
in or from what source;
in what direction or respect. 
whose: 
belonging to or associated with which persons.
wind: 
a current of air blowing from a particular direction; 
used in reference to an influence or tendency that cannot be resisted. 
witness: 
see an event, typically a crime or accident, take place;
give or serve as evidence of;
be present as someone signs a document.
word: 
a person's account of the truth, especially when it differs from another's;
speech as distinct from action; 
a promise or assurance;
a message. 

----- 
This poem is a "found poem." All of the definitions are phrases from online dictionaries. Most of them are from the first search result when I Googled for definitions.
-----
I am an Eelam Tamil poet.
In Tamil, my name was the one first given to Aandal, the only woman among the twelve Alvar poet-saints. Pronounced differently in Bengali, my name is a word that means "where."
I dedicate my work to past, present, and future Eelam Tamils around the world. 
Kothai 
We need your support
Sri Lanka is one of the most dangerous places in the world to be a journalist. Tamil journalists are particularly at threat, with at least 41 media workers known to have been killed by the Sri Lankan state or its paramilitaries during and after the armed conflict.
Despite the risks, our team on the ground remain committed to providing detailed and accurate reporting of developments in the Tamil homeland, across the island and around the world, as well as providing expert analysis and insight from the Tamil point of view
We need your support in keeping our journalism going. Support our work today.
For more ways to donate visit https://donate.tamilguardian.com.