03 December 2021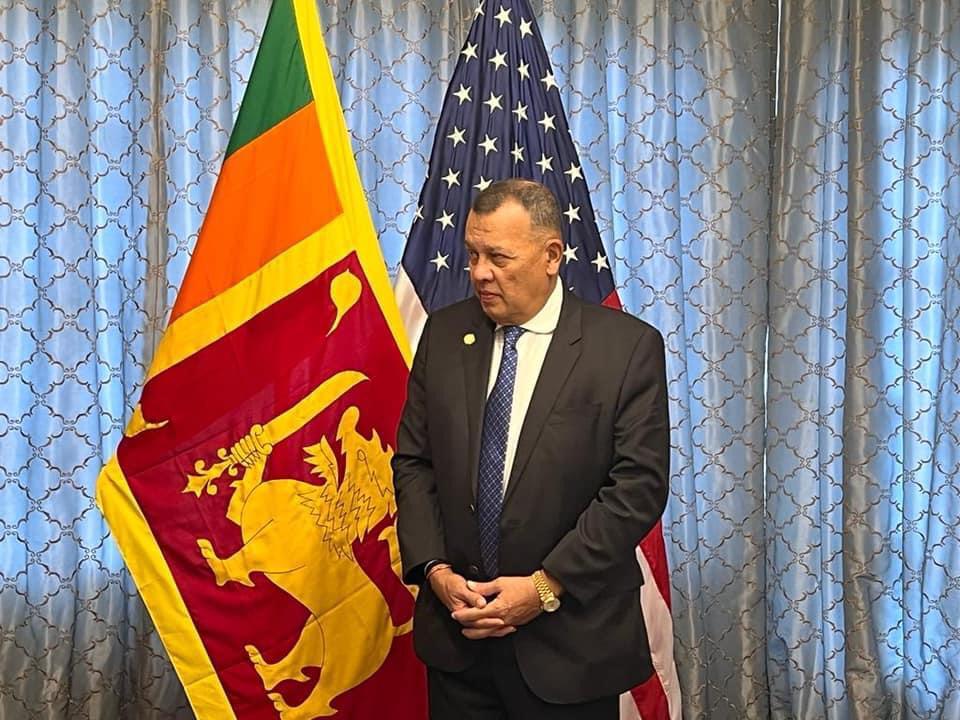 Sri Lanka Podujana Peramuna (SLPP) parliamentarian Mahinda Samarasinghe, a staunch defender of the Rajapaksa regime, will take up the ambassadorial position in the United States following a request from Sri Lanka's president Gotabaya Rajapaksa, according to reports.
Mahinda Samarasinghe who resigned from parliament on November 25, is expected to fly to the United States next week and assume his duties as ambassador in Washington DC.
We take a look back through Samarasinghe's history and how he has denied war crimes, rejected claims of media suppression and been a firm supporter of the Rajapaksas.
From UNP to SLFP
Before joining politics, Samarasinghe was a politically-appointed official in the foreign service and served as the first secretary to the Sri Lanka High Commission in Australia as well as a counsellor for the Sri Lankan Permanent Mission to the United Nations in Geneva in the 1980s. Samarasinghe entered active politics in 1988 and was elected to parliament in 1994, serving the United National Party (UNP). He crossed over to the then government side in 2006, joining the ranks of the Sri Lanka Freedom Party (SLFP).
He has served as Minister of Labour, Disaster Management, Plantation, Skills Development, as well as Ports and Shipping in his parliamentary career. As Ports Minister, he signed the Chinese-built US$1.5 billion Hambantota port deal to be handed over to China in 2017 on a 99-year lease, as Colombo struggled to pay of its debt. He has since participated in governments that have overseen Sri Lanka's economy fall into tatters and debt-GDP ratio grow, leading to an increased risk of default as sovereign credit ratings were slashed by numerous rating agencies. 
Witness intimidation
Samarasinghe's most memorable tenure though, is as Human Rights Minister during the Mahinda Rajapaksa era.
It was in that appointment, that he reportedly intimidated Dr Kasippillai Manoharan, the father of one of the five Tamil students that were summarily executed by Sri Lanka's Special Task Force in January 2006.
The case – known as the 'Trinco 5' – remains one of the highest-profile killings in Sri Lanka to receive international attention and was listed in 2014 by the then UN High Commissioner for Human Rights' report on the island as one of four 'emblematic cases' of the government's failure to ensure accountability and has been raised repeatedly in international forums.
Whilst military personnel intimidated Dr Manoharan, Sri Lanka's minister for Human Rights Mahinda Samarasinghe tried a different tact. He called the doctor and offered him a "nice house Colombo for you and your family" in exchange for dropping pursuit of the perpetrators. "We can find a nice school for your children," said Mr Samarasinghe.
Dr Manoharan refused. However, the harassment of his family continued and he eventually suspended his medical practice, his children stopped attending school and he was forced into exile.
A confidential report to donors by the International Independent Group of Eminent Persons in 2009 stated,
"The import of this evidence is that, not only does it prove that the GoSL knew early on that their forces were responsible and that there was intimidation and/or attempted bribery of a material witness from the very Minister responsible for protecting human rights in Sri Lanka, but it was intimidation from a person who was, and remains part of the GoSL's team that represents Sri Lanka at international forums on human rights."
Denial of war crimes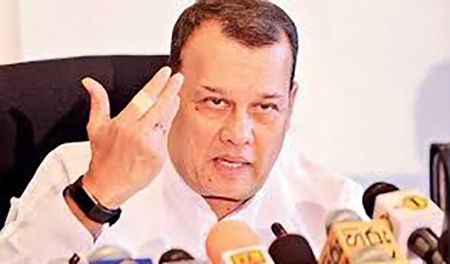 Mahinda Samarasinghe
Samarasinghe played a major role in denying many of the mass atrocities that the Sri Lankan armed forces committed during the final phase of the armed conflict - even as they were happening.
Also, see a dossier compiled by the International Truth and Justice Project (ITJP) which looks into Samarasinghe's conduct as Human Rights minister here.
Downplaying the number of Tamil civilian casualties
As hundreds of thousands of Tamils remained trapped inside the final conflict zone, on February 18, 2009, Samarasinghe, who was Sri Lanka's Minister of Disaster Management and Human Rights at the time, repeated the government's "opinion that the IDP population of the No Fire Zone is, at present, less than 100,000". 
According to the OHCHR Investigation on Sri Lanka (OISL), Samarasinghe went on to trash Government Agent figures on the ground as "duplicates and double counting" and claimed "convoys which carried food into LTTE-controlled areas from October 2008 catered to inflated figures of 230,000 IDPs".
However, the OISL goes on to state,
"Yet the figures given by Government Agents in their requests for medical and food supplies…around 320,000… proved more accurate than those on which the Government insisted."
'We have never targeted civilians'
Alongside downplaying the numbers of Tamils trapped inside the war zone, Samarasinghe went on to categorically deny any wrong doing by the Sri Lankan military in multiple international fora.
In an interview with the BBC's Hard Talk programme in March 2009, Samarasinghe claimed that the military had "never targeted civilians and we will never target civilians", adding that "there is absolutely no justification to use heavy weapons".
"The Armed Forces took a conscious decision not to use any heavy weapons," he repeated. "We have not been using heavy weapons."
See the interview below.
The UN OISL however reveals a very different picture. See an extract below.
"According to military analysts who examined witnesses' testimony, and reports received from diplomatic sources, NGOs and others, the Sri Lankan Armed Forces used indirect-fire weapons, including artillery shells and MBRLs on the three NFZs and surrounding areas, causing widespread damage to civilian infrastructure and loss of civilian lives throughout the final phases of the armed conflict."

"At least four medical facilities - PTK, Mullaivaikkal, Udayarkaadu and Putumattalan – were shelled with unguided weapons and ammunition such as MBRLs."
'They didn't lay a hand on them'
Alongside his repeated denials of civilian casualties, Samarasinghe also denied that any executions of surrendering LTTE cadres and civilians had taken place.
In 2018 Samarasinghe, responded to repeated reports that Col Ramesh, a senior LTTE leader, had been executed by the Sri Lankan security forces, by claiming once again that such events had not taken place.
"If anyone surrenders, a professional army will never take steps to kill them," he said in Sri Lanka's parliament. "They didn't do that. We clearly state that. That is our stance earlier. It will be the same today and in future as well... our tri-forces and police only helped those surrendered they didn't lay a hand on them. We are very clear on that."
Hundreds of LTTE cadres and Tamil civilians are now known to have been killed or forcibly disappeared after surrendering in 2009. Some of these executions were caught on video, filmed by the Sri Lankan soldiers themselves. 
Read more : The White Flag incident 
Attacks on doctors
There are at least two instances where he has attacked the credibility of Tamil doctors working in the war zone, claiming they had fabricated reports of civilian casualties.
Speaking at a press conference in 2018, Samarasinghe claimed that the doctors reports of civilian deaths and hospitals being targeted were fabricated and that they were forced at gunpoint to convey this information to international press agencies.
He claimed,
"There were four doctors at that time, CNN and Al Jazeera used to take information from those doctors daily over the phone. Those doctors were saying, now hospitals are being bombed, civilians are being killed, patients in them have died...What did the doctors tell after they came out (from the war zone)?... The four doctors came out and said 'we were forced to say these things, so we had to talk'. They asked 'what else can we do when a gun was held to our heads?' "
Samarasinghe references a press conference where the five doctors were held in front of Sri Lankan press and publically recounted their previous statements. The doctors had attended the press conference after being detained in the notorious interrogation centre and torture centre on the fourth floor of the Criminal Investigation Department (CID).  In 2014, Dr Varatharajah Thurairajah, who now resides in the United States after being forced into exile, told Channel 4 news how after being detained by Sri Lankan military intelligence, a senior officer told the doctors they would spend years in jail if they didn't publically withdraw the allegations of war crimes. The families of the doctors were also harassed by Sri Lankan military intelligence. 
Dr Varatharajah speaking to the BBC also recounts after being severely injured by a government shell, he was detained and refused critical surgery until he agreed to attend the press conference.
Listen here: Witness History: Tamil Doctors and the Sri Lankan Civil war
IDP camps
Samarasinghe has categorically denied that survivors of the armed conflict were held in Manik Farm and detained against their will. 
However, the OISL report says that "the IDPs were not only prohibited from leaving Manik Farm without authorisation, but also could not leave the zone to which they had been assigned" as well as highlighting the role of the military in the administration of the camp, the terrifying nature of the screening process there and the appalling physical conditions. ITJP witnesses have also described being raped while interrogated in the camp, with one victim-survivor identifiying her rapist as a military intelligence officer who is still serving in the military.
Read more : 'My life in Menik farm IDP camp from March to July 2009'

Read more : Behind the protest - Families of the disappeared: Abirami
Disappearances
The denial of executions and disappearances is one that Samarasinghe had repeated before, claiming in 2007 that reports of disappearances were the result of the "propaganda strategy" by "a ruthless terrorist organization" which tried to "paint a bleak picture internationally to bring pressure on the government so that our resolve will be weakened".
To date, however, the fate of tens of thousands of disappeared Tamils remains unknown. Across the Tamil homeland, families of the disappeared have been demanding information on the wherabouts of their loved ones.
Despite his egregious record of categorically denying that any enforced disappearances had occurred in Sri Lanka, Samarasinghe was appointed as head of the Office for Missings Persons (OMP) in 2018 by the previous Sri Lankan regime.
Commenting on the appointment, Yasmin Sooka, ITJP's Executive Director, said at the time that "impunity is now so deeply embedded that it's impossible to talk of any kind of institutional reform".
Attacks on Channel 4
Samrasinghe also continued to attack Channel 4 for its coverage of the armed conflict, alleging it broadcast fabricated videos at the behest of the Tamil diaspora. The Channel 4 execution videos supplied by exiled journalists that the Government of Sri Lanka disputed were found authentic by the UN and the UK broadcasting regulator, OFCOM.
Sri Lanka's Killing Fields. Channel 4oD from Forensic Architecture on Vimeo.
Media freedom
 Samarasinghe also denied in 2009 that there were any problems with journalistic freedom in Sri Lanka after being questioned on allowing forces to act with impunity and attack journalists, stating,
"I don't agree that there is a fundamental problem for independent journalists in our country, because all you have to do is look at a Sunday newspaper in Sri Lanka to see the personal attacks which are still launched against not only the President.."
Sri Lanka consistently ranks low in the Global press freedom index and remains a dangerous place for journalists, particularly Tamil journalists across the North-East and those who are critical of the government.
In recent months three leading press freedom groups have established a People's Tribunal to "investigate their murders and hold governments accountable", in an effort to achieve justice in the killing of journalists. Sri Lanka is one of three countries that will be indicted. The central case to this indictment is the murder of Lasantha Wickrematunge, the editor of the Sunday Leader, who was critical of the Rajapaksa government during the final stages of the conflict. He published an opinion piece three days before his death predicting his assassination.
At least 41 media workers were known to have been killed by the Sri Lankan state or its paramilitaries during and after the armed conflict, though this figure could be higher. 
Supporting Rajapaksa's deceit 
Saramasinghe recently revealed how  Mahinda Rajapaksa lied to "an ambassador of the most powerful country" about the evacuation of trapped Tamil civilians in 2009, in order to allow a Sri Lankan military offensive that killed tens of thousands of Tamils to continue. Samarasinghe told Sri Lanka's parliament last year that when he was Sri Lanka's Minister of Disaster Management and Human Rights in 2009, he was "summoned to Temple Trees for an urgent meeting as there would be a foreign delegation led by an Ambassador of the most powerful country".
At the time, the Sri Lankan military was carrying out an offensive that had already seen the deliberate repeated shelling of hospitals and widespread sexual violence. "The conclusion of the war was only days away," said Samarasinghe.
"The Ambassador said many civilians were trapped in a small strip of land and the LTTE was using them as shields and if they could evacuate those civilians by ship if the President granted permission," Samarasinghe continued. "The ambassador said that one of the ships belonging to their country was nearby and sought only the permission of the President to enter Sri Lankan waters."
"President Rajapaksa told the Ambassador that another powerful country in the region had also made the same request. Since the first country had not been given permission, he needed to discuss the matter with them first."
However, Samarasinghe revealed how the pretence of a second offer of evacuation was a sham, intended to ensure that no such evacuation would take place.
"When I asked him about the issue, the President put his hand on my shoulder and told me that if he allowed the evacuation, the LTTE leader Prabhakaran too would get into that ship," Samarasinghe continued.
The UNHRC and beyond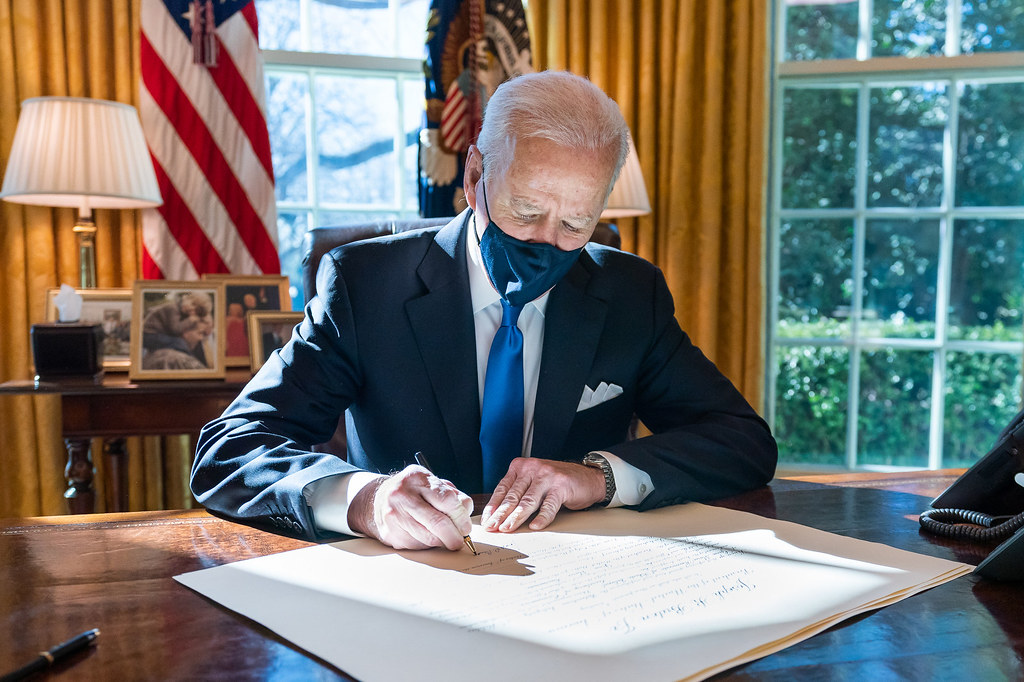 Biden at the White House in March 2021
In 2011, Samarasinghe told Colombo journalists that the "Sri Lankan delegation managed to thwart the conspiracy" against the country at the UN Human Rights Council (UNHRC).
The very next year, however, the first of a series of resolutions were passed at the UNHRC, looking at accountability for mass atrocities committed by Sri Lankan troops during the final stages of the armed conflict. Many of them were led by the United States. However,  under the Trump administration the US withdrew from the UNHRC, but under current president Joe Biden they are set to rejoin.
Samarasinghe's appointment as Sri Lanka's envoy in Washington comes as the US rejoins the global body in January 2022 and at a time when the current American administration is reportedly focusing globally on liberal values. Later this year, the US will be hosting a virtual US "Summit for Democracy" which Sri Lanka has not been invited to participate.
The US president himself has repeatedly spoken on how his administration will look to lead global order. "I'm sending a clear message to the world," said Biden earlier this year. "America is back."
We need your support
Sri Lanka is one of the most dangerous places in the world to be a journalist. Tamil journalists are particularly at threat, with at least 41 media workers known to have been killed by the Sri Lankan state or its paramilitaries during and after the armed conflict.
Despite the risks, our team on the ground remain committed to providing detailed and accurate reporting of developments in the Tamil homeland, across the island and around the world, as well as providing expert analysis and insight from the Tamil point of view
We need your support in keeping our journalism going. Support our work today.
For more ways to donate visit https://donate.tamilguardian.com.